ITV ANNIVERSARY ROSE COUP FOR SOUTHPORT FLOWER SHOW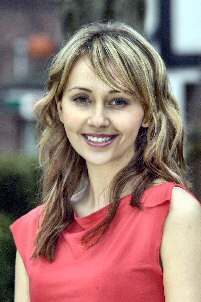 SOUTHPORT Flower Show has announced the launch of the 'ITV 50th Anniversary Coronation Street Rose' which will take place on Friday 19 August at 10am, day two of the four day event.

On hand to accept the first newly named cut rose at Southport Flower Show will be Coronation Street actors Samia Ghadie and Alan Halsall, better known as Maria and Tyrone. The rose has been registered to celebrate 50 years of ITV broadcasting and with the region playing such an important part in the nation's favourite drama series, it is appropriate that Southport Flower Show has chosen to honour the broadcaster with its own rose.

A Coronation Street spokesperson said:- "We are delighted that the programme is being recognised in this way. We wanted ITV's 50th anniversary to be a celebration that everyone across the regions can join in with and enjoy, so we are delighted to support the official launch at what is a great family event, Southport Flower Show."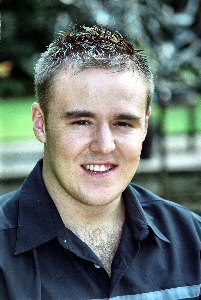 ITV is marking its 50th anniversary with a line-up of specially commissioned programmes and nationwide events on and off screen celebrating the network's history and regional roots.

The rose which has long been synonymous with romance, will hold special significance for actress Samia, who gets married to fiancée Matthew Smith just weeks after the Flower Show. The red floribunda rose is priced at £10 plus postage and packing and will be available for delivery from spring next year although orders can be placed now by emailing info@southportflowershow.co.uk or writing to Coronation Street Rose, Southport Flower Show, Victoria Park, Southport, England PR8 2BZ. A percentage of all purchases will go to Southport Flower Show which is a registered charity.

The theme for this year's Show is World of Travel and the event takes place from 18 August 2005 until 21 August 2005 at the town's Victoria Park. With 28 gardens, a new family entertainment area, cookery demonstrations, rural crafts and lifestyle products and many attractions under cover, there is something to appeal to all ages whatever the weather. Tickets are priced at £12 in advance or £15 on the day. Under 16's are admitted free. Special four day passes can be purchased for just £27 allowing admission every day, a pass-out facility and access to your own restaurant, lounge and private conveniences, avoiding the need to queue.
Telephone Ticketmaster on 0870 44 44 226 or visit www.ticketmaster.co.uk
Green fingered group gets ready for summer garden success
A double award-winning community green is heading for a hat trick of prizes with the help of new grant funded gardening equipment. Liverpool's Lister Residents' Association is hoping to reclaim its North West in Bloom title this year. Thanks to almost £500 from Mersey Docks and Harbour Company, members have been hard at work on the local community green with new tools, equipment, plants and shrubs.

The cash from the company's 500 Fund, one of many funds managed by the Community Foundation for Merseyside, has also funded compost bins to build on a community recycling initiative and help the Lister Community Green gardening team achieve competition success. The green-fingered group has been working round the clock to get the resident-run garden, situated in the city's Kensington area, to its blooming best ready for North West in Bloom judges.

The area is already a double prize-winner after being named North West in Bloom's Best Small Neighbourhood Garden in 2004 and Best Neighbourhood Garden in Liverpool City Tenants Garden Competition, also last year. The resident's will find out this year's results later this month. Once a neglected site, the green is now a popular place for summer barbecues and family fun days.

Dave Murphy, Lister Residents Association chairperson explained:- "Thanks to the Mersey Docks and Harbour Company grant we are able to plant new shrubs and further enhance the hard and soft landscaping of the community green. We hope the green and its success in competitions will inspire other communities to run similar projects, turn derelict areas around and show people what local communities can achieve".

Details for current funding opportunities available to community groups are available from the Community Foundation. Contact the Grants Team for more information. Phone:- 0151 966 4604 or visit www.cfmerseyside.org.uk.
LIVERPOOL DOUBLES AS 1940'S NEW YORK FOR BLOCKBUSTER
FEATURE filmmakers have yet again chosen world heritage status city Liverpool as a location double for New York. 'Beyond Friendship', which stars American Actress Winona Ryder is due to be partly shot in the city (Thursday 4 to 7 August) at the location of Brunswick St and Fenwick St, the setting used by the makers of the 2004 hit 'Alfie' (Starring Jude Law). Filmmakers have been in talks with Liverpool City Council's Film Office (managed by North West Vision) to find an area that could most resemble 1940's New York. The production team were certain Liverpool could work for their production after seeing the how the city was transformed for Alfie.

Liverpool has a long tradition of being used a double for features, not least as New York and in recent years has doubled for many international cities including London, Prague, Vienna and Moscow.

Alice Morrison, Chief Executive of North West Vision, said:- "Liverpool has a great filming history and has been used for countless feature films and TV productions. This can be attributed to the film friendly local authorities, diverse range of filming locations and talented crew and facilities. Why go to New York when you have got Liverpool?"

Councillor Warren Bradley, Executive member for leisure and culture, said:- "This is a real coup for Liverpool and further evidence that the city has the locations and facilities that film makers want. We now have an unrivalled reputation as a place, which can handle any scale of production. The film economy is worth millions of pounds per year to Merseyside and helps sustain hundreds of jobs ranging from editors to caterers."

Pier Head in Liverpool will also be used as a location for the 4 day shoot being made by Films 18 Limited. The filming in Liverpool follows an extensive shoot in Rhodes, Greece..
Job Advert:- Southport Sandwitch Bar
SHAMROCK'S sandwich Bar in Southport requires from September 2005 a part time staff member to work in the sandwich and coffee bar. Call 01704 501 769 for more information and for application forms.