French take Gold Medal in Salford's third ITU World Cup

Photographs with thanks to Salford Triathlon Organizers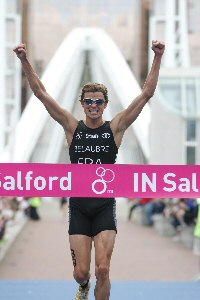 FRANCE'S Frederic Belaubre was crowned the 2005 men's winner of the Countryside Properties Salford Triathlon ITU World Cup on Sunday 31 July with a time of 1 hour 51 minutes and 35 seconds. Followed closely in 2nd place by Czech Republic's Filip Ospaly (1 hour 51 minutes and 46 seconds), while Tim Don earned Great Britain a bronze medal as he raced into 3rd place (1 hour 51 minutes and 49 seconds).

Salford hosted the ITU World Cup for the third year running and attracted more 100 elites - 72 men - as well as nearly 1000 age-group athletes with crowds of over 15,000 spectators cheering them along. The course saw the athletes take a plunge into the historic Salford Docks for a 1.5km swim, before a 20km cycle and finishing with a 10km run taking in sights such as The Lowry, Imperial War Museum North and Manchester United Football Club.

27 year old Tim Don from Loughborough, Great Britain, commented:- "The competition was fierce and I'm proud to have taken 3rd place, making this my fifth medal win in 2005 so far. It was wonderful to race in Salford again this year - The Quays provides a fantastic backdrop to the event and the crowds were as encouraging as ever. The age group races made an important start to a day which has been a success from beginning to end."