Balls to breast cancer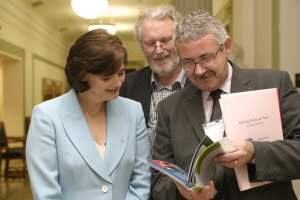 MICHAEL Howard MP and Cherie Blair give public backing for first ever guide aimed at Men with Breast Cancer. With Breast Cancer Awareness Month just around the corner, it is a timely reminder that men can get breast cancer too.
And this is why Conservative leader Michael Howard MP and Prime Minister's wife Cherie Blair have joined forces to back Britain's first ever guide aimed at Men with Breast Cancer.

The 114 page handbook produced by Breast Cancer Care was launched in June by Cherie Blair who, as well as having a personal link with breast cancer through the death of her aunt, is also the charity's patron. Michael Howard, not known for speaking about personal issues, revealed movingly that his father Bernard died from the disease:- "The cancer which was diagnosed just before Christmas in 1965 came completely out of the blue and was obviously devastating. My father was a strong man but this was hard to take. He accepted it - there wasn't much alternative, but lived for another 7 months."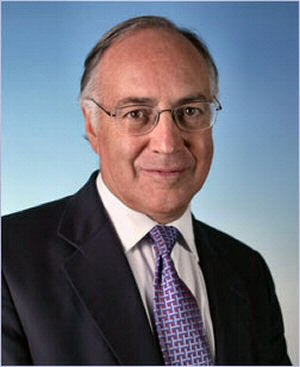 Speaking out in support of the Men with Breast Cancer guide, Mr Howard said if the guide had been available at the time of his father's illness, it would have answered many of his family's questions. Breast cancer is a rare and isolating disease in men. Approx 300 men will develop the condition compared with the 41,000 women who are diagnosed each year in the UK. Treatment can be successful once caught in time with an 80% success rate after 5 years.

Emotionally, men will have many questions which may not be addressed in breast cancer materials. Indeed, when developing the guide, Breast Cancer Care learnt that most men felt breast cancer materials were, unsurprisingly perhaps, aimed squarely at women.

David Wrigley (53) who was diagnosed with breast cancer at Christmas 2003 said he had been given a leaflet which advised if you are feeling a little depressed while in hospital, put on a little make-up or wear your favourite perfume. Well meaning but not advice most men would wish to follow.

This is one of the reasons why Cherie Blair has endorsed the new guide by saying:- "This resource will certainly go a long way to ensure men who are diagnosed have a source of accurate information."

Compact, free and easy-to-follow, the A5 handbook is packed with practical and sensitive information. It covers causes of breast cancer, symptoms, diagnosis, treatment and emotional challenges such as anxiety and depression and offers support, assistance and hope for the future.

Emma Pennery, Breast Cancer Care's Nurse Consultant said:- "Men diagnosed can feel very much alone because most resources are aimed at women. Health professionals there will have had considerably less experience in caring for men who have the condition. Each circumstance will be different but it is so important that men don't feel they have to cope on their own."

Facts about breast cancer in men...

1. Most cases in men occur over the age of 55. In women the incidence rate increases with age.

2. There is a stronger genetic link which accounts for 15% of cases in men compared with 7% in women.

3. The risk is highest in those with one male first-degree relative such as a father, brother or son who has the condition.

4. Ignorance of the disease in men can lead to long delays in diagnosis which can stretch to 9 months.

5. More than 100 men die of breast cancer each year compared with more than 12,000 women.

6. The good news is that the survival rate in both sexes is at 80% after 5 years once diagnosed early.

7. Even though men do not see themselves as having breasts, breast cancer tumours occur in the fatty tissue of the chest rather than the muscle underneath. Suggestions to re-name the illness 'pectoral cancer' would therefore be inaccurate.

8. Treatment for men is the same for women with options of surgery to remove the lump or a full mastectormy, chemotherapy, radiotherapy or hormone therapy.

9. Male breast cancer accounts for 1% of UK breast cancer cases.
LIVERPOOL BIKER TRIUMPHS IN WALES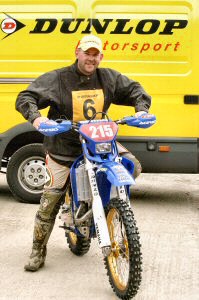 PETER Eaton from Liverpool is one step closer to the final of Dunlop's Ultimate Biker after taking the title of top rider at the Harley Davidson Rider's Edge event in Wales. Peter was one of 23 motorcycle enthusiasts who faced a number of gruelling challenges at the opening events held in Wales at the end of July.

With the first round now complete, Peter will be striving to retain his position at the top end of the scoreboard in a bid to become 1 of 6 semi finalists. When Peter, 29, was asked which rider he thought he could beat he replied "My own time. Until I'm Mr Rossi I'm competing against myself!" Peter describes his riding style as fast, cautious and safe and his favourite bit of biking kit is the gloves.

The first round consisted of 2 stages; the Yamaha Off-Road Experience on day one and the Harley Davidson Rider's Edge on day 2. The riders will now go on to compete in track racing at the California Superbike School and perfecting roadcraft with the Institute of Advanced Motorists. Even money can't buy a place at Moto 1 and just 3 riders will get the chance to race with top riders from the likes of the British Superbike Championship, Motocross Championship and World Enduro Championship.

For more information on Dunlop's Ultimate Biker, visit us online:- www.driversknow.com/ultimatebiker.
CONSERVATION CENTRE REVAMP
NEW permanent exhibition. The award-winning Conservation Centre in the heart of Liverpool's city centre will be refurbished over the winter to offer visitors new, exciting displays in 2006. Home to a team of internationally-renowned conservators, the Conservation Centre cares for National Museums Liverpool's (NML) huge and diverse collections.

NML has been awarded £570,466 by the ReDiscover fund, a renewal fund for science centres and museums across the UK funded by the Millennium Commission, the Wolfson Foundation and the Wellcome Trust. This will go to fund a bright and lively new exhibition in the Conservation Centre.

The new exhibition will have at its centre a working laboratory that will present the scientific work of conservators through interpreted displays and demonstrations. Surrounding displays, based around a variety of objects and interactives, will enable visitors to investigate a wide range of science applications from x-ray analyses of Egyptian mummies to laser-cleaning of sculptures. An area with microscopes, databases, interactives and a bank of objects representing common public conservation enquiries will allow visitors to explore the themes of the exhibition through connections with everyday objects.

In order to create this exciting visitor attraction the current permanent exhibition Caught in Time closes on 4 September and the remaining visitor facilities at the Conservation Centre close on 18 September. The Wildlife Photographer of the Year exhibition will remain open until 18 September.

The important work of the Conservation Centre staff will continue, however there will be no studio tours until the venue reopens. The project team includes exhibition designers Houghton-Kneale Design and Ken Martin Architects.
Strengthening forestry in England's northwest
THE future growth and development of the Northwest's forestry industries is the focus of an innovative new project being undertaken by the Northwest Regional Development Agency (NWDA). Complementing the emerging North West Forestry Framework, the project is designed to develop a better understanding of the forestry industries sector in the Northwest. It will also evaluate how a collaborative 'cluster based' approach might be established and developed, to enhance productivity and encourage greater private sector investment.

Through engaging with key players within the region's forestry industries, the project will review best practice both within and outside the region, particularly in Scotland and Wales where a cluster based approach has been successfully implemented. It will also identify opportunities for the growth of a network of support services to help serve the sector's needs.

As well as helping to improve coordination across the timber supply chain, the project will also inform government, and regional partners, in the formulation of appropriate policies and support for the sector. The project is being carried forward by Lancaster University Management School MBA student, Andy Khumbanyiwa, who has been seconded to the Agency to implement the project. Hailing from Malawi, Andy works on forestry issues for the African National Bank.

Steve Heaton, NWDA Head of Rural Affairs, said:- "England's Northwest is a leading UK region for forestry industries which stems from its ability to add value and innovate. However, in order to maximise future expansion of the sector it is vital that we gain a better understanding of the opportunities for enhanced competitiveness. Evidence demonstrates that enterprises are better equipped to respond to market challenges through collaborative working and this project will encourage this, helping to ensure that we are able to continue the development and expansion of the forestry industries."