Liverpool's city leadership under the spotlight
LIVERPOOL'S city leaders are taking part in a major new research project with the Centre for Cities. City Leadership is examining the scope for Liverpool to take on more financial powers, to support local economic development and job creation.

Liverpool's regeneration programmes currently total more than £3 billion. But these are mostly from private, Government and EU sources, Liverpool isn't able to fund major projects or catalyse investment on its own. Our early findings suggest that cities like Liverpool need new revenue-raising tools and spending freedoms to fulfil their role as economic drivers.

The Centre for Cities is holding a stakeholder event on 19 August with City Growth Liverpool and the Liverpool Chamber of Commerce. This will discuss the case for greater financial devolution for Liverpool. City Leadership is working with business and council leaders in Liverpool, Birmingham and Barnsley and will report in March 2006.

Adam Marshall, Centre for Cities said:- "Liverpool doesn't have the spending, borrowing and revenue-raising powers it needs. Economic development is still too centrally-driven. Cities need more financial incentives to grow. This project will help Liverpool make the case for greater financial devolution."

Mike Storey, Liverpool City Council leader said:- "I welcome the Centre for Cities' study of the freedoms and flexibilities in local government finance. Liverpool now has an excellent reputation for the use of resources, but most of what we spend is dictated by the government. Whitehall needs to trust local government to make decisions itself."

The Centre for Cities is working closely with Liverpool City Council on this project. Other key stakeholders include Liverpool Vision, Liverpool Land Development Company, City Growth Liverpool, Liverpool Chamber of Commerce, Downtown Liverpool in Business, NWDA and English Partnerships.
COMEDIANS RAISING A LAUGH AT CHARITY LUNCH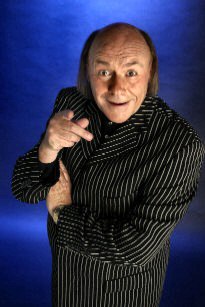 CHRISTMAS may seem like a long time away, but for those who like to be well organised here are details of a 2005 Christmas lunch with a difference. The 'Comedians Christmas Lunch' offers a traditional 3-course meal with all the trimmings in comfortable surroundings and the added bonus of four top class comedians each performing a routine after the meal. The event is taking place to raise funds for the Muscular Dystrophy Campaign and is being held in the city for the third year running.

Says Charles Horton, Regional Fundraising Manager for the charity, "Topping the bill will be Liverpool's own Mick Miller, best remembered for starring in Granada TV's 'The Comedians' and now well known for his appearances on Des O'Connor Tonight. Also appearing will be Billy Bean, Jack Daniels and Dusty Young. Each one of the comedians appearing has their own unique style and should guarantee an afternoon to remember. But hurry if you want tickets as this event always sells out well in advance".

The Comedians Christmas Lunch, which also features a prize raffle and auction, is being held at the Holiday Inn, Lime Street, Liverpool at 12.30pm on Friday December 9 and tickets are available now at £35 each with tables of up to ten people per table. Booking forms for tickets are available by calling the Muscular Dystrophy Campaign Regional Office on 01244 403012.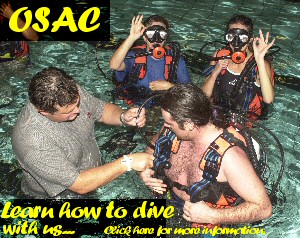 Free Flying Lessons for Women throughout the UK Courtesy of the British Women Pilots' Association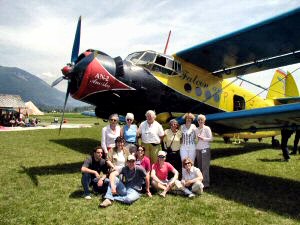 THE British Women Pilots' Association (BWPA) announced that it has secured more than 50 free trial lessons for women throughout the UK. Despite the fact that the first woman in the UK won her licence in 1911, today only 6% of licensed pilots in the UK are female with less than 3% flying professionally. As part of its 50th anniversary celebrations the BWPA has persuaded flight training organisations (FTOs) nationwide to offer free trial lessons to women who wish to try flying, which it will distribute by running a national competition.

Women wishing to enter the competition should log on to www.bwpa.co.uk and download the entry form, which consists of a simple question and a tie-breaker. Completed entries should be sent to by post to The Old Farm, Barrel Lane, Longhope, Gloucestershire, GL17 0LR by October 31 2005. Winners will be notified and all lessons will be arranged directly with the individual schools. Aviation equipment supplier Pooleys is donating an additional 300 training booklets to enable runners-up to learn about what they could expect from their first flying lesson. Lessons are for fixed wing (ie small 2-seater aircraft), helicopter, microlights (smaller light sport aircraft) and gliding and winners will be awarded a lesson as close to their home as is possible. Flying schools all over the UK have pledged lessons and media company Romeike is sponsoring the distribution of press releases to ensure that as many women as possible learn about the promotion.

Says Tricia Nelmes, BWPA Chairman and flying instructor for more than 20 years, "Studies have proved that one of the reasons women do not enter aviation as a career is that they do not even consider it as a possible profession. We want to give women the opportunity to experience flying and highlight the fact that a career in aviation is just as possible for women as it is for men.
This promotion is not only aimed at women who wish to fly for a living. We also aim to offer the opportunity to try flying to women who would like to be recreational pilots."

In addition to backing from FTOs all over the country, the promotion has secured support from MPs and members of the House of Lords. Lord Clinton-Davis, President of the British Airline Pilots' Association (BALPA) comments:- "…the invaluable work that (the BWPA) does is widely recognised and appreciated, not least by BALPA".
Air Marshal Lord Garden KCB points out, "Flying an aircraft is still an extraordinary experience, even a century after the Wright Brothers showed what was possible… Yet it is a sad fact that women remain a tiny minority in aviation. It is not because of any innate difference between the sexes. We have women flying high performance combat aircraft in the Royal Air Force and operating helicopters in the battlefield. I welcome greatly the BWPA in its campaign to increase the numbers of women pilots in the UK."
Lord Craig of Radley says, "I hope that the prizes you have arranged will encourage more women to become aviators and enjoy the thrills of flight at the controls."

Says MP Tony Baldry, "There should be absolutely no reason why more women don't become pilots and all in the civil aviation industry need to consider what the barriers to women becoming pilots are and how these barriers can best be overcome."

"I applaud your innovative move to include participating schools and wish the venture well. As a former member of the Police Superintendents' Association I know only too well the difficulty of recruiting women to an occupation, which has historically been a male domain. I wish you well." Lord Mackenzie of Framwellgate OBE comments,

The BWPA has a long history of promoting aviation, particularly to women, but is also a staunch supporter of many other flying organisations and is well integrated into the aviation community both in the UK and abroad. Deputy Chairman and Careers Advisor Caroline Gough-Cooper is also President of the Federation of European Women Pilots. As part of its fiftieth anniversary celebrations the BWPA is also sponsoring a Flying Scholarships for the Disabled scholarship and will host an Auction of Promises in Gloucester in October, which will augment its already substantial contribution towards the scholarship.

Says Nelmes, "We are delighted with the positive response and support we have received for the free trial lesson promotion, both from our colleagues in General Aviation and from Romeike. We hope that the UK media will also offer us its support, so that as many women as possible are offered the chance to learn more about flying as a potential career. This is a wonderful opportunity for women throughout the UK to take to the air and experience the freedoms flying offers."

For more information about how to join the BWPA or the free trial lesson go to www.bwpa.co.uk.