Announced
BRING on the noise as August Bank Holiday weekend will see the return of Creamfields in Liverpool! The UK's favourite dance festival will boast a massive line up guaranteed to see us dancing well into the Autumn! Having scooped 'Best Dance Festival' in the UK Festival Awards and was voted 'Best Event' by Mixmag readers they can't all be wrong!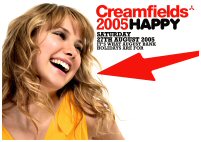 Saturday 27 August is the date for the diary when the Old Liverpool Airfield will be transformed into an oasis of noise and alfresco loveliness! Headlining this years show on the Creamfields Live Stage will be Grammy winners Basement Jaxx who will be performing some new and old classics as the sun goes down, without doubt one of the best live acts around both in sound & vision! They will be joined by the awesome Faithless, back by popular demand and widely regarded as one of the finest live acts of our generation! They will be joined by some fresh talent including the highly acclaimed Caged Baby plus more that we're going to surprise you with!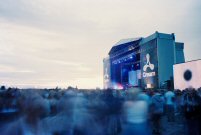 This year's event brings together an array of genres to tempt even the most particular of musical connoisseurs! Arenas this year are brought to you by some of the world's greatest party hosts including: Cream, Subliminal, Chibuku Shake Shake, Tidy, Strongbow, Aftershock, Strongbow Rooms, plus new additions Southern Fried Records, Full Cycle and Galaxy FM.

Following the success of last years partnership the 10,000 capacity arena will be hosted by Cream & GoodGreef! Make your mark in the turf for your dance spot in the most popular arena of the show. Headlined by German uber jock Paul Van Dyk who will be joined by special Guest and former Cream Resident Paul Oakenfold plus Ferry Corsten, Armin Van Buuren, Judge Jules, Fergie and Eddie Halliwell, Above & Beyond, Mixmag Future Hero winner Adam Sheridan, NU NRG (Live) and Cream Ibiza resident Gareth Wyn.

Everyones favourite American DJ, master Erick Morillo returns with his Subliminal Sessions crew to bring a touch of house fervour to Creamfields! Joining him will be Radio 1's Pete Tong, Seb Fontaine, Harry 'Choo Choo' Romero, Tom Stephan, Jose Nunez plus a live PA from Abigail Bailey!

Always wanting to keep things fresh, this year we welcome a new arena hosted by our friends at Southern Fried Records. Head honcho Fatboy Slim leads the troops who include Liverpool's very own joker of the pack Yousef, David Guetta, Jon Carter, Justin Robertson, Touche, south American superstar DJ Hernan Cattaneo, Annie Mac, men of the moment Shakedown plus special guest Timo Maas and a live performance from Infusion! Expect fun & frolics!

Another new addition to the Cream family are Full Cycle! After a 4 year hiatus Drum & Bass returns to Creamfields and there was only one man for the job…Roni Size! Just added is Will Smith's sparring partner Jazzy Jeff and Mad Skillz back to back. He will be joined by Executioner and Knowledge Magazine winner Andy C, Krust, DJ Die, Clipz, big bad bass duo Dillinja & Lemon D, Zinc & Jenna G, and to add a bit more off the wall flavour Giles Peterson and Scratch Perverts join the Full Cycle team and will no doubt be bringing them some future floorfillers and block party beats and theres still more to be added. Only the best MC's will do for a line up this good hence Dynamite, Navigator, golden girl MC Tali and MC Darrison having been thrown in for good measure!

Chibuku Shake Shake return for a 2nd year this time in a bigger tent. Harnessing the ethos of the eclectic night that has captured the imaginations of all! Making their Creamfields debut are the much talked about 2 Many DJ's if your one of the few without 'THAT' album then you're in for a very special treat! Expect a set that includes everything from Dolly Parton to the Clash! They will be joined by techno god Dave Clarke, Richie 'pulse rating' Hawtin, Layo & Bushwacka, Plump DJ's, DJ Yoda, Leo Belchetz, Johnny One Move plus live performances from the magnificent LCD Soundsystem and Aphletik.

To keep the hard dance contingency happy our friends at Tidy have put together a daddy of a line up especially for this event! Which includes a live performance from K90, Tidy Boys, Anne Savage, Rob Tissera, Andy Farley, Mark EG, Proteus, Lisa Pin Up, Lee Haslam, Paul Glazby, Amber D, Gaz West AKA Dark By Design, Tara Reynolds, Ben Stevens and Paul Maddox….Phew! Just remember to swap your fluffy boots for galoshes!

As if all this messiness won't keep you occupied for 15 hours there's some other attractions to wet your taste buds! The Strongbow Rooms return with a salivating line up that includes Felix Da Housecat, The Glimmers, Ivan Smagge (Black Strobe), Radio Slave, Skitz & MCD & Kris Bones. The line up has been put together by everyone's favourite long haired hedonist Rob Da Bank who will also be popping in for a spin. Sup up the cider and take in the rays (we're expecting a heatwave!).

For some silliness head over to the After Shock Arena where you can take part in a whole range of games and indulgences such as combat games, water fights and even toilet racing! Oh and lets not forget the Beyonce Castle where you can bounce about on Beyonce's famous asset and After shock podium dancing by the professionals and goggle-eyed festival goers alike….have a go if you think you've got the moves! Alternatively check out the circus performers particularly Kamelyan, who becomes a human harp in front of your eyes with the help of a few body piercing techniques and what's more you can play her! Or perhaps you'd rather re-enact Woodstock and dance under the sun in front of a 1973 Volkswagon Camper Van, if so the Gurn boys have got everything you need! Or if your mad enough get yourself to the fair and sample the bungee or the Drop Tower or knock your mates out at the Superbowl!

And last but by know means least Galaxy FM are signed for the first time ever as the official radio partners for Creamfields 2005. Without doubt the UK's biggest and favourite youth dance station! Bringing a fresh take on the festival this year the Galaxy Outdoor Stage will be positioned slap bang in the middle of the site. This new and exciting addition will ensure that the party around the main stage area continues non-stop! Galaxy will be live on air from 5pm - 1am with live mixes from some very special guests and Galaxy favourites Hed Kandi, The Slammin Boys, Bargrooves, Paul Kershaw and Andi Durrant! There is still more to add to the Creamfields line up so watch this space!
Bring On The Noise! Its What August Bank Holidays are made for.
LINE UP SO FAR:-
Saturday 27 August Bank Holiday Weekend
Old Liverpool Airfield, Speke Boulevard, Merseyside, 3pm to 6am

Creamfields Main Stage
Basement Jaxx;
Faithless;
Audio Bullys
Caged Baby

Cream & GoodGreef Arena
Paul Van Dyk
Ferry Corsten
Armin Van Buuren
Judge Jules
Fergie
Eddie halliwell
Above & Beyond
Adam Sheridan
NU NRG (Live)
Gareth Wyn
Special Guest: Paul Oakenfold

Subliminal Sessions Arena
Erick Morillo
Pete Tong
Seb Fontaine
Harry 'Choo Choo' Romero
Jose Nunez
Tom Stephan
Live PA: Abigail Bailey

Southern Fried Records Arena
Fatboy Slim
Yousef
David Guetta
Jon Carter
Justin Robertson
Hernan Cattaneo
Touche
Annie Mac
Shakedown
Special Guest: Timo Maas
Live: Infusion

Chibuku Shake Shake Arena
2 Many DJ's
Dave Clarke
Richie Hawtin
Layo & Bushwacka
Plump DJ's
DJ Yoda
Leo Belchetz
Johnny One Move
Live: LCD Soundsystem
Live: Aphletik
Galaxy Outdoor Stage (To Be Broadcast live on Galaxy FM)
Slammin Boys
Hed Kandi Bargrooves
Hosted by: Andi Durrant & Paul Kershaw
More TBA

Full Cycle Arena
Roni Size
Jazzy Jeff & Mad Skillz
Andy C
Dillinja & Lemon D
Zinc & Jenna G
Giles Peterson
The Scratch Perverts
DJ Krust
DJ Die
Clipz
Hosted By: Dynamite MC
Navigator
MC Tali
Darrison
More TBA

Tidy Arena
K90 (Live)
Tidy Boys
Anne Savage
Rob Tissera
Andy Farley
Mark EG
Proteus
Lisa Pin Up
Lee Haslam
Paul Glazby
Amber D
Gaz West aka Dark By Design
Tara Reynolds
Ben Stevens
Paul Maddox

Strongbow Rooms
Felix Da Housecat
Ivan Smagghe (Black Strobe)
The Glimmers
Radio Slave
Skitz & MCD
Rob Da Bank
Kris Bones

Aftershock Arena
The Aftershock arena returns to Creamfields for the 3rd year, with the ultimjate alternative festival experience. Take part in everything from podium dancing to fat slag sumo or sit back and watch the aftershock circus characters from the hot tubs!

Gurn Fun Bus Mobile Disco
Take a trip back to the summer of love 1973, remembering the good times of old. The Gurney Boys are bringing their retro sound system to Creamfields 2005. An icon of the past, their classic 'Vee Dub' camper has been fully transformed into a mobile disco! They will be showcasing the very best in old school talent playing dance music you love from times gone by. Bring some records if you fancy a spin!

Chill Out Arena
If the music gets a little too much, take solace in the chill out arena. Kick back, chat, relax and enjoy!

Plus more acts & DJ's to be added!

Event Details:-

Saturday 27 August Bank Holiday Weekend
Old Liverpool Airfield, Speke Boulevard, Speke, Merseyside
Times:- 3pm to 6am.

Capacity:- 40,000
Tickets:- £51.50 + BF On sale now
Info Tel:- 0151 707 1309 www.cream.co.uk
Cream Ticket Line:- 0870 242 7326 / Ticketmaster (24hr) 0870 169 0109 / Radio City Box Office:- 0151 256 5555
Hospitality Tickets £90 +BF-: 0870 442 2101
Tickets Online:- www.ticketline.co.uk / www.ticketmaster.co.uk
Accomodation Hotline:- 0845 601 1125 / Overseas +44 151

Travel Info:-
Full travel details can be found on www.cream.co.uk
Coaches:- Event Express Coaches-: Info Line: 08702 407 835 or Credit Card Bookings: 07976 439 289 / Website:- www.event-express.co.uk / Email: eventexpress@yahoo.com

Creamfields International 2005
Creamfields Andalucia - Spain Saturday 13 August
Creamfields Braslau - Poland Saturday 20 August
Creamfields Moskow - Russia Saturday 3 September
Creamfields Curitiba - Brazil Saturday 5 November
Creamfields Santiago - Chile Friday 11 November
Creamfields Buenos Aires - Argentina Saturday 12 November
Creamfields Mexico City - Mexico Saturday 19 November