Southport's new Pier Tram - the only one of its kind in the world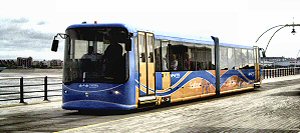 THE 100-seater custom-built British vehicle will link the end of the UK's second longest Pier with Southport town-centre, passing the Ocean Plaza complex en route. It has been funded with a quarter of a million pounds from Mersey Waterfront, alongside £45,000 from Sefton Council and a further £30,000 from The Pier Trust.

The 3,600 ft grade II listed pier has already undergone a £7m+ restoration programme, and this modern, air-conditioned tram is an updated version of an original feature seen on the Pier pavilion when it was first built in 1860. Estimates suggest the new tram could attract an extra 70,000 visitors to the resort annually.

Louise Hopkins, Director of Mersey Waterfront, said:- "Southport Pier tram is expected to generate more than £140,000 for the local economy in the next 12 months alone, and will help secure the Pier's future. It will also complement the support Mersey Waterfront has already given to the award-winning Marine Way Bridge and ongoing improvements to link Southport seafront to Lord street and the town-centre."

Cllr Lord Ronnie Fearn, Sefton Council Cabinet Member for Leisure and Tourism and Mersey Waterfront's Sefton board member, said:- "Following its multi-million pound restoration Southport Pier has become one of the most popular places to visit in the North West. The state-of-the-art new tram is not only a fun way for people of all ages to travel along the pier but a very practical way for visitors with limited mobility to get to the pavilion and enjoy the other attractions and of course the spectacular views."

Mike Swift, Chairman of the Southport Pier Trust, said:- "This complex multi phased Heritage restoration journey, commenced in 1994 in true partnership, has borne considerable fruit, the tram not only extends the use of the Pier and in all weathers but also includes those not so able who can enjoy the complete pier experience. We now have a structure and well used coastal attraction saying a lot about the confidence, character and charisma of Southport"

Southport Pier Tram is electrically driven by the latest battery technology to ensure it is environmentally friendly. It is also fitted with a hydralic ramp for disabled access, and will be running 7 days a weeks, 10am to 7pm, throughout the school summer holidays.
See the opening in next weeks issue.
WORKING ON WELL-BEING
CULTURE bosses in Liverpool are asking health experts for help in a new scheme to cut stress and illness among people in the city. The Liverpool Culture Company will soon be running a series of workshops for health professionals to get them thinking about well-being in a creative way. Experts are now being recruited to run these sessions and make a real difference to Liverpool people's lives.

Workshops will look at how to maintain health to prevent illness, and help people with symptoms to manage them. Participants will also have the freedom to use their imaginations to put together a creative wish list of healthy ideas which can then be taken forward, from thinking about the design of buildings, to introducing art workshops in doctors' surgeries.

Creative Health and Well-Being Manager Julie Hanna is overseeing the project as part of the Creative Communities initiative at the Liverpool Culture Company. She said:- "With latest figures from the Health and Safety Executive finding that illness costs £200m per year in the North West alone, it is a problem that we should all address. I'm really optimistic about how helpful these workshops will be and we're looking for special individuals who can deliver meaningful, dynamic, memorable and fun experiences for participants."

People who would be suitable to run the workshops may come from the artistic, cultural and creative sectors and would help identify practical and tangible ways in which well-being can be boosted. The deadline for applications is Friday 9 September 2005 and the contact is contact Julie Hanna, Creative Health and Well-Being Manager, on 0151 233 6393.

Liverpool Culture Company's Chairman Professor Drummond Bone said:- "Enhancing people's health, whatever their medical history, has to be one of our top priorities as we head towards European Capital of Culture. Health is so strongly linked to well-being and happiness as well as more specifically to employment and family life that it would be foolish to ignore this vital area."

12 workshops will run between October 2005 and March 2006. Staff and patients from the following health organisations will be invited to become participants in the workshops:-

Liverpool Primary Care NHS Trust, The Royal Liverpool and Broadgreen University Hospitals NHS Trust, Aintree Hospital NHS Trust, The Cardiothoracic Centre, Liverpool NHS Trust, Liverpool Women's Hospital NHS Trust, Merseycare NHS Trust, Mersey Regional Ambulance Service NHS Trust, The Royal Liverpool Childrens NHS Trust (Alder Hey), The Walton centre for Neurology and Neurosurgery, Liverpool City Council and others in the voluntary sector.