GOLD TASTE AWARDS
A record number of foods produced in the North West have been awarded Gold in the Great Taste Awards - the 'Oscars' of the world of fine food and drink. In the current climate of concern regarding sourcing, traceability and regionality of the foods we eat and which are available from supermarket giants, it is refreshing news that a record number of British, and in particular East Midlands food producers have been awarded Gold in the Great Taste Awards.

After weeks of regional judging by over 200 judges, the foods considered to be of Gold standard were re-submitted to an exclusive panel of top chefs, food writers and retailers chaired by Jean-Christophe Novelli. They held an intense and often confrontational final judging session in London to decide on the overall regional winners as well as the coveted 'Supreme' Champion award.

The results will remain a closely guarded secret until the glittering awards ceremony on 5 September when the winners will be revealed, followed by Jean-Christophe's announcement of the 'Supreme' Champion.

Bob Farrand, National Director of the Guild of Fine Food Retailers who organises the Awards says:- "Each of the foods, of which there were over 4,000 originally, has been judged like with like, being decanted and blind tasted along the way and judged by over 1200 judges. Being granted a Gold Award is recognition of the craft and dedication in the making of superb food and drink. The North West should be very proud of its top quality food produce."

The Great Taste Awards is the most prestigious and authoritative food competition and has carved a reputation over the last decade as the acknowledged accreditation of quality for all speciality food and drink. The Great Taste Awards runs parallel to the Specialty & Fine Food Fair taking place at Olympia from 4 September to 6 September 2005.

Great Taste Awards - Gold Winners from North West:-
French Roast Exchange Coffee Company (Clitheroe, Lancashire)
Espresso Creama Exchange Coffee Company
Jalfrezi Sauce Pasco Herbs & Spices (Wigan, Lancashire)
Chillililli Hawkshead Relish Company
Fig & Orange Jam Hawkshead Relish Company
Pink Grapefruit & Ginger Marmalade Hawkshead
Relish Company, Ginger Fudge The Wooden Spoon Fudge Company
Luxury Chocolate Pudding Farmhouse Fare (Salthill, Lancashire)
Chocolate Orange Pudding Farmhouse Fare
Puds in Pots - Strawberry Cheesecake Farmhouse Fare
Luxury Summer Fruit Pudding Farmhouse Fare
Chocolate Brazil Ice Cream Tattenhall Dairy Products Ltd
Pistachio Ice Cream Huntley's of Samlesbury Ltd
Cracked Pepper, Pork & Onion Chutney Broughs of Birkdale (Southport)
Dry/Sweet Cured (Green) Back Broughs of Birkdale (Southport)
Dry Cured Shortback Bacon Oakdene Farm Shop (Kirkham, Lancashire)
Home Cured Back Bacon Vaughan's Family Butchers
Sweet Cured Back Bacon Muff's Of Bromborough
Smoked Salmon Terrine Mark Anthony Gourmet Foods (Fleetwood)
Steak, Ale & Caramelised Onion Mash Broughs of Birkdale
Honey Hot Roast Smoked Salmon The Old Smokehouse.
Get FunKy!

LIVE BAND NIGHT.
YES it's time to get on down and get funky at 32 West Street, Southport, as the Funky Peach opens it's doors to live entertainment in the form of the hottest new Indy Rock bands. Headlining this week will be L20 who are signed with LBM Records and about to start a national tour with Echo and the Bunny Men. Also on the night will be The North, signed to Native Records and unsigned band ABE will be the nights support act. ABE has just been support for Status Quo at the Liverpool Pops and also come from Southport! Starts at 9pm on 28 August at the cool price of only £4.00.
yES 2 SOON TO BE FULL CHART RELEASE BANDS and a local popular band for only £4.00! You can't ask for more...
Tickets already nearly sold out, so be fast!
Celebrity Babes lay down Tache Challenge to Men
IT'S official, facial hair is more common than you think! According to a new survey by 118118, 75% of UK men have experimented with facial hair in their lifetime. Why? Over 50% of them grow a tache or beard either to impress women or to appear more mature and intelligent.

Now there's a new reason -TacheBack - a national fundraiser which, with the help of celebrity supporters Katy Hill and Sarah Champion, is urging the UK's men to prove their manliness by getting sponsored to grow a moustache and raise money for The Everyman Male Cancer Campaign.

Virgin Radio's Sarah Champion and presenter Katy Hill certainly looked impressed at the launch earlier today. They donned fake taches and paid homage to facial hair by posing for a photograph with an experienced pro from the 'Handlebar Moustache Club'. Now in its 3rd year, TacheBack is asking men whether they are man enough to take on the hair-raising challenge this September.

118118, the UK's leading directory assistant service and sponsors of TacheBack, conducted the survey by questioning over 2500 men in London, Manchester, Liverpool, Birmingham, Glasgow and Edinburgh. The findings showed that 30% of British men would prefer to grow the 'handlebar' moustache, whilst 25% would grow a Fu Manchu as immortalised by Christopher Lee, 20% would go for a 'Wild West' and 14% for a 'Dali.' Cities Liverpool for England and Glasgow for Scotland claim the crowns as the UK's hairiest places, with 85% of blokes at some point in their lives having sported facial hair.

When asked who their favourite tached celebrities were, 25% of men voted for the 118118 twins, 17% favoured Tom Selleck, the star of the 80s series Magnum PI, whilst Des Lynam and 'porn star' Ron Jeremy received 13% of votes each.

"Let's face it, the 118 boys look great with their 70s retro taches.", says 118118 spokesperson William Ostrom. "However, it must be revealed these boys are fooling around - those handlebars are actually fake. For the TacheBack appeal, only the real thing will do. "

TacheBack hopes to build on the success of last year and beat the £100,000 raised, which went directly to support research into prostate and testicular cancer at the Everyman Centre - part of The Institute of Cancer Research.

According to Philip Black from the TacheBack Campaign, "Cultivating a moustache may seem like a daunting and hair-raising prospect, but it's really simple. If you want to prove to women that you are man enough, why not take on the TacheBack challenge this year and emulate such tached legends as Burt Reynolds, Des Lynam or Tom Selleck."
Get into the recycling habit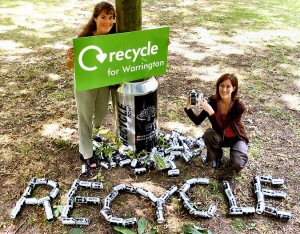 A NEW campaign has been launched in Warrington to encourage householders to get into the recycling habit. The campaign, Trees for the UK/Trees for Africa, was launched recently at Bank Park, and will give the borough one native tree for every tonne of aluminium cans and foil recycled, and at the same time help grow trees in a sustainable forest project in West Africa.

The aim is to encourage householders to get into the recycling habit, and everybody is being asked to get behind the scheme. Residents can take their cans to local bring sites or to the Recycling and Household Waste Centres located at Gatewarth, Woolston and Stockton Heath. Bring sites are located throughout the borough at supermarkets and car parks and have facilities to recycle cans and a range of other materials such as glass, paper, textiles, plastics and shoes.

Cllr John Joyce, Leader of the Council, said:- "This is a great campaign to encourage residents to get into the recycling habit. This is just one of many initiatives taking place across the borough so there really is no excuse not to get involved. Recycling is vital if we are to protect the environment in which we live and reduce the amount of waste going into landfill and if everyone does there bit then we can achieve our goals."