Southport FC v Stevenage Borough FC
Report and photos by Sally Devine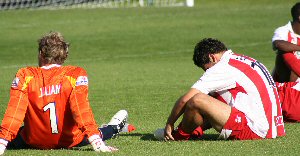 THE match held on Saturday 20 August 2005 witnessed Stevenage arriving late due to a serious accident on the M6, kick off being delayed until 1530hrs. Southport made one significant change to their line up, last seasons top scorer Terry Fearns was replaced by Neil Robinson in attack.

The home side set out to thwart Stevenages usual fast flowing game and collectively put up their best performance so far this season.Neil Robinson was tackled by Gregory in the box and Carl Baker scored his first goal of the campaign from the penalty spot after 23 minutes.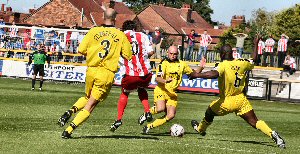 The part timers from Southport were rewarded for their efforts with a second goal on 35 minutes when Neil Robinson pounced on a loose ball after good work by Leadbetter and duly dispatched it into the net from close range.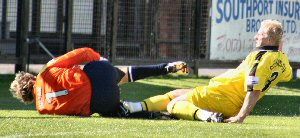 Stevenage for their part had shots from Stamp and Berquez saved by Dickinson and Krief cleared off the line to send the Sandgrounders into the interval 2-0 up.

A further goal followed for Southport when Robinson again reacted quickly to a loose ball and crashed home from 12 yards.

Anthony Elding redressed the balance for the visitors when he was presented with an easy tap in from close range after a mistake by Earl Davies.Then a controversial penalty was awarded when Kilbane was adjudged to have committed hand ball in the area.Darryn Stamp made it 2-3 to set up a nail biting finish but the Port held out and were applauded off the pitch by the fans.

Score:- 3 - 2 to Southport

Attendance:- 1,007

Southport FC:- Dickinson; Lane; Fitzgerald; Kilbane; Davis; Baker; Krief; Pickford; Leadbetter; Daly; Robinson

Stevenage FC:- Julian; Warnock; Gregory; Goodliffe; Henry; Weatherstone; Bulman; Berquez; Boyd; Elding; Stamp

Bookings:- Southport 5 Stevenage 4