Twin wingwalkers set to go Utterly Butterly at Southport Air Show, Lancashire on 10 & 11 September 2005!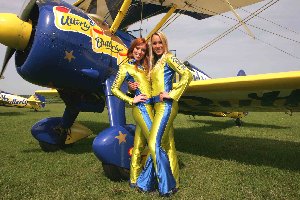 THE world's only formation wingwalking team, the Utterly Butterlys, is delighted to be flying into Southport Air Show on 10 & 11 September 2005. The team, sponsored by delicious dairy spread Utterly Butterly, will roar into Southport Airshow with their identical 1940's Boeing Stearman biplanes and twin sister wingwalkers waving from the top wing to perform a mouth-watering sequence of formation aerobatics.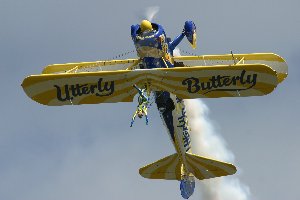 New to the team for 2005, 19-year-old twins Libby and Poppy Dover are delighted to have landed the job as Utterly Butterly wingwalkers. Beating hundreds of applicants to the job, the girls proved they had a head for heights, a taste for adventure and were utterly determined to succeed at the ultimate in highflying careers!

"Wingwalking is the best roller coaster ride in the world!" says Libby, who is enjoying a gap year after completing her A Levels, "Poppy and I are so close and it is utterly amazing for us to have landed a job where we can work side by side, even if it is 500 feet in the air!"

Wingwalking dates from the utterly romantic era after the First World War when young pilots returned home exhilarated from their adventures in the sky, keen to earn a living in the clouds. These daring heroes purchased surplus war biplanes cheaply and traveled the country utterly captivating civilians with the opportunity of flying, landing in fields and charging locals for their first taste of flight. To capture the imagination of potential customers the pilots flew down the main street of each town at low level and persuaded girlfriends and engineers to climb out along the wing of their aircraft, utterly amazing! Now over 80 years later, the Utterly Butterly pilots are celebrating the passion of those early adventurers. Pulling up to 4G (4 times their own body weight) they loop, roll and turn the biplanes through the sky with deliciously daring wingwalkers waving and performing handstands on the wing against 150 mph wind pressure, Poppy and Libby are looking forward to an utterly unusual view of the Southport Air Show crowd!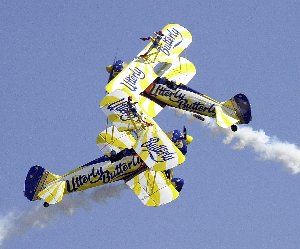 "The most exhilarating part of wingwalking is climbing around the aircraft in flight", says art student Poppy, "we have learned to climb from the open cockpit of the biplane up onto the wing against 100mph wind pressure and for our final flypast we will stand in a position between the cockpit and the wing to wave at the Southport Air Show crowd during a knife-edge pass, utterly brilliant!"
Usdaw says Boots staff aren't made for standing
RETAIL union Usdaw is backing staff at Boots who say standing only tills are making their daily jobs uncomfortable and even dangerous to their health. Those concerns expressed by frontline retail staff are backed up by a new TUC report that says workers who stand for most of their working day can suffer a range of problems including poor circulation, foot problems, joint damage, difficulties with pregnancy, swollen feet and legs.

The 'Standing Problem' report estimates more than 2 million sick days are lost to lower limb problems and nearly 200,000 people report health problems caused or made worse by standing too much at work.

Usdaw is backing staff at Boots where traditional checkouts in some stores have been replaced with a standing only alternative that have proved very unpopular. "After we complained, staff were provided with uncomfortable perch seats but they are pretty pointless," says Usdaw health and safety officer Doug Russell. "The idea of the perch is to ensure staff aren't standing constantly when serving customers, but as there is almost always a queue of customers in a busy chain like Boots then they don't address that key health and safety issue about reducing lower limb related health problems. We believe this is a clear failure to provide suitable seating and is a breach of the Workplace (Health, Safety and Welfare) regulations. We are seeking support from the local health and safety enforcement agencies on the situation in one store in the north west already using the new tills and perch seats."

The TUC report says the problem is as bad today as it was for London shop assistants at the end of the 19th century and Usdaw says the provision of well designed seating is a particular concern for checkout operators who they estimate can lift up to 2 tonnes of goods in an average 4 hour shift.

"It does seem quite wrong that staff today are no better off than they would have been in Victorian England and we don't believe that the efficiency of the average retail store would be compromised by staff having proper seating." Says Doug Russell. "Simple adjustments to the way retail staff are seated could reduce sick days almost overnight and we are happy to work with any company to design out these problems. Better workstation design and good rotation of staff through well planned breaks will reduce the catastrophic number of sick days caused by lower limb problems as well as dramatically increasing the productivity of a workforce working free of unnecessary pain."
WHAT DO DAVID BECKHAM, LENNY HENRY, MEERA SYAL AND ELTON JOHN HAVE IN COMMON?
ALONG with Judy Dench, Tim Henman, Sir Richard Attenborough and Esther Rantzen they're all charity trustees, just some of the 900,000 people running the 190,000 charities in England and Wales. Today the Get on Board campaign, to recruit more charity trustees, is launched by the Charity Commission and national volunteering charity TimeBank. Half of all charities claim to have problems recruiting new trustees, and research shows that currently only 15% of trustees are under 40 years old. This campaign will seek to help charities fill their vacancies, and encourage younger people and those from minority communities to volunteer as trustees.

Lenny Henry, comedian and trustee of Comic Relief, said:- "Being a trustee for Comic Relief has really helped me to understand some of the vital issues that face people both in this country and around the world. I really feel that it has helped to shape my thinking and my actions towards a more positive role in the world community."

Anyone who'd like to know about becoming a charity trustee should go to www.getonboard.org.uk to find out more.