Taking learning to another dimension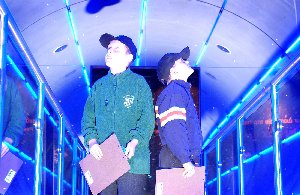 SPACEPORT, Merseyside's latest and most imaginative tourist attraction is proving to be a big hit with schoolchildren from across the region.

The £10 million venture, which opened last month, is based in a listed building at Mersey Ferries Seacombe Terminal.

Councillor Mark Dowd, chair of Merseytravel, which owns both the Mersey Ferries and Spaceport, said:- "We said Spaceport would be both educational and entertaining and so it has proved. The response from schools has been overwhelming."

Now free special educational activity packs are to be launched to help teachers guide school parties on their journey through space.

Ken Moss, Spaceport Manager, said:- "We have enlisted the help of teachers to produce these free educational packs.

They will include details about all the interactive activities and displays, as well as worksheets, quizzes and an information guide about our facilities.

The idea is to give teachers all the information and advice they will need for bringing in groups of pupils, including help with things such as risk assessments, so that children can enjoy the exhibits and activities whilst learning at the same time."

Developed in partnership with the Astrophysics Research Institute of Liverpool John Moores University, Spaceport has been designed for education and enjoyment, making it the UK's premier space attraction.

The content of Spaceport already closely covers topics in the National Curriculum at Key Stages 2 and 3 (seven to 14 year olds). It also covers topics in Key Stage 4 and most of the GCSE Astronomy syllabus.

Topics such as the position of the Sun, Moon and Earth, phases of the moon, the cause of seasons and the order of the Solar System, covered within one of the areas of Spaceport, are all elements contained within the Key Stage 3 curriculum.
The National Schools' Observatory element of the attraction covers areas of the curriculum including eclipses and the apparent movement of the stars in the night sky.
The education pack gives handy pre-visit tips on teaching Year 5 and Year 7 Space topics using the National Schools' Observatory website. It also includes a 'Hunting for Asteroids' workshop as a follow up to their visit where children can carry out real research and, if they find an asteroid, they can report it back.

Mr Moss added:- "One of the great attractions of Spaceport for schoolchildren is that they can learn something useful and interesting in a fun way.

There are interactive exhibits that help explain concepts which are sometimes difficult to teach in the classroom such as tides, seasons, phases of the moon, gravity and the order, structure and evolution of the solar system.

It's not all learning of course, we have some fantastic exhibits including six Starchaser rockets and the world's first privately-manned rocket capsule.

Spaceport also houses interactive activities that showcase the National Schools Observatory, an initiative that enables school children to use one of the largest multi-million pound robotic telescopes in the world, via the Internet, and carry out research just like real astronomers."

A leaflet giving details about the educational packs will be distributed to schools across the Northwest in the second week of September, as schools return from their summer breaks. The free education pack will follow shortly after.

The aim is to help schools' build the package and visits into their curriculum planning for up and coming terms.

Spaceport was launched earlier this year, which is also Einstein Year, the aim being to get more young people excited about physics.

Neil Scales, Chief Executive and Director General of Merseytravel, said:- "Spaceport was launched as part of our overall strategy to ensure a sound financial future for Mersey Ferries which are already the most popular paid-for tourist attraction in the region. Its success will also provide a welcome boost to the local economy."

Spaceport opens at 10.30am six days per week, closing on Mondays except for all of August when Spaceport remains open seven days per week. Last Admission is 4pm and it closes at 5.30pm.

Excluding Christmas Day, Boxing Day and New Year's Day, Spaceport is open on Bank Holidays.

Prices for admission are Adult £6.95, Child £4.50, Concession £4.95 and Family (2 adults and up to 3 children) £18.95.

Adults must accompany children under 14 years.

For school groups one teacher or teaching assistant goes free with every six children provided the school is booked in advance on 0151 330 1333.