A Skill in Design for Life
A group of seven students from Myerscough College's Croxteth and Wythenshaw Centres, who designed a garden for a new community centre in Longsight as part of their course, have been awarded £10,000 to make their design a reality.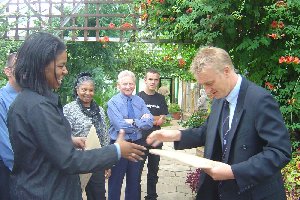 The part-time students, aged from 22 to 50 years old, worked together on the design for the 240m2 garden over the last 8 weeks as part of their 'Introduction to Landscape Design' course. Their patchwork design, including herb and wildlife areas, impressed the charity behind the community centre so much that they have now been commissioned to produce the garden.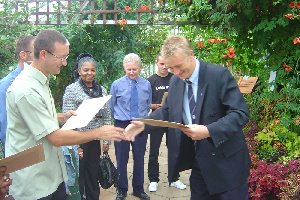 Alan Quinn, proud 'Introduction to Landscape Design' course tutor, comments:- "Being able to design a garden to a budget is a key element to our course, but the opportunity to actually test these skills on a garden that will be enjoyed by people for many years to come reflects just how much these students have developed since the beginning of the course.

These students come from diverse walks of life. There is a retired gentleman, an accountancy student and even an ex-bus driver, which just goes to show, it is never too late to learn a new skill. This experience is invaluable, whether they want to develop a career in landscape design or just use their new skills on their own gardens."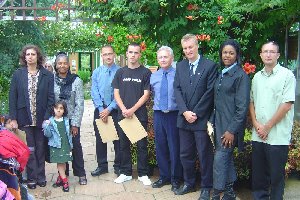 Three of the students were also involved in the development of Myerscough's award wining garden at this year's Southport Flower Show. The 'Around the World' themed garden featured a new and extremely rare variety of Cordyline, propagated by Myerscough College, which one visitor travelled all the way from Southampton to see.
Search For A Star, Heat 3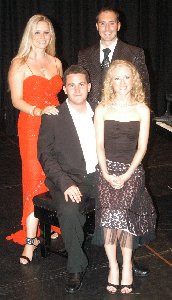 THE Southport Arts Centre witnessed one of the most amazing evenings as the final heat for this years North West Search For A Star came to a close. The judges had a very hard dissension to make and the points where extremely close, for the third week running. All the contestants this year have put on one of the best series of heats ever and even the contesters who did not make it through to the next stage of the contest, the North West Area Finals deserved to get a huge round of applause. So this years finals, to be held for the first time in many years at the Southport Arts Centre, not the Theatre, will be one of the strongest yet, so put the 22 in your diary as a do not miss night. Find out who will be representing the North West in the British Resort Search For A Star, talent competition, 2005. This weeks Heat performers where:- Jeff Allen; Katie Deegan; Heather Birch; Tom Spence; Bekki Bell; Sophie Way; Raymond Quinn; Donna Callon; Clive Martin; Caroline Taylor; Lauren Ormisher; Alison Crawford; Paula Edwards and January Woodhead.
Also taking to the stage where:- Rising Star, Sarah Creeny and Guest Act Nazena Langfield and her dancers.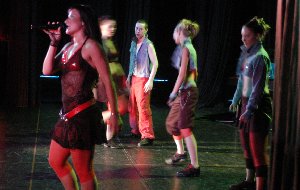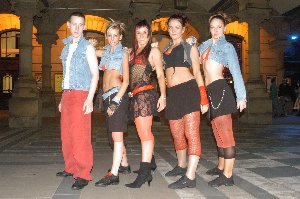 Page 1 of 5
If the green box above does not show, you must download a new edition of Java. To get it just use this link:- java.com/en/index.jsp