European football for both Merseyside clubs brings extra Airport business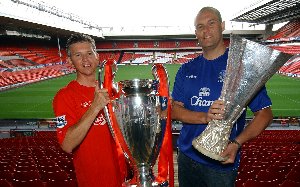 THIS WEEK Management at Liverpool John Lennon Airport are looking forward to the prospect of both Liverpool and Everton Football Clubs having good runs in Europe this season, with the teams and many supporters from both clubs flying via the Airport.

European Champions League holders Liverpool recently qualified for the group stages of the competition once again, whilst despite Everton's disappointment at not reaching the same stage, the blue half of Merseyside is now all set to follow their team in the UEFA cup competition starting with their away leg against Dinamo Bucharest later this month.

Travelling football fans is big business for the Airport as witnessed earlier in the year when Liverpool's run in Europe culminated in reaching the final of the Champions League, which saw Liverpool John Lennon Airport handle over 28,000 additional passengers throughout Liverpool's European campaign.

It is not just Merseyside fans travelling to Europe though. Visiting teams and their supporters also help to boost passenger numbers, whilst the large volumes of fans who regular fly over to home games using the many scheduled flights from Belfast and Dublin, highlights the importance to the Airport of successful local football teams. The Airport has also seen clubs from outside Merseyside fly from here with Bolton Wanderers travelling through en-route to a pre-season friendly a few weeks ago.

Robin Tudor, Corporate Affairs Manager for Liverpool John Lennon Airport commented:- "Football related traffic through the Airport has never been better. The Champions League Final alone saw 20,000 additional passengers travelling on 84 extra flights .This season, the fact that both Merseyside Clubs are back in Europe, will bring fans from the blue half as well as the red half of Liverpool through the Airport as well as enabling both Evertonian and Liverpudlian airport staff to cheer on their teams together."
RAF Millom Museum Heritage Open Days
ON the 8 September to the 11 September 05 the RAF Millom Museum are taking part in the the Heritage Open Days and we welcome you to visit the museum during this period, admission to the museum is free during the Heritage Open Days. The Museum is open from 10.30am to 17.30pm on these days. www.heritageopendays.org.uk
Anyone wishing to visit the event is welcome to do so and can contact the following for further information, email us by clicking here or phone:- 01229 775921
CREAMFIELDS 05
Report and photographs by Dionne Ankrah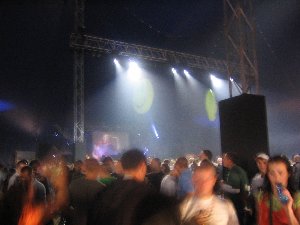 WHAT a night! The annual Creamfields Festival rocked at the old airfield so it's hardly surprising that Creamfields was voted Best Dane Festival. The weather was warm and even though it threatened to rain it held off and thankfully stayed dry. The atmosphere was electric and the people were great, with excitement buzzing through 45,000 people with only one thing on there minds; to dance all night and have a great time. With an ever impressive array of major live acts and world class DJ's there is no wonder that this year's Creamfields was a sell out, and rumoured to be the best yet.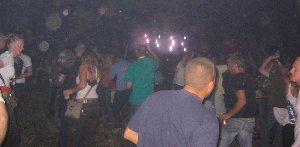 At sundown was Faithless with one of the greatest live acts ever seen, performing classics such as God is a DJ and Insomnia they were an act not to be missed. Grammy winner Basement Jaxx were to follow at midnight and what a performance, you will never see another act quite like it no wonder they are currently at the top of the league with everyone trying to book them for the next events. The Radio 1 Outdoor stage proved more popular than ever, being broadcast throughout the day from various shows, Dave Pearce set the standard for pure dance music, followed by Judge Jules and Seb Fontaine who was joined by guests MYNC Project and Armin Van Buuren.

Merseyside Police has praised the many people who attended this year's Creamfields, with 350 police present at the event to ensure everyone's safety. The dance festival was hailed a success by Merseyside Police and has maintained its reputation as one of the safest events of its kind in the country.
Every year this event gets bigger and better, Cream really know how to throw a party and put on a spectacular event, so I can't wait for Creamfields 2006.