SWITCHED ON THIS WEEK - THE BEST BITS ON UK TV

Written by Caren Clark


For the week Saturday 3 September to Friday 9 September
1. The Road to 9/11 Channel 4 Saturday 8pm; Inside 9/11 National Geographic Sunday & Monday 9pm; The Man Who Predicted 9/11 Channel 4 Monday 9pm; Marking the fourth anniversary of 9/11, Channel 4 examines the history of the troubles in the Middle East and profiles a British security chief who died in the attacks, but saved his colleagues thanks to the foresight of his evacuation plan. Meanwhile a National Geographic series explores the lead-up to the fateful day.

2. Final Chance to Save Sky One Sunday 8pm NEW SERIES; In the first of a four-part series in which celebrities spotlight a range of endangered species, Griff Rhys Jones travels to Kenya to meet black rhinos and the people who are trying to protect them from extinction.

3. Celebrity Shark Bait ITV1 Sunday 9pm Richard E Grant, Ruby Wax, Amy Nuttall and Colin Jackson confront their fears as they are plunged into Shark Alley – a notorious stretch of water off the coast of South Africa which is home to the great white shark.

4. Marian, Again ITV1 Monday & Tuesday 9pm; Stephen Tompkinson and Kelly Harrison star in this intense thriller about a family man who is plunged into a mystery when he meets his first love who went missing 15 years before.

5. Bed & Bardsleys Channel 4 Monday 11.30pm, Tuesday 11.40pm, Wednesday & Thursday 11.35pm NEW SERIES; Would anyone want to spend their holidays with Lizzy Bardsley? A brave group of guests check into a Blackpool B&B which the infamous Wife Swap 'star' and husband Mark will attempt to run for two weeks.

6. Hell's Kitchen USA ITV2 Monday 9pm NEW SERIES; It's America's turn to incur the wrath of Gordon Ramsay as the fiery cook puts a group of aspiring masterchefs through their paces, before awarding one with their own restaurant.

7. Nighty Night BBC3 Tuesday 10.30pm NEW SERIES; The second series of Julia Davis's award-winning dark sitcom sees deeply dangerous Jill (Davis) on a mission to track down Don (Angus Deayton) and Cath (Rebecca Front) in Cornwall.

8. Medium BBC1 Tuesday 11.05pm NEW SERIES; Patricia Arquette stars in this new drama based on the experiences of a real-life medium who assists the police in solving crime.

9. Reno 9/11 FX Thursday 9pm NEW SERIES; The quirky cop comedy returns with more unscripted, a fly on the wall style mayhem as Reno's stalwart police department celebrates Halloween.

10. The Green Green Grass BBC1 Friday 8.30pm NEW SERIES; Boycie (John Challis) and Marlene (Sue Holderness) make a comeback in this Only Fools and Horses spin-off which sees the outlandish couple relocating to the countryside to escape some notorious gangsters.

VARIATIONS:- The Road to 9/11 S4C Sunday 1.15am; The Man Who Predicted 9/11 S4C Thursday 9.30pm; Bed & Bardsleys S4C Tuesday 12.05am Wednesday 12.35am NEW SERIES
Community allotment opened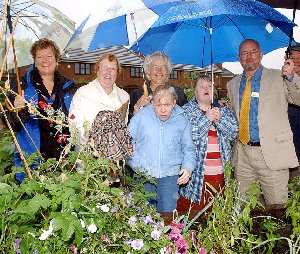 KEEN gardeners are set to benefit from a community allotment, which was officially opened in Battery Lane, Woolston last week.

The chairman of Woolston Parish Council, Cllr Ann Brennan, officially opened the allotment by cutting the ribbon on Wednesday 24 August 2005.

The Council, Woolston Parish Council and the Battery Lane Allotment Association have all worked on the project to create the allotments, which have been designed to cater for people who have special needs.

Some of the facilities include tarmac pathways, raised beds, a large shed for cover from bad weather and disabled toilets.

The project has been funded by a number of organisations including the Council and Woolston Parish Council.

Cllr Pat Wright, Executive Board Member for Community Services, said:- "It is fantastic to see the allotments officially opened as I know a lot of hard work has gone into delivering this project. Everyone who has been involved should feel very proud and I hope people enjoy using the allotments."
GEARING UP FOR GOSPEL
WARM up your voices for a night out with a difference - guaranteed to fill your heart with soul and put a spring in your step.

The uplifting experience comes courtesy of the Liverpool Philharmonic Gospel Choir, which performs at Prescot Parish Church, Knowsley, on Friday, 21 October 2005, at 7.30pm.

Directed by Tyndale Thomas, the prestigious choir will be performing favourites including Oh Happy Day, Light a Candle, Lean on Me and Love is the Message.

And for those who really get into the spirit, there's even the chance to join in and become an honourary member of the chorus! Workshops will be held in the lead up to the concert, with schools and local people being given the chance to learn some of the songs and join the choir onstage on the night.
For more information on these, contact Dave Wycherley on 0151 443 5619.

Meanwhile, tickets for the event are now on sale, priced £6.50 or £4.50 concessions.
Tickets are available from:-
Prescot Museum (0151 430 7787),

Prescot Library (0151 426 6449),

Prescot Church (0151 426 6719),

Knowsley Council's Arts Service (0151 443 5619)

Huyton Suite (0151 443 3761)