Southport Fc v Burton Albion Fc
Report and photos by Sally Devine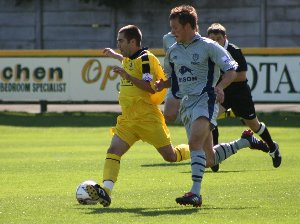 ON Monday 29 August 2005, Southport returned to Haig Avenue after securing a draw at Kidderminster last Saturday. They again left out Terry Fearns and retained Neil Robinson and Steve Daly up front. The home side, in front of a disappointing attendance of under 1700, started at a brisk pace with Burton being penned back in their own half as Southport swept forward. Robinson opened the scoring on 18 minutes after good work by Fitzgerald on the left, giving him an opening to stroke the ball into the net from 6 yards out.

Burton with former Liverpool man Nigel Clough in their side as player/manager pressed hard for the equaliser, Dickinson being forced into making a point blank save from him at close quarters.

Southport increased their lead in the second half after Robinson turned provider from the right to give Leadbetter the opportunity to beat Crane with a low shot from 5 yards. A second goal from Robinson with a powerfull header gave the Sandgrounders what should have been a comfortable lead, but as in previous games the concentration lapsed and Burton fought their way back. Krief gave away an own goal as the shot richochetted off him and Chris Hall a Burton sub scored the second for the visiters.
A tense finish was set up as Southport faced a siege in their goalmouth, Burton claiming several corners in succession as they looked for an equaliser. But the Sandgrounders held firm and the final whistel was greeted with relief by fans and players alike.

Final Score:- 3-2 Southport Attendance:- 1660

Southport:- Dickinson; Lane; Fitzgerald; KilbaneDavis; Krief; Baker; Pickford; Daly; Leadbetter; Robinson
Burton:- Crane; Henshaw; Webster; Corbett; Tinson'Stride; Anderson; Gilroy; Harrad; Graves; Clough