Incapacity benefit numbers boosted by job shortages in Merseyside
IT'S back to school and back to stiff-collared shirts and pleated skirts, but not for much longer! Children in Liverpool have the chance of a lifetime, to create their ideal school uniform.

Surcare, the range of laundry and household products for people with sensitive skin, is giving an opportunity to children in Liverpool up to the age of 12 to design their ideal school uniform for its national 'Wear Your Uniform With Pride' competition. The launch of the competition coincides with National Eczema Week (17-20 September), which highlights the fact that 1 in 5 school children currently suffers from skin irritations, whether it's dry skin or eczema. Designs for the ultimate school uniform should be submitted using unusual fabrics and exciting features to make something that has never been seen before.

David Briscoe, marketing analyst at Surcare says:- "The more original and different the design is, the better the chance it has of winning. We're urging children in Liverpool to use their wildest imaginations and submit entries using any technique possible, including drawing, painting, computer created image and collage... make the design stand out as the winning one will be made into a real uniform."

The closing date for entries is November 11, 2005 and once all designs have been received, 12 finalists from regions around the UK, including the North West will be selected by an expert judging panel, including a textile professor from the renowned Manchester Metropolitan University Fashion School. The overall winning design will be sent to Manchester Metropolitan University Fashion School where its leading designers will bring the idea to life and once the design is complete, the lucky winner will be whisked off to Manchester to wear the uniform they have designed.

Angela Peers, Principal Lecturer at Manchester Metropolitan University Fashion School says:- "School uniforms have long been considered too conservative and a chore to wear, so this is a fantastic opportunity for children who take a real interest in fashion. We're really looking forward to seeing the entries and you never know, we may spot the next Vivienne Westwood or Matthew Williamson!"

Other prizes include arts materials vouchers and 'Caring Design' certificates.

To enter, send your design to:-

Wear Your Uniform with Pride Competition
Surcare
c/o Weber Shandwick
2 Jordan Street
Manchester
M15 4PY

The North West winner will be announced at the end of November 2005.
LARKS IN THE PARK
THE event that launched the career of Echo and the Bunnymen two decades ago is back. Larks in the Park Revisited is a re-run of the popular 80s event and will take place on Sunday 25 September in Sefton Park Palm House. The free art and music showcase will feature local performers and entertain people of all ages.

Creative Director of the festival, Andrew Macaulay, said:- "Many of us who went to the early events have grown up and have families now. While bands including Liverpool-based 'The Pearl' take centre stage, child friendly community arts activities will take place around the Palm House. And it doesn't matter if it rains as we'll be under cover in our lovely indoor venue".

Larks in the Park Revisited is a fun family event, with entertainment for everyone. The headline act is The Pearl, a local band with an eclectic sound who have already received airplay on Radio Two.
Other performers include Stan Ambrose, Frank Carlyle, Magical History Tour, Perfectly Frank, 2 Real, Chiba Sprawl, Hallucinations and Sarah Lawton.

The city council's executive member for culture, Councillor Warren Bradley, said:- "Larks in the Park Revisited is very exciting because the original event showcased Echo and the Bunnymen, so the artists performing on this fantastic day could well be stars of the future."

The comeback of this art and music event was made possible thanks to funding from the Liverpool Culture Company's Creative Communities initiative. The free event runs from 10.30am to 5.00 pm on Sunday 25 September.
SOUTHPORT WEEKENDER 37
November 4 to 6 November 2005
PONTINS HOLIDAY CENTRE, SOUTHPORT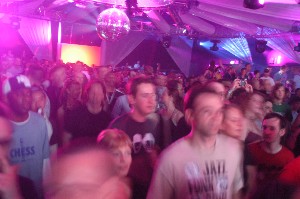 YES it is back again, the Southport Weekender is Europe's best loved indoor music events, held twice yearly, this music festival attracts a 5000 capacity crowd to the indoor Pontins holiday complex in Southport. Having evolved from it's beginnings as a soul music weekender founded by hedonist, Aex Lowes, the 18 year old event now stands as the most musically diverse music weekender in the U.K. calendar. An intimate friendly crowd of dedicated dancers and discerning music lovers will be your companions at the event, which features four purpose built arenas featuring state of the art production and sound, each covering all genres of the best soulful music around. For the second and last time for 2005 the Weekends dance floors will be rocking to the sounds of top DJ's, PA's and bands... The line up so far is as follows:-
THE POWERHOUSE

The largest of the Arena's with a 2000 capacity and jaw dropping production, featuring the very best in House Music with a world class DJ line up.

Tony Humphries
Joe Claussell
Timmi Regisford
Kerri Chandler
Karizma
Marques Wyatt
Norman Jay
Franck Roger
Neil Pierce
Hippie Torales
Scott Bradford
Jonathan

THE BACARDI B-BAR

The hugely popular and forward thinking B-Bar with classic cocktails and a great eclectic mix of music ranging from Jazz to Broken Beats, Drum n Bass, Hip Hop and Deep House with DJ's —

Gilles Peterson
DJ Spinna
Theo Parrish
Electric Souls Soundsystem Feat. Una Bombers, Pete Simpson (vocals) & Cris Cruikes (percussion)
Domu
Benji B
Spiritual South
Snowboy
Kev Beadle
Bob Jones
Simon Mansel
Steve Butler &
Billy Davidson
Collin Patterson

THE CONNOISSEURS' CORNER

A quality selection of Soulful music ranging from choice soul cuts, Jazz Funk, Rare Groove, Nu Soul & Classics.
Richard Searling
Norman Jay
Terry Jones
Andy Davies
Mike Stephens
Bob Jones
Snowboy
Bob Jeffries
Baz Maleedy
Colin Curtis Plus special guest
Keb Darge's Deep Funk Session

THE FUNKBASE

The second largest of the Southport Arena's featuring the cream of the UK's RnB DJs bringing you the best Urban Music in RnB, Soul, Hip Hop and club Classics.

Steve Sutherland
Ronnie Herel
Shortee Blitz
DJ Diggz
Bigger
DJ Swerve
Asha
The Firin' Squad
Fitzroy Da Buzzboy
Steve Wren
Wayne C McDonald
Max Rees

THE SO CHILLED ROOM.... DJs TBC + ALL LIVE ACTS YET TBC
TICKETS:- Going fast but still some are avalable... All tickests must be booked in advance. Cost:- £110 PER PERSON INCLUDES SELF CATERING ACCOMODATION FOR 2 NIGHTS AND 3 DAYS. available from the Southport Weekender office on 0870 990 1987 or online at:- www.southportweekender.co.uk