WHAT DO PEOPLE DO OVER A COFFEE IN THE NORTH WEST
THE official scoop is that people in the North West like to get together to discuss the local scandal and gossip over a cup of coffee. This was revealed in a new survey commissioned by the Macmillan Cancer Relief for their World's Biggest Coffee Morning.

30% of people in the region meet up with work colleagues every day for coffee and 82% of them admitted that office gossip was the top topic of discussion. After rumourmongering, the topic of holidays was discussed with 64% admitting discussing their next vacation. And surprisingly the least talked about topic was sex and love lives, except for amongst Law professionals where it is one of the top topics.

Macmillan Cancer Relief is giving everyone the chance to chatter away to their hearts content over a cup of coffee on Friday 30 September at the World's Biggest Coffee Morning. Now in it's 15th year the coffee morning has raised nearly £30 million and this year Macmillan hopes to raise £5.8 million to help people living with cancer.

To join in World's Biggest Coffee Morning, call the hotline on 0845 602 1246 or visit the website www.macmillan.org/uk/coffee.
LIKE FATHER, LIKE SONS, SAYS RACING LEGEND MANSELL
19 YEARS after scoring his first Formula 1 victory at Brands Hatch, racing legend Nigel Mansell has passed his Advanced Driving Test with the IAM and for good measure, so have his 2 sons, Leo Mansell, 20 and brother Greg, 17.

But all 3 of them showed IAM examiners that driving expertise isn't just for the race track when they passed their IAM car test using a route around the Woodbury Park Hotel and Golf Course near Exeter in Devon.

Ted Clements, IAM Road Safety Advisor, had been encouraging Nigel to take the test for many years. "It was worth the wait....... Especially the hat trick! I knew that Nigel would pass with flying colours, but it was great that his 2 sons were able to take their advanced driving test as well at the same time. Young Greg only took his L-test last year, so he did very well indeed. It must run in the family!

My grandfather always told me that it is no good lying on a hospital bed saying I had the right of way. That's one of the reasons I was so pleased that the boys could do the IAM test as well." said Ted.

Nigel did his test in an Audi A6 and younger son Greg also choose an Audi and A3. Leo opted for a Chrysler. The IAM examiners were Steve Mead, assistant chief examiner, and Ian Harris, a serving police officer with Avon and Somerset Constabulary, based in Bristol.

With 31 Grand Prix wins, Nigel has his place in the Formula 1 Hall of Fame. He joins john Surtess, the late graham Hill and Sir Stirling Moss as racing drivers who have passed their IAM test and legendary motorcyclist Geoff Duke who took his IAM test in 1960.

The IAM has a network of more than 200 groups across the UK, with observers who help thousands of drivers a year to prepare for and take their advanced driving or motorcycle test. For further information from IAM house on 020 8996 9600 or visit iam.org.uk.
Climate change, natural disasters, pollution what environmental issues matter to you?
THE NORTH WEST AIR AMBULANCE ATTENDS A SERIOUS ROAD TRAFFIC COLLISION IN SCARISBRICK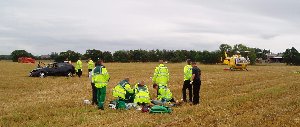 ON Thursday 8 September, the North West Air Ambulance (NWAA) received a call at 3.59pm to attend a serious road incident on Gorsuch Lane in Scarisbrick, Lancashire.

The incident occurred when a vehicle left the road and continued into an open field. Having rolled over a number of times, the male driver was ejected from his car and came to rest some distance from the vehicle.

A Lancashire land ambulance and police were also at the scene, along with a basics doctor, a GP who attended on a voluntary basis. The NWAA was called due to the suspected injuries the casualty had incurred, including those to his back, for which he was fully immobilised on a long board to restrict further damage.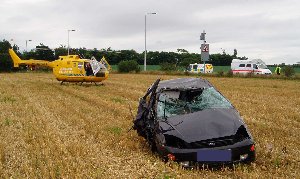 Lynda Brislin, charity chief executive comments:- "This was a very unfortunate incident on a bad stretch of road, and we were called to help both treat and transport the patient to hospital quickly and comfortably. Time is often of the essence for those involved in serious incidents and in this instance, we worked together with the land ambulance crew, doctor and police to ensure the casualty got to hospital within what we describe as the "golden hour"

From the time the patient is injured, the clock starts ticking and the treatment given in that first "golden hour" not only improves their chance of survival but also increases the possibility of them making a full recovery. As the fastest emergency service we flew the patient to Royal Preston Hospital in a time of six minutes, giving him the best possible chance."

The NWAA is a registered charity and receives no mainstream funding. It costs £1 million a year to maintain and the charity relies solely on the generosity of businesses and the people of the North West to keep this vital service running.

Covering Cumbria, Lancashire, Greater Manchester, Cheshire, and Merseyside, an area of 5,500 square miles and a residential population of seven million people. The NWAA responds to all major motorway incidents, all serious accidents including horse riding, rugby and motor cycling, serious road accidents and incidents in areas that have poor and restricted road access including golf courses, fells, woods or beaches. On average the NWAA is called out four times a day, rising up to ten in the summer.

For the patient, the NWAA is the fastest emergency service. Donations can be made by ringing 0800 587 4570.