Southport Air Show 05
Photographs and video by Patrick Trollope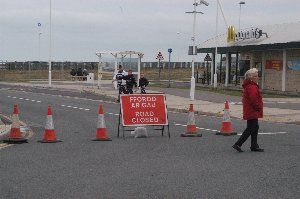 THIS years Pleasureland Southport Air Show started on a wet note on Saturday 10 September. Lots of the aircraft could not fly due to the weather conditions throughout the country and also over Southport. The long gaps where filled with acrobatic displays preformed by Southport Model Aero Club's model planes. Many of them fooling some of the air crews themselves. In the evening, Casablanca held a meet for the air crews and pilots and afterwards the event went on to Roberta Lees. Bright sunshine brought out the crowds on Sunday though and most of the billed aircraft took to the skies. The "Magnificent Men" and women "In their Flying Machines" performing daredevil stunts, from Utterly Butterly Wing Walkers to the Red Arrows. Also on show were other aircraft like prop planes like the Sukhoi SU26, to the latest in Helicopter warfare equipment with the Royal Navy's Merlin HC3. That's not forgetting the fast jets like the Tornado GR4 and lots of other planes and aircraft. Over both days on ground, modern military machines where all over the place for visitors to look at, ranging from Tanks to diggers. Other entertainments where also on offer to showgoers including flight simulators to paint ball alleys and climbing walls.

Despite the bad start to the weekend the show still attracted an estimated 200,000 people over the two days.
Page 1 of 16
If the green box above does not show, you must download a new edition of Java. To get it just use this link:- java.com/en/index.jsp
If the box above does not show, you must download a new edition of Java. To get it just use this link:- java.com/en/index.jsp