Sneak Preview:- Clipper Yachts set sail…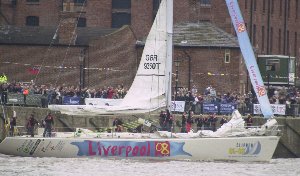 YES, Sunday 18 September 2005 mark the start of the Clipper 05-06 Round The World Yacht race. These are a few shots of the day. More will follow in the next issue with a full report. To mark the start of the event the Mersey River Festival favorites, the Russian Yakolevs air display team performed not one but two thrilling dare-devil aerobatics displays. Bands played and also visiting dignitaries came from all over the world. On the river a fattier of small and large vessels lead the clippers and their teams out of the races home port and into an adventure of a lifetime.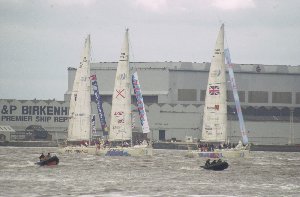 Councillor Mike Storey, leader of Liverpool City Council, said:- "The start of the 05 - 06 Clipper race promises to be one of the most exciting events the city has staged this year. We want to make it a day out for the entire family, and create a real carnival mood down at the waterfront. I'd like to see the whole city turn out to soak up the atmosphere, and give the Clipper crews a fantastic send-off as they set sail on the first leg of the race."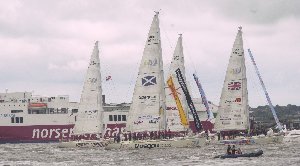 New for 2005 is the 'nation against nation' format, which will see each of the 10 yachts representing a different country. England's hopes lie with the 'Liverpool 08' Clipper, which has been sponsored by the Liverpool Culture Company, and counts three Liverpool residents amongst its crew. All 3 won their places in a competition run by the Liverpool Culture Company.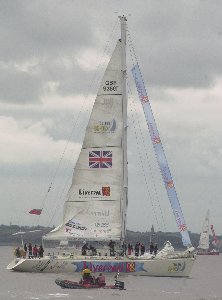 Professor Drummond Bone, chairman of Liverpool Culture Company, said:- "High profile events like the Clipper race are a fantastic opportunity to showcase Liverpool on the international stage. The Liverpool 08 Clipper will spread the Liverpool message around the world, educating new audiences about the dramatic renaissance that the city has undergone. We look forward to welcoming a victorious Liverpool 08 crew home next July!"
Good luck to all the Clippers from all of us at PCBT Photography.

THIERRY HENRY IS VOTED BEST GENUINE IMPORT
NEARLY a third of football fans have voted Thierry Henry the best genuine import for a British club in last season's UEFA Champions league. And the Arsenal striker's victory was an impressive one with his nearest competitor, Czech Chelsea player Peter Cech, receiving less than 10% of the vote.

Thierry's popularity was uncovered in new research for Heineken, another popular genuine import and new sponsors of the UEFA Champions league. Heineken commissioned the research to investigate what football fans consider to be the best and worst aspects of football. Lager came out on top when it comes to the best drink to accompany the game, selected by over 60% of viewers, and the best ever European Cup Final was revealed as the nail-biting 2005 final between Liverpool and AC Milan.

It was also revealed that over 60% of football fans think cold callers or door to door salesman are the most annoying interruption to a game and more than one in ten football fans were most frustrated by their partner wanting to talk about their day during a match.

Rob Marijnen, managing director of Heineken UK, says:- "The Heineken sponsorship is a natural fit and Heineken is the perfect accompaniment to the UEFA Champions League. It is a premium lager for the premium football competition."

Top 10 genuine imports for British clubs in last season's UEFA Champions League:-

Thierry Henry (Arsenal)
Peter Cech (Chelsea)
Rudd van Nistelrooy (Manchester United)
Luis Garcia (Liverpool)
Jerzy Dudek (Liverpool)
Patrick Viera (Arsenal)
Xabi Alonso (Liverpool)
Cristiano Ronaldo (Manchester United)
John Arne Riise (Liverpool)
Didier Drogba (Chelsea)

Top 10 best European Cup Finals:-

Liverpool 3:3 AC Milan (2005)
Manchester United 2:1 Bayern Munich (1999)
Manchester United 4:1 Benfica (1968)
Real Madrid 7:3 Eintracht Frankfurt (1960)
Real Madrid 3:1 Bayer Leverkusen (2002)
Liverpool 3:1 Borussia Monenchengladbach (1977)
AC Milan 4:0 Barcelona (1994)
Celtic 2:1 Inter Milan (1967)
Benfica 5:3 Real Madrid (1962)
AC Milan 4:0 Steau Bucharest (1989)

The UEFA Champions League kicked off in Britain on Tuesday, with the Chelsea v Anderlecht home game giving Peter Cech a chance to prove his status as one of British fans most favourite genuine imports.

The 72 point online survey interviewed 1,623 football fans.
THE PARISH CHURCH OF SAINT FAITH, CROSBY
THE United Benefice, (St. Mary the Virgin, Waterloo Park and the parish Church of Saint Faith, Crosby) are hosting 2 rather special musical events. Having just concluded our 8th series of Saturday recitals we know a great many people take pleasure in visiting our churches in order to support and enjoy, our various concerts and other musical performances.

St. Mary The Virgin, Waterloo Park, Saturday, 24 September 7.30pm "Last Night of the Proms" Neil Kelly and Ged Callagher, (organ) and Dominic Starkey (trumpet).

Stirring music, flags, bunting, balloons and the chance of a sing-song! If you want to experience the promenade atmosphere tickets are available at £5, with a free glass of champagne too! Whilst tickets may be available on the door, due to the popularity of the event, we do advise your buying tickets in advance.
Please contact: Margaret Davies, 0151 924 6484.

The Parish Church of Saint Faith, Crosby, Saturday 8 October 7.30pm, Patronal Festival Concert, "A Night at the Opera"

Sarah Helsby - Hughes – Mezzo Soprano Neil Kelly – Piano

Songs and arias from around the world of Grand Opera and Operetta by Bizet, Puccini, Gounod, Mozart, Lehar, Johann Strauss and Bernstein.

Tickets: £7.50 (concessions £5) to include a glass of champagne.

Both "Last Night of the Proms" and "A Night at the Opera" are in aid of church funds.