Film Review:- BEWITCHED
By Dionne Ankrah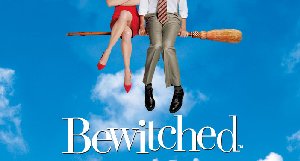 THIS film is centred on Nicole Kidman who plays Isobel Bigelow, who as a real witch wants to start a new life. Isobel Bigelow wants to be normal and settle down in suburbia, by using no magic and settling down with a normal man only to end up playing Samantha in a remake of bewitched.

I don't think this film worked because instead of doing an up to date version of this classic film, the directors and screenwriters have decided to make it about the making of a new TV series called bewitched. This only seemed to confuse things even more as you couldn't work out weather we where watching the film or the film about the remake.

Michael Caine was great playing the womanising father of Isobel Bigelow, and Shirley MacLaine was also great playing Andorra in the film of the remake and the wise older woman in the film. Will Ferrell who is Isobel's love interest continued to be arrogant and annoying all the way through the film. Nicole Kidman was a big disappointment as she reminded me of the typical dumb blonde, when really we know she is smart and has a greater acting capacity. All in all this film was a big let down and not very funny.

Our star rating:- two out of five.


UK Rating:-

= PG
Cast overview... first billing only:-

Nicole Kidman as Isabel Bigelow/Samantha; Will Ferrell as Jack Wyatt/Darrin; Shirley MacLaine as Iris Smythson/Endora; Michael Caine as Nigel Bigelow; Jason Schwartzman as Ritchie; Kristin Chenoweth as Maria Kelly; Heather Burns as Nina; Jim Turner as Larry; Stephen Colbert as Stu Robison; David Alan Grier as Jim Fields; Michael Badalucco as Joey Props; Carole Shelley as Aunt Clara; Steve Carell as Uncle Arthur; Katie Finneran as Sheila Wyatt and James Lipton as Himself
Directed by:- Nora Ephron

Writing credits:- Nora Ephron & Delia Ephron
Runtime:- 102 min