Kiss Me Quick, Text Me Quicker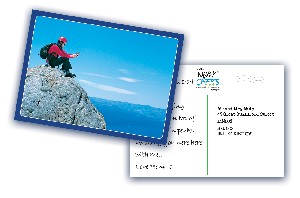 A SURVEY reveals holiday makers in the North West can't wait to share gr8 holiday moments with friends.

Smug holiday makers from the North West are just as likely to go on holiday to show off to friends and family back home as they are to experience new cultures and places according to research from mobile postcard company Mobycards.

Over half (59%) of holiday makers in the North West said they would exaggerate about the weather in a postcard home while 70 per cent admitted they would be more likely to send a postcard home to friends and family if they were holidaying in exotic climes.

When it comes to rubbing their friends' noses in it people in North West are opting for the instant gratification of text message over the traditional British holiday postcard. Just under two thirds (62.4%) of holiday makers from the region text home while abroad compared to 58 per cent who send postcards.

The North West is leading the way in a national trend that is seeing the traditional British holiday postcard come under threat from a generation that prefer the speed and convenience of text and email to the conventional 'wish you were here' holiday greeting. Questioned about the death of the postcard a over a third of people in the North East claimed they could not be bothered to go through the hassle of finding stamps and a postbox while abroad with a further third claiming postcards arrived so late there was no point sending them anyway.

Steve Procter, CEO, Mobycards, a company which enables holiday makers to send customised physical postcards of themselves direct from their camera phone said:- "Sending postcards is a British holiday tradition along with fish and chips and sea-side rock. But the death of the postcard is imminent unless it is embraced by a younger generation. Mobycards avoid any of the hassle of sending a traditional postcard, buying stamps, finding a postbox, which will hopefully keep the postcard alive.

Imagine receiving a picture of your friend standing on top of Ben Nevis or in front of the Taj Mahal. Capturing the spirit of your holiday and sending it home for friends and family to share the moment is a cool way to say 'hello' and a lot more personal than the tired scenic postcards that pile through the letter box every year. And as Moybcards are sent first class anywhere in the world, unlike traditional postcards, they arrive home before you do for a change!"

Sixty-five per cent of Brits send postcards while on holiday and a similar number (64 per cent) text. However, sending postcards remains most popular amongst the older generation, with 77 per cent of people aged 55 and over still choosing to send postcards compared to 85 per cent of 19-21 who text when on holiday.

Over two thirds (67%) of boastful Brits admitted they are more likely to send a postcard to friends back home if they are holidaying in exotic climes while over half (57%) claimed they would exaggerate about the weather in their postcard in order to make friends and family jealous. The worst offenders were the Northern Irish with a staggering 70 per cent admitting they would lie about the weather, closely followed by the Welsh (65%).

The 21 per cent of holiday makers from the North East who admitted that they didn't give a second thought to people at home while on holiday and would claim their postcards have been lost in the post despite never sending them in the first place might be interested in the Mobycards mobile postcard service! Holiday makers simply take a photo with their camera phone or select one they have already taken and use it to create a new MMS picture message. In the text part of the MMS message they type the word "mobycards" followed by the full name and address of the recipient and their personal greeting. The personal greeting can be as long as you like but must fit onto the back of a standard sized postcard.
They then send the MMS picture message to +447921 50 50 50.
WHAT DO BOY GEORGE, CAT DEELEY,VINNIE JONES, DANNI MINOGUE & RIO FERDINAND ALL HAVE IN COMMMON?
EVER fancied Boy George answering your mobile phone?
Getting hardman Vinnie Jones to dump your
boyfriend?
Or how about Hollywood actor Stephen Dorff letting you know about a secret admirer?
Footballer Ian Wright playing a prank on your best mate, inviting him to a football match?
Or Cat Deeley wishing your dad a happy birthday !

This week the next mobile-messaging phenomenon will hit Britain's mobiles and PCs as greetings, video
messages, alarm calls, ring tones, caller tones and e-cards from authentic, real-life celebrities are
offered to the public for the first time.
BOY GEORGE, CAT DEELEY, VINNIE JONES, STEPHEN DORFF, DANNI MINOGUE, JENSON BUTTON, RIO FERDINAND, IAN WRIGHT, GOLDIE LOOKIN CHAIN, BEZ, VERNON KAY, TARA PALMER TOMKINSON, LAUREN LAVERNE and DAVE BERRY are amongst a host of stars launching
www.celebritymessages.com.

Available to buy through mobile-phone text, WAP or direct from the Celebrity Messages website, they can be sent to your mobile phone or PC via email to your friends, loved ones, or even not-so-loved ones! Through Celebrity Messages' introduction of 'gifting' - the
ability to buy content from one mobile as a gift to be sent to another - this wide-scale use of buying
mobile content for others is also a first for the UK.

Celebrity Messages is a subscription-free service, making it a trusted and safe provider of mobile phone
content. Whether you want to tell your best mate you're running late via Jenson Button, or get Boy
George to break it to your mum and dad that you're gay, dump your boy or girlfriend through Rio Ferdinand, wake up to the sexy tones of Mariella Frostrup, or cheer up your best buddy with the help of Tara P-T, Celebrity Messages has the star-quality solution. Messages and tones have been recorded by Mr T, Cat Deeley, Vernon Kay, Goldie Lookin' Chain, Vinnie Jones, Dannii Minogue, Ian Wright, Bez, Dave
Berry, Neil Fox, Stephen Dorff, Tom Baker and many others. With a range of greeting and message options including:-

Good Luck; Happy Birthday; Happy New Year; Valentines; I'm Late; Happy Christmas; Sorry; Thanks; I'm Gay; You're Dumped; I Love You and Congratulations
This site should be one of the next in line to take center stage of this rapidly growing market that's seen everything from a frog singing to text date services.

Rio Ferdinand, one of the many celebrities to have endorsed the project and who has recorded for
Celebrity Messages, said:- "The idea of being able to send messages to friends and family from genuine celebrities is a really wicked idea. I'll be sending some of the messages to my friends and my team mates! People will love getting a happy birthday or valentines message from a celebrity they like; but I hope that I never get a message saying that I've been dumped...!"

Gina Dawson, Managing Director and founder of Celebrity Messages, said:- "Celebrity Messages is such an innovative service. It will be supplying fun and entertaining messages from an enviable line-up of top celebrities aimed at people of all ages. The ability to have a genuine celebrity deliver messages to friends and family has never been available before. Celebrity Messages is about the genuine article, which enables users to get better content from a trusted content provider. Unlike other content providers, we don't charge a subscription service and so people only pay for each item they purchase. We have had excellent feedback from our pilot audiences and the celebrities involved. Celebrity Messages will become an extremely popular and quirky way for people to communicate."
OBITUARY "Jan Holden"
HOLDEN Jan, Actress, born 9 May 1931 in Southport, died peacefully after a short illness, in Clapham South London, on 11 October 2005.

Beloved Mother of Simon and Arabella, as well as step mother to Charles, Tony, Benita, Rosa; Alistair
and Stephen.

Jan's roles in TV, film and theatre in the 50's included:- The Avengers, The Saint and Agony.

A vibrant woman who will be greatly missed by many, especially by her husband.