Southport FC fell Forest Green FC
Report by Sally Devine
Match held on Friday 7 October 2005
SOUTHPORT had a rare league game on a Friday night due to the England match the next day.Forest Green were the visitors, a team struggling in the Conference and the Sandgrounders drew first blood in the eighth minute. Carl Baker was again on the score sheet, Kevin Leadbetter supplying the ammunition for Ports top scorer to crash a fierce shot into the net.

On 10 minutes the home side increased their lead, McGinns cross was met by Baker who headed in from close range. Forest Green were being outgunned and constantly pinned back in their own half but managed to pull a goal back when Richardson followed up a shot from Beswetherick to make it 1-2.

Port again pressed forward and made it 3-1 before half time when Daly with a 1 on 1 with the goalkeeper, duly despatched the ball into the net.

After the break, Forest Green made most of the running as Southport soaked up the pressure, Dickinson applying himself well in goal.Gadsbys shot was cleared off the line by Kilbane, but the home side weathered the storm and finished worthy winners.

Final Score:- 3-1
Attendance:- 1, 087

Southport Fc:- Dickinson; Lane; Powell; Kilbane; Fitzhenry; Baker; Morley; Lynch; McGinn; Daly; Leadbetter

Forest Green FC:- Clarke; Simpson; Searle; Richardson; Wanless; Abbey; Teixeira; Garner; Meechan; Howell; Beswetherick

Goals for Southport:- Baker 2 & Daly 1
Goal for for Forest Green:- Richardson
THE CLIPPER 05-06 ROUND THE WORLD YACHT RACE
A week of changing positions the fleet progress slowed dramatically at the start of the week. This was a sure sign that the fleet was getting in to the northern side of the Inter Tropical Convergence Zone (ITCZ) and leaving the steady Trade Winds behind them for a moment. Computer generated wind forecasts showed the area to have very light, but fairly stable winds, but reports from the yachts indicate anything but! Graeme Johnston reported 48 knots gusts going into a squall with no wind at all in the middle of the fleet. The line up was:-

1. westernaustralia.com; 2. Jersey; 3. Durban; 4. Liverpool 08; 5. Uniquely Singapore; 6. New York; 7. Qingdao; 8. Glasgow; 9. Cardiff;10. Victoria, Canada

By Friday, Durban, who started the week in third place fell back to fifth as Liverpool and New York battled it out for third place. On Sunday 16 October 2005 with only 400 miles to Salvador for the lead boats in the Clipper fleet, positions over night have barely changed. Cardiff and Liverpool 08 both remain on course for a podium position, behind westernaustralia.com, but the Skipper and Crews final tactical decisions will determine the order. The leaders are due to arrive in Brazil late evening (Monday 17 October).

Table on Sunday 16 October 2005 is as follows:-

1. westernaustralia.com; 2. Cardiff; 3. Liverpool 08; 4. New York; 5. Durban; 6. Uniquely Singapore; 7. Jersey; 8. Victoria; 9. Qingdao; 10. Glasgow
A Crashing end to 2005 for Southport's PCG Racing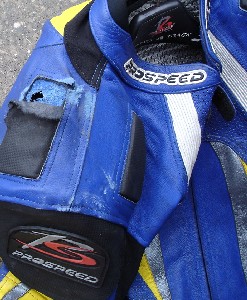 SUNDAY 9 October 2005 was the famous Sidecar Festival at Mallory Park. This was the final race of the season for Paul & Claire (PCG Racing), travelling down South all eyes were on the weather, the rain poured down, however the forecast for the Sunday was 'sunshine'. Thousands of people turn up for this event from all over the world, it was sidecars bumper to bumper in the paddock. There were seventy six Formular Two entries which was divided into three heats, the quickest eight out of each heat went into 'A' final, second quickest into 'B' and so on.

The weather forecast was right for the Sunday so smiles all round, however during practice there were break problems for the team, so driver Paul changed the pads ready for the race. Unfortunately this did not solve the problem and with poor breaking the team slowed down and did not make it into the 'A' final, all things considered though 'B' final at grid position 10 was pretty good. Mechanic Steve Clements bled the brakes with Paul in between races, which cured them.

'B' final began. What a start! Paul & Claire cut through four other to take a good position for the first corner (Gerards Bend), breaks were working fine and the bike was flying, by the third lap there was nothing overtaking the team were picking off the outfits and making there way to the front, with only five in front on the third lap disaster struck. Flying up to the hairpin another outfit had problems and signalled they were stopping, unfortunately they drifted into the path of Paul & Claire and with nowhere to go the team smashed into the back of them, Claire held on for the initial impact but the another outfit smashed into the back and sent the whole thing spinning into the barriers, Claire got catapulted out and Paul had his leg trapped with the outfit on its side. The race was red flagged until medical attention was obtained. Claire & Paul both miraculously got away with bruising and nobody else involved received any medical attention.

The fairings for the outfit are written off and the outfit itself needs a lot of work, Leathers and helmets need replacing for next season. This is an expensive job. Anyone who can help with sponsorship/Advertising for next season please contact Southport Reporter for our contact information.