Congratulations
To this years
winners!
Winners of Southport Reporter's Customer Service Awards2001 - 2002!
Winners are TK Maxx in Southport for the Large Store award.
DK Models in Southport, for the small stores award.
Second place for large stores is Max Spielmann's in Southport.
Second Place for small stores is Formby Hardware.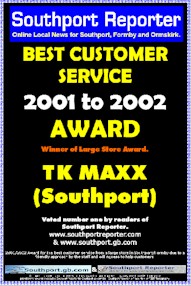 The next award nominations will be opened next issue, for the best restraints!