Jews Unite to Make a Difference
A group of young volunteers from JLGB (Jewish Lads and Girls Brigade) will be making a difference to the lives of older people across the country. JLGB will be sending small groups of volunteers to residential homes in London
(Redbridge, Brent, Barnet, Camden) , Manchester, Leeds, Liverpool and Glasgow as part of CSV Make a Difference Day, the UK's biggest day of 'hands on' volunteering.

CSV Make a Difference Day, which is supported by Barclays Community Investment Programme, takes place the two weeks either side of Saturday 29 October 2005. Around 100,000 people are expected to take part in around 5,000 activities, including helping people with learning difficulties, creating community gardens, renovating schools and befriending older people.

Activity organiser Sue Grant said:- "Our volunteers will spend the afternoon with the residents as part of the Jewish festival of Succos, one of the most joyous occasions in the Jewish calendar. This is the first time we have done an event like this and we are all looking forward to it. It is a chance for the different generations to get together, share stories, provide company and celebrate."

JLGB are not the only Jewish group to get involved in CSV Make a Difference Day. Jewish Care are also planning some intergenerational projects and Liberal Judaism are inviting all their members to get involved in a range of activities from renovating a room in a children's home to knitting an outfit for a premature baby.

Anna Gilmour, CSV Make a Difference Day campaign co-ordinator said:- "Some members of the Jewish community have been extremely generous, making large donations to emergency appeals. We'd now like them to think about giving time instead of money. Not only does volunteering help build and strengthen communities, but it also is a lot of fun and hugely rewarding."

CSV President Lord Levy reflecting on last year's campaign said:- "Volunteers cleaned rivers, renovated community centres, learned how to save lives and built classrooms in one amazing globe-spanning day of action."

Find out more information about JLGB call 020 8989 8990 or visit www.jlgb.org.
DRESSING @ LIVI'S... FOR THE AIR AMBULANCE BALL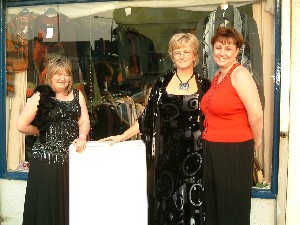 BALL organiser, Professor Caroline Watkins and her colleague Denise Forshaw were delighed with the selection of gorgeous ball gowns and outfits at Ainsdales new dress agency and designer clothes shop Livi's on Liverpool Road. Gill Fell the owner of Livi's is supporting the North West Air Ambulance Charity Ball by donating raffle prizes. Caroline has organised this event for the first time to raise much needed funds and tickets are still available @ £35 it will be a fantastic night out with a four couse dinner, live band, disco and a classical guitarist to set the mood for the evening. The Prince of Wales Hotel is the venue for the evening on the 5 November 2005.

For details of the evening please ring Denise on 01772 893713 or email dforshaw@uclan.ac.uk
Make the roads of Southport a safer place
NEARLY a dozen volunteers in Southport spent hours of their own time on Friday 21 October, in an attempt to make the roads of Southport a safer place.

In an attempt to tackle the ongoing issue of speeding motorists in the town, local residents have teamed up with the local police to volunteer to help in solving the problem.

The initiative, which was the brainchild of Councillor Fred Weavers and Inspector Andy Kinniburgh, was introduced
after residents expressed concerns about pedal cycle safety. Sefton Council have introduced local cycle routes to try and make cycling a safer experience and thereby encourage people to take up this environmentally friendly and healthy way of getting about.

Councillor Fred Weavers said:- "I received many complaints from local residents about speeding motorists in the Southport area. In an attempt to combat the problem we introduced this scheme to educate and warn those responsible for this potentially dangerous and irresponsible behaviour. The scheme will also benefit local cyclists. Sefton Council has encouraged residents and workers to use alternative forms of transport which are more environmentally friendly. One such method is pedal cycle. Cyclists often feel intimidated and threatened by speeding motorists so this scheme should make them feel safer too."

Community Speedwatch sees volunteers monitoring the speed of traffic, using radar measuring devices, at particular
locations where there is perceived to be a problem.

Inspector Andy Kinniburgh said:- "The owner of the vehicle is identified from the police computer and the driver is sent a police letter of advice. No prosecutions are planned by the volunteers, due to legal reasons, but as most speeders are usually otherwise law-abiding citizens, receiving a letter such as this has a positive impact on their future behaviour."

Although still in its early stages the project has gained a lot of support from the local community. Volunteers have
been on courses to learn how to use the radar based speed guns, and 25 warning letters have been sent out since it started on 6 October 2005.

Southport Homewatch has aided the project by assisting in the recruitment of volunteers and some of Homewatch's newly acquired high visibility clothing is being used.

Margaret Jepson of Southport Homewatch said:- "Homewatch fully supports Inspector Kinniburgh in his Speedwatch project. At every meeting one of the main issues raised, is the speed of vehicles on our roads and the effect this has on the lives of people in the area.

I was delighted to see that some of our members are prepared not just to complain to the Police, but are willing to take part in this traffic calming initiative.

Homewatch has developed from the days when we just looked after our own individual homes. We now take on the added responsibilities of working as a team to try and address any problem that effects the safety and fear of crime of our members, in the area in which they live, speeding vehicles comes into these catagories."
Letters To Editor:- "Please find my lost brother"
"I would like to find my brother Philip Duffy born on the 16 January 1959 at Southport General Hospital. If anyone can help please contact me via Southport Reporter." Miss Julie Flinders