Southport FC lose at Altrincham
Report and photos by Sally Devine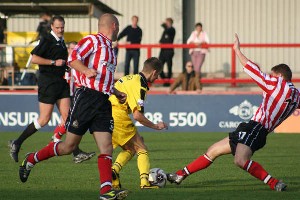 ON Saturday 15 October 2005 Southport travelled over to Cheshire last Saturday for the Conference league game against Altrincham, both teams having gained promotion last season. It was the away side which set the early pace, Southport being encouraged by a good travelling support of around 300 fans.

The Sandgrounders pressed forward, Lane and Lynch both having shots saved but Coburn. Kevin Leadbetter missed a glit edged chance to put the Port ahead but failed to find the target in a one on one situation. Altrincham looked the more jittery of the two teams and misplaced passes meant Southport enjoyed 75% of the possession in the first half.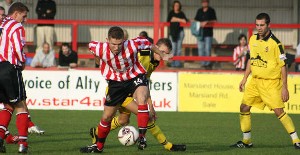 After the interval the Robins took the game to Southport and became the dominant force. Dickinson was forced into making a good save from Peter Band and the pace of Lutel James gave Southport's defence a torrid time. Altrinchams goal arrived on 70 minutes. Little and Hawes combined to provide Potts with the opportunity to fire into the top corner of the net. This gave impetus to the home side and Southport looked a pale shadow of their former selves and faded badly in the last quarter. Only shots from Baker, who had a quiet match by his standards, and Leadbetter troubled Coburn who picked up the man of the match award presumably for his heroics in the first half.

Score:- 1-0 Altrincham
Attendance:- 1267

Southport:- Dickinson; Lane; Fitzgerald; Kilbane; Fitzhenry; Baker; Morley; Lynch; McGinn; Daly; Leadbetter
Altrincham:- Coburn; Munroe; Band; Talbot; Adams; Potts; Hawes; Owen; Scott; Little; Thornley

Goal:- Altrincham's Colin Potts