FA Cup joy for Southport FC
Report and photographs by Sally Devine
Match held on 22 October 2005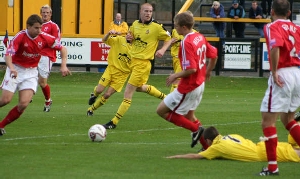 SOUTHPORT hosted Kidderminster FC in the 4th qualifying round of the FA Cup last Saturday, both sides being Conference rivals. The first half produced very little in the way of clear cut chances for either side, Southport being lack lustre in the final third of the pitch and Kidderminster seemingly happy to soak up all the attacks. Top scorer for Kidderminster Lyesten Christie was well marshalled by Southport's Kevin Lynch and Earl Davis acquitted himself well in the Yellows' defence.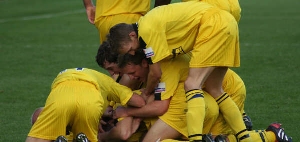 The game looked increasingly likely to remain 0-0 until Southport's manager made a timely substitution, Matty McGinn replacing Neil Robinson in the front line. Steve Daly almost scored but Lewis in the Kidderminster goal made a fine save at point blank range.

Chris Lane, Southport's right back, broke the deadlock in the 69th minute, volleying home from 10 yards out after latching onto a good cross by MGinn. He celebrated wildly in front of the main stand engulfed by his team mates.

Kidderminster stunned by the goal had little to offer in the remaining 20 minutes as the home side held on to go into the hat for the draw for the first round proper where they were paired with fellow Conference side Woking. This match will be played at Haig Avenue on Bonfire night 5 November.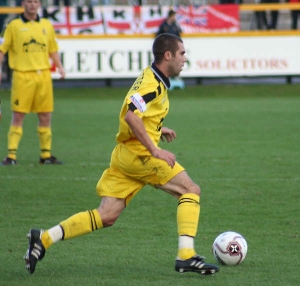 Match Stats
Final Score:- 1-0 Southport

Attendance:- 1,108

Southport FC:- Dickinson; Lane; Powell; Davis; Fitzhenry; Baker; Lynch; Morley; Leadbetter; Daly; Robinson

Kidderminster FC:- Lewis; Evans; Jackson; Hatswell; Burgess; O Connor; Fleming; Christie; Sheldon; Russell; Heslop

Goal scored by:- Chris Lane 69 mins