Want to Feel Kneaded?
JASON Woodward is setting up in business. Natural Therapies is a mobile massage therapy service. Can cater for clients in their own homes, in the workplace or in a sports club.

Current therapies offered are:-

Deep tissue full body massage
Back, Neck & Shoulder massage
Indian Head Massage

Gift vouchers are also available - an ideal Christmas present.

Massage is one of the best, most non-invasive forms of therapy today. By relaxing muscles it aids circulation, alleviates anxiety and relaxes the body naturally.

Workplace massage can reduce stress and increase productivity in employees.

So give Jason a call on 07766240643 and get your massage today!
SEEN OUR NEW Business Index PAGE?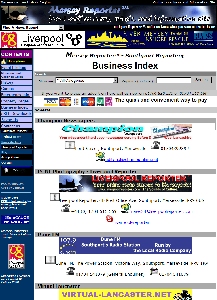 THIS WEEK we have opened up our new look advert and business index. Even though we are still adding to it it gives you a good taste as to what you can find very soon. We are adding lots of new businesses over the next few weeks and if you have a business and you want to be seen, well try us out as a cost effective way to get your message across.
New price structure to be added very soon as well as a fantastic option for all advertisers and some bonus options for the enhanced advertisers. So it has never been as good to get your message across out to your clients and future clients as it is now. Click here to see it!
Ring today on 01704 513 569 to book your appointment with our sales representative or to find out more.
FAILING TO SWITCH OFF COMPUTERS COULD COST BRITISH BUSINESSES UP TO £123.2 MILLION A YEAR
FUJITSU Siemens Computers launches the "Big Turn Off" to support Energy Saving Week. Failing to switch off PCs costs British industry a whopping £123.2 million each year, according to Fujitsu Siemens Computers. The company is using Energy Saving Week as a platform to launch its Big Turn Off campaign and to call for Britain's businesses and workers to make the effort to flick the switch on their PCs when they leave the office.

To help individual businesses estimate how much this problem might be costing them Fujitsu Siemens Computers has developed a special online calculator which can be found on its UK website.

The idea to work out the financial cost of not switching off PCs came after recent research found a rise in the number of Green Collar workers (those that take their green consciences to work with them). Indeed 78% of British employees claimed to be more environmentally conscious this week than they were 5 years ago. But 37% indicated that they don't turn off their PCs when they leave the office. The research also found that 27% of employees say they have gone as far as actively lobbying their employer to implement more environmentally friendly policies (such as procurement of green IT systems, energy saving and recycling).

Fujitsu Siemens Computers released the first RoHS compliant "green" laptop, the AMILO V2030 in September 2005. Garry Owen, Head of Product Marketing at Fujitsu Siemens Computers commented:- "It was surprising to see that so many workers claimed to have 'gone green' in the workplace and yet they still overlook the most basic way to save energy, which is to turn their PC off when it's not in use. UK businesses need to consider both the financial and environmental implications of leaving a computer running and make turning off their PCs each night a policy. So many employees think it's sufficient to leave their PCs on standby, but this still wastes valuable energy resources.
Nowadays most people are concerned with ways in which we can help protect the environment and I'm sure if we all started to address little things like this it would make a huge difference."

Fujitsu Siemens Computers has pioneered the development of green IT systems and has promoted their use both in the home and the workplace for some time now. It supports Energy Saving Week and hopes to raise awareness of both the environmental and financial implications of the nations IT habits.