Healthy help for young people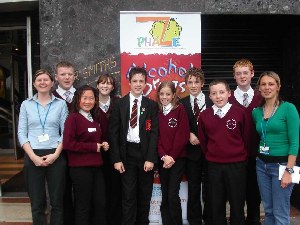 AN INITIATIVE by Warrington Youth Service's Phaze Youth Work team is encouraging young people to adopt a healthy lifestyle.

An informal workshop was held at Mr Smith's nightclub on Bridgefoot last week. It gave young people the opportunity to learn more about sexual
health and the dangers of binge drinking and smoking.

Some 45 Year 9 pupils from four local schools attended the workshop, which was aimed at raising awareness and encouraging debate.

The event also had its lighter side - a circus skills workshop gave the pupils a chance to try out juggling, walking on stilts and even riding a unicycle.

Cllr Colin Froggatt, Executive Board Member for Children's Services, said:- "The event was a great success and we had some very positive feedback from those who attended. It gave young people an opportunity to learn and ask questions in a relaxed and fun environment. Educating our young people about health is very important and workshops such as these are how we can ensure that every child matters in Warrington."

Since May this year Warrington Youth Service has been providing informal health and drugs education opportunities for young people visiting Mr Smith's under-18s monthly club night and due to their success they plan to continue the sessions.
Teaching assistants are top of the class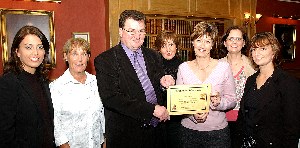 A GROUP of Warrington teaching assistants are among the first in the country to successfully complete a rigorous national training standard.

The 33 assistants, from primary and secondary schools across the borough, were among the first to enter the Higher Level Teaching Assistant programme when it began in September 2004.

Now their achievement has been recognised by the Training and Development Agency and to celebrate their success, the Council hosted an awards ceremony at the Firgrove Hotel.

Executive Board Member for Children's Services, Cllr Colin Froggatt, said:- "It is a very significant achievement for an authority the size of Warrington to gain such excellent results. This group of teaching assistants are real pioneers, bringing national standards of excellence into our schools. I would like to congratulate them all on their well-deserved success."
Mosaic Workshop @ the Atkinson
THE Atkinson Art Gallary in Southport will be holding on Monday 12 December a mosaic workshop by Amanda Wray, the work shop will run from 10:00am to 12:30pm and 2:00pm to 4:30pm. This is an airdrying clay workshop and participants will make a self portrait using mirrors to pull expressions or funny faces.
Johnny White on Tuesday 13 December from 10:00am to 12:30pm and 2:00pm to 4:30pm will run a Wobbly wire animals workshops. He will show participants what is involved using bendy wire and clockwork motors or handcranks.
CELEBRITIES AND SUPERHEROES
THE World Museum Liverpool has a small display of innovative artwork celebrating some of Liverpool's most remarkable people from the past and present, until 6 February 2006.

Inspired By Our Heroes comprises 15 pieces of artwork produced by community groups across Merseyside. Each group adopted a two-dimensional figure and created a colourful and fitting tribute to their chosen hero. Among the honoured few are Liverpool FC captain Steven Gerrard, Scouse comics Ken Dodd and Stan Boardman and family members of the artists.

The vibrant artwork was created in workshops aiming to explore the ideas and perceptions of what constitutes a hero. Paintings with a prevalent 'hero' theme were used to instigate brainstorming sessions, such as Benjamin West's The Death of Nelson and Richard Andsell's The Hunted Slave, all from the Walker Art Gallery's collections. Cartoon characters Batman and the Power Rangers were used by one community group to develop a prototype for the ultimate superhero, which is included in the display.

Artists Kate Eggelston-Wirtz and Christine Stringfellow were commissioned by National Museums Liverpool to facilitate the workshops. Kate says:- "It was interesting working with a wide range of people of all ages and the artwork turned out exactly how I thought it would, which is great. This project really gave the community groups something to shoot for, and the experiences in the workshops were beneficial, not only for them, but for ourselves as the facilitators - we learned so much from each other."

The artists and the community groups will be viewing their art display for the first time on Saturday 26 November 2005 at World Museum Liverpool

Inspired By Our Heroes is funded by the Liverpool Culture Company
Merseytravel takes on UK's best at national awards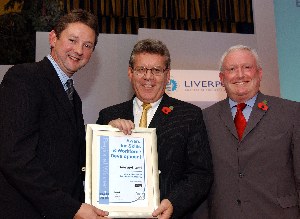 MERSEYTRAVEL is taking on some of the UK's best-known companies after scooping a major regional award for skills and workforce development.

Merseytravel, Merseyside's Passenger Transport Authority and Executive, has claimed the Northwest regional 'Award for Skills and Workforce Development', one of a handful of awards announced as part of the British Chamber of Commerce and Microsoft sponsored 'Chamber Awards 2005'.

Councillor Mark Dowd, Chair of Merseytravel, said:- "We are delighted to receive this regional recognition from such a credible organisation. The next step for us is to show, on a national level, what we are doing locally to improve our workforce."

In their second year, the awards recognise outstanding achievement regionally and nationally within the UK business industry.

The award was presented to Neil Scales, Merseytravel's Chief Executive and Director General, during the Liverpool Chamber of Commerce Annual Dinner at the Devonshire Hotel, Liverpool, last week.

Following the presentation Neil Scales said:- "As an organisation we are investing in the skills and development of our staff so that they have a platform to realise their potential and to continue to make things happen.
Our goal is for an integrated public transport network accessible to all but that can't just happen by itself. It takes real dedication by our staff, high skill levels, as well as innovation and we are seeing that day in, day out."

David Wade-Smith of Liverpool Chamber of Commerce, said:- "The awards give us an opportunity to recognise and celebrate success across Merseyside and the wider UK. Merseytravel has been recognised for its outstanding achievement in skills and workforce development. Our congratulations go to everyone concerned."