Fame At Last, Search For A Star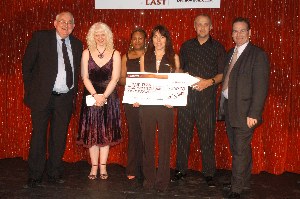 ON the 8 December, Southport was to witness an amazing night of dazzling musical talent at the first ever Fame At Last, Search For A Star competition at Southport Pleasureland's very own Casablanca Restaurant.
Contestants from the age of 31 to 91 sang numbers of popular music, which ranged from classical pop to film and musicals. All the contestants where truly stunning, one of them even performed their own song on stage.
This was a good start to what will become a hugely successful competition in years to come.
Su Granger and Sandra Summer came a joint third. Tony Vale came second singing "You'll Never Know" and "Making Memories". Winning £200 and coming in first was Heidi McGeough with here performance of "How Do I Live" and "Don't Cry For Me Argentina"