BE MY "ARRIVA BUS VALENTINE"
ARRIVA North West and Wales is hotting things up this Valentine's Day, with customers' romantic messages of love being displayed on its buses.

Bus company Arriva, which operates services across Liverpool, is inviting customers to phone the Love Bus team and leave their amorous messages before 3 February. Drivers in Liverpool will be displaying a selection of the most romantic messages on their buses, to make Valentine's Day even more memorable for that someone special.

Nick Gordon, marketing manager for Arriva North West and Wales, said:- "Valentine's Day can become quite similar each year with the usual card, flowers and chocolates. So we're trying to do something a bit different by asking people to declare their love on board buses for their Valentine to see on the big day. Our Love Bus team is waiting to take your messages, so get calling and let your 'Snuggle Bunny' know how much you love them on the most romantic day of the year."

To leave your short messages of love call the Love Bus team on 0845 270 1660 before 3 February. A selection of the best messages will be displayed on buses across the North West and Wales on Valentine's Day. The Love Bus team are also interested in hearing about any exciting romantic stories, including news of proposals or couples meeting on an Arriva bus.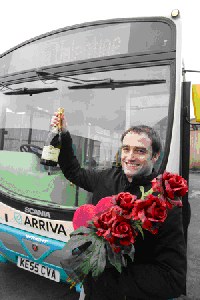 SAIL THE HIGH SEAS IN AID OF PARKINSON'S
IF THE January blues are getting you down, and you're daydreaming about hot exotic seas, why not sign up for the Parkinson's Disease Society's (PDS) 'Sail the Island Adventure'? Glistening water, beautiful sunsets and great people, it's not quite the Mediterranean, but it is around the Isle of Wight!

The PDS is once again taking aspiring sailors to Cowes, to learn to crew a 40-foot yacht and then compete in a special race circumnavigating the Isle of Wight. This year's adventure takes place from 5 to 8 May and up to 90 people will take part.

The Sail the Island Adventure is a fundraising challenge in aid of the Parkinson's Disease Society and aims to raise £45,000 for people with Parkinson's across the UK. Partners for the event are 'Spirit Sailing' - a Royal Yachting Association accredited sailing school, based in the Solent.

Over the weekend participants, in crews of 6, will be given just one day to practise their skills before being challenged to compete against each other in a race around the Isle of Wight. The winning yacht will receive the Race Winners Trophy.

Hugo Middlemas, Director of Fundraising at the PDS said:- ""Sail the Island is an exciting fundraising event giving both complete novices and more experienced sailors the chance to sail and compete whilst raising money for a very important cause. Last year, a great bunch of people, some with Parkinson's, came together, learnt a new skill and competed. This year's event will be even bigger and better, and I do hope many people will sign up and join us on the water in May."

Steve Le Butt, Principal of Spirit Sailing Ltd said:- "Following the outstanding success of the first event, we are delighted to be organising the sailing logistics once again. As the 36 novice sailors gathered together in Cowes last year, no one really knew what to expect. And, with just one day to train the crews, the skippers had their work cut out. Raising money for a fantastic cause, whilst having great fun and meeting a real challenge proved to be a great combination. With additional boats this year, we are looking forward to more people experiencing for the first time the great thrill of racing a 40ft yacht."

The PDS is looking for people keen to take part in this fundraising event. To get involved and find out more information please contact Anne Durrant on 020 7963 9319 or you can visit our website at:- www.parkinsons.org.uk/sailing.