HEALTH AND BEAUTY

Q: I want to start 2006 with a bit of a detox of the body. Can you suggest anything, which is not too expensive, and won't rule my life for 2 weeks?
Katie Walker, 34

A: Radical diets, fasting and detoxing are a shock to the body and should be avoided if possible. Most of us are too busy to devote time to such drastic measures and should consider a gentler approach to detox and distress our bodies. Instead try to modify your diet and lifestyle for a week to give the body a much-needed rest. Begin at the weekend or on your day-off as it maybe hard to start on a normal working day. You may find you even enjoy this new regime and decide to stick with this plan long-term.
There has been a lot of hype in the press recently about detox drinks, tablets and remedies that you buy over the counter. A lot of money could be spent on buying these products when you can easily make a small modification to your normal routine.
The simplest and cheapest way to detoxify the body is to drink plenty of water each day. (The recommended quantity is 8 large glasses, 2 Litre) and sorry but you should cut out the alcohol for a few days to get the full benefit. Cut down on tea and coffee with fruit and herbal teas, which can substitute that mid-morning/afternoon coffee. Eat a wholesome diet of a variety of different fresh fruit and vegetables, try to eat a variety of colours, remembering that the darker and greener the vegetable the better it is for you. (If you want to maintain this plan after the week but cant find the time to prepare fresh vegetables, try frozen and tined vegetable, which also hold vitamins, nutrients and fibre. Frozen vegetables that are steamed in the microwave are a quick and easy alternative and available in most supermarkets).
If you find it difficult to swallow the recommended 5 a day why not buy a juicer or smoothy maker. A delicious breakfast that really sets you up for the day and is mood enhancing is a smoothy made from 1 apple, 1 banana, 1 pear, a large dollop of live natural yoghurt, fruit juice such as orange and a teaspoonful of honey. It sounds like a lot of fruit to eat in one go but it only makes enough for a large tumbler and it means you have made some in-roads to getting your 5 a day.
Eat more nuts, seeds and grains, in soup or sprinkled on salads. Cut down on fatty and sugary foods and cut out salt completely. Oily fish, which is high in omega-3 fats, is a good boost to the immune system and is also mood enhancing. Eat regular small meals slowly.
If you are feeling sluggish or you really want to help progress your detox, I would recommend a full body exfoliation or body brushing followed by a body massage that incorporates lymphatic drainage techniques to wake up the lymphatic and circulatory systems. Why not try a hot stone therapy massage for that extra boost to the system.
Beauty & Holistic Courses:-
Hairext 1-day Hair extension course for hairdressers and beauty therapists/techs

BTEC/beauty Fast track - individual BTEC:- beauty therapy and /or nail extension qua

NCB/BT/SO Special offer combined beauty course

NCB/M 1 Day Manicure (hand/arm) certificate course
Thread/NCB/1 1-day Threading course:-
NCB/P 1 Day Pedicure (foot/leg) certificate course

NCB/MU 1 Day Cosmetic Make-up certificate course

NCB/E 1 Day Eyelash/Eyebrow treatments certificate course
Non-surg 1-day Non-Surgical facial treatments:-
NCB/F 2 Day Facial Massage & Skin-care certificate course

NCB/Spraytan 1-day Airbrush tanning course

NCB/W 1 Day Waxing for hair removal certificate course

NCB/EP 1 Day Eyelash perming certificate course

3D 3D eyelash extension course

Braz Brazilian waxing

NCB/BM 2 Day Swedish Body massage certificate course

NCB/IHM 2 Day Indian head massage certificate course

Stone 1-day Thermal Hot Stone Therapy

Wrap 1-day slimming Body wrap and detox body mask course

NCB/AROMA 2 Day Aromatherapy massage

NCB/HOP 1 day Hopi candle course ( Auricular Therapy)

NCB/REFLEX 4 Day Reflexology course

A&P Anatomy and physiology course

Spec/1/04 1-day Remedial hand, foot and face treatments

NCB/RHNT 1 Day Remedial hand, foot, nail and facial certificate course

Elecfac1/05 Electrical facial treatments

Elecbod1/05 Electrical body treatments

Electro1/05 Electrolysis (hair removal)

A1 A1 assessors award certificate
AN EXCITING ADVENTURE THAT YOU WILL NEVER FORGET
THE MEN of the SAS are widely acknowledged as the best Special Forces troops in the world. Who Dares Wins their motto states and as part of its 2006 'Every Second Counts' appeal, the Muscular Dystrophy Campaign is offering local readers the opportunity to take part in a weekend of fun filled activities to see if you measure up against these elite troops as you also
raise money for charity.
Join other adventure seeking individuals on this countryside escape as you learn such skills as survival techniques, camouflage and concealment, shelter building, navigation and night awareness. This thrilling event will test your newfound skills and leave you wanting more.
All you have to do to take part is raise a minimum of £350 in sponsorship for an experience that will stay with you forever. The dates for this adventure are May 12-14, 2006 and the exact secret location in Cumbria will be revealed when you book your place. Participants, male or female, can enter as individuals and be assigned to a team on arrival or can enter as a team of five with other like minded friends or work colleagues. You do not have to be super-fit, but you must be able to swim and be over 18 to take part.

If you would like to put your determination and stamina to the ultimate test then contact the Muscular Dystrophy Campaign for an information pack on
01244 403012 or email:- charlesh@muscular-dystrophy.org.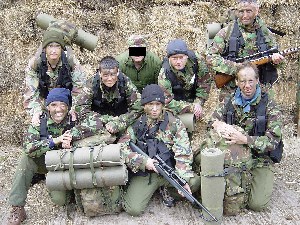 Top fashion house Ghost backs charity 'design a ball gown' competition
ARE you a budding fashion designer? Britain's best artistic talent is being called on to design a ball gown which will be judged and made into a dress by leading fashion label Ghost for an auction in aid of children's hospices.

The 'Design a Ball Gown' competition is being run by high street supermarket Somerfield in aid of its charity of the year, the Association of Children's Hospices (ACH), for its annual fundraising ball. The event takes place on board the Queen Mary 2 in Southampton on Friday 21 April 2006.

Part of the Somerfield Butterfly campaign, which aims to change common misconceptions about children's hospices being bleak and sad, the competition is open to all would-be fashion designers. The ball gown designs must reflect the butterfly theme, the ACH logo, chosen to symbolise the beauty of life no matter how short that might be.

Ghost – one of the biggest names in feminine fashion – will choose the winning design, create the garment in its London studios and provide a model to wear the dress at the Somerfield Ball. The event is the major fundraiser of the Somerfield charity year and is set to raise more than £1m of the £1.5m-plus the supermarket will eventually give to the UK's 38 operational children's hospice services.

The competition winner will also be invited to attend the ball to see their dress auctioned and will stay for two-nights at a luxurious hotel.

Janet Croker, head of appeals of Wirral-based Claire House Children's Hospice, said:- "The ball is the high point of Somerfield's charity-of-the-year fundraising for the Association of Children's Hospices. We hope that more than £1m will be raised in just one night. The auctioning of the butterfly ball gown will no doubt make a great contribution to the evening's total. And of course every penny raised by Somerfield and its suppliers at the ball will be used to make a real difference to the lives of the children and families who regularly use the children's hospice services up and down the country."

Emma Jones, international sales director at Ghost, said:- "Children's hospices do a fantastic job in providing much-needed support and care for children and their families throughout the UK. Ghost is very proud to be lending its support to Somerfield's fund-raising activities for the Association of Children's Hospices through the 'Design a Ball Gown' competition – it really is a great opportunity for all would-be designers. We'll be judging the competition on flair, creativity and imagination and would encourage everyone interested in design to enter regardless of their experience as anyone could win."

Competition details:- Design guidelines as as follows... colour sketch of front and back view of a ball gown inspired by the butterfly theme. Send to:- Somerfield Design a Ball Gown Competition, PO Box 2583, Bristol, BS8 9BD. Closing date for entries:- 17 March 2006