Liverpool born ITV presenter Tony Jardine @ the Norwegian Mountain Rally
Photos and report with thanks to Sportinglife.com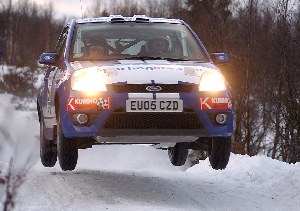 ITV presenter Tony Jardine gave the new Ford Fiesta ST150 its first successful outing on snow and ice by finishing 32nd overall in one of rallying's great ice challenges, the Norwegian Mountain Rally.

105 competitors from seven countries gathered in Gol, two hundred kilometres North West of Oslo, to take up the Mountain Rally challenge. Just 55 cars finished in the exacting snow and ice of Norway's Mountainous rally tests.

Backed by Sportinglife.com and Kumho Tyres, Jardine was accompanied by Motorsport News journalist Matt Burt competing in his first ever international event and his first ever snow rally. However, he nearly didn't compete at all after a huge pre-event accident in the Sportinglife.com rally support vehicle, crashing after ice testing two days before the rally started.

Matt Burt commented:- "I had just successfully tested the Ford Fiesta ST150 at John Haugland's famous ice school near Geilo for Motorsport News, when it was time to join the convoy back to base driving a team four-by-four support vehicle. Having survived two hours testing flat out over the ice, I slipped off the mountain track rolling the support vehicle into the trees four metres down, damaging the car beyond repair. Luckily nobody was in the vehicle with me as the roof was badly caved in on the passenger side. Apart from a few cuts on my hands which Tony insisted I immerse into the freezing snow - I was fine. I think the freezing snow was more painful than by bruises."

Matt escaped injury to enjoy some spectacular jumps over the mountain crests which will be shown on Sky Sports in February. The motorsport journalist described the Fiesta's low flying antics as 'awesome' but they were only able to complete the event after the work of the deft service crew of Andy Rogers (from Rushden, Northamptonshire) and Den Powers (based in Hinckley, Leicestershire) saved the day.

Liverpool born Tony Jardine explained:- "Matt did a brilliant job calling the complicated pace notes over the humps and bumps, it was often difficult to keep the Ford Fiesta on the ground. Matt warned of stones buried in the snow on the inside of the corner on stage six but I hit them. However, we managed to limp back to the final twenty minute service with a broken front suspension."

Within minutes of hearing the news Den and Andy had sourced the only spare fiesta suspension in the service area and stripped and fitted the new components keeping the Sportinglife.com car in the rally.

"That's the second time Den and Andy have saved the day for us as they did exactly the same on the Roger Albert Clark Rally last November - they are absolute heroes" said Jardine.

After eight stages totalling 140 kilometres the Mountain Rally Norway was won by three minutes 11 seconds by Anders Grondal in his Subaru Impreza WRC.

Following a drama on special stage seven when Mads Ostberg's damaged car caused a stage blockage, this affected many teams including the only other from the UK, the northern Ireland crew of Shaun Gallagher and Charley McGanty whose challenge was thwarted by the incident.

Tony Jardine summed up the success of the event:- "To enjoy the loan of such a prolific new rally car as M-Sport's Fiesta has been a privilege. The car in nimble, fast and sure footed and is already a success around Europe as drivers clamour to acquire one of the new ST150's for the FIA world support series or their own national championships. The car is simply a brilliant package and I would like to thank Malcolm Wilson of M-Sport and Ford for allowing Matt and I such a great opportunity. People in the UK will be able to read all about it in Motorsport News and see it on Sky Sports soon. Rally guru John Haugland was instrumental in setting up our rally training and participation and has been overly generous in all his support through out the event."

The next event for the Sportinglife.com rally team will be the first round of the British National Ancro Series the Rallye Sunseeker in Bournemouth in the third week of February.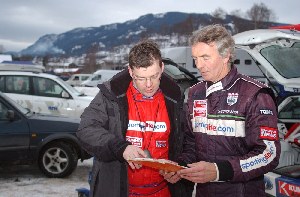 'KING KONG' TESCO TOO DOMINANT
A leading business pressure group says high street shops and suppliers will react with dismay and alarm to reports that Tesco is going to follow its strong Christmas sales figures announced this week by embarking on a furious price war.

The Forum of Private Business, which represents 25,000 small to medium sized firms, said Tesco's growth needed to be brought under control.

"Tesco has become the King Kong of the high street,' said the FPB's Chief Executive Nick Goulding. "It is too powerful, too greedy and too dominant. It should not be forgotten that Tesco has by far the largest land bank of any of the supermarkets with 185 development sites. If new stores are built on these sites it is predicted Tesco's share of the grocery market will rise from a third to 45%. This is the reality of Tesco's strength and potential to grow even bigger. These Christmas figures are yet more evidence to snap the Office of Fair Trading (OFT) out of its inertia. The OFT needs to order a competition commission inquiry into the dominance of Tesco and the supermarkets."

Mr Goulding said 3 fundamental areas require urgent attention of an inquiry. "First the pain of the high street, with 20,000 shops going bust a year since 1997, needs to examined, Particular focus needs to be given to impact of allowing Tesco into the convenience store sector. Second the bully boy treatment of suppliers, a practice in which Tesco is a prime offender. Third the supermarket's - and in particular Tesco's abuse of the planning system."

Mr Goulding said reports that 2006 would see a price war with £1.2bn worth cuts would be greeted with a sense of dread by small business suppliers. "It is suppliers who supermarkets will turn to, to find many of these savings to fund the price war, that means suppliers will be squeezed even harder immediately exerting enormous pressure on business, jobs and the whole supply chain."

A supplier of Tesco told the FPB:- "Tesco rely on bully boy tactics so suppliers are scared of them and scared to speak out. All they are interested in is making money. They have no conscience. It doesn't matter if suppliers suffer. Tesco are not bothered. And the pressure is so great. Tesco expects suppliers to follow all their expensive and time consuming conditions yet still want the product for nothing. Tesco suppliers are fed up, big time."

Tesco confirmed this week that it had a stronger Christmas than its rivals. The group announced a 5.7% rise in like-for-like sales - excluding petrol - for the 7 weeks to 7 January. The headline figure beats the 5.2% reported by Sainsbury's and the 2.8% reported by Morrisons.

Tesco's strong figures will come on the eve of the biggest round of price cuts ever seen in the supermarket sector. Food retailers are expected to invest a record £1.2bn in price cuts over 2006, a rise of 9% over 2005.

Tesco Facts:-
Founded 1924.
First store in Burnt Oak, London.
2,316 stores in 13 countries.
1,819 British stores.
295 branches in Europe and 291 in Asia.
326,000 employees.
World's biggest online supermarket.

*Tesco has a turnover of £37.1bn which would rank about 53rd in the world bank's listing of 184 national economies putting it ahead of Bolivia, Belarus and Bulgaria combined.

* £1 in every £8 spent in British shops is spent in Tesco.

* Tesco presently has a 30.5% share of the UK grocery market worthy £80bn. If Tesco's landbank of 185 development sites are developed the firm will have more than 4.5million sq ft of new retail space. Analysts are predicting this could take the firm's share of grocery market to 45% by 2010.

* In September Tesco announced pre-tax profits of £938m in the first half of this financial year. In April 2005 Tesco announced profits of more than £2bn. Non-food sales rose 17% to £6bn, with the group highlighting a 28% increase in sales of its clothing range. Profit at its online operation grew 51.8% to £36m, on the back of sales of £719m. Tesco said sales at its international operations in Asia and central and eastern Europe were up 13.1%. It added that it intended to create 25,000 jobs worldwide this year, including about 11,000 in the UK.

* There are now 100 "Tesco Extra" stores (hypermarkets that sell not only food but also a wide range of other items, including clothes, toys, CDs, books and electrical) goods in the country, totalling 6.6 million square feet of retail space, compared to only 23 in 2001. The proportion of Tesco Extra floorspace has increased from 8.7% of their total in 2001 to 27.2% in 2005. The average Tesco Extra is 66,000 square feet. Information from Tesco 2005 and 2001 Analyst Packs. Available at www.tescocorporate.com/analystpacks.htm. In their Annual Report Tesco says:- "we anticipate opening a further 20 a year, mostly through extensions."

*There are now 600 Tesco express store in Britain. Tesco admitted at a meeting of the All party Small Shops group in November 2005 that it could have another 600 in 10 years time. The Grocer reports this could take Tesco's C store tally to around 2000 by 2015. On top of the existing 600 Tesco Express it also has more than 500 one stop stores.

Friends of the Earth also has evidence of more than 150 planning disputes which have taken place this year (2005) over Tesco store planning applications.