TV Company asks to Dine with you!
Do you love dinner parties?

Are you a great cook?
Can you throw a dinner party to impress other food lovers?
We're searching for people with a passion for cooking and want to demonstrate their culinary skill in a returning series for Channel 4.
Over five days we take five strangers, from all walks of life, who take turns to host the perfect dinner party for each other. At the end of the week the most impressive host will win a cash prize.

This is your chance to create the perfect dining experience. And YOU get to enjoy four nights dining out!

If this interests you or if it would interest someone you know please give us a call on 0870 730 1357. Alternatively email email us!
BON APPETIT
Unreasonable to comply with Ofcom plans on silent calls, say Debt Collectors
ON 25 January 2006 AGA Public Relations sent out a press release that highlited what debt collectors say are "Unreasonable Proposals from telecoms watchdog Ofcom" The proposals are to crack down on so-called "silent calls" from automated power diallers in call centres, may leave Debt Collectors in breach of the law, according to The Credit Services Association (CSA), which represents the UK debt collection industry.

"Silent calls" arise when a call is automatically generated by predictive dialling equipment but, when answered by the recipient, there is no operator available at the time of connection, and the line is silent. The proposed legislation, which presupposes that the sources of silent calls are direct marketing companies, number scanning and financial services (especially debt recovery) will oblige these companies to allow people to call 1471 to identify who has called them and play a recorded message explaining the nature of their inquiry.

Although this aims to appease consumers who are left answering a dead line when there are insufficient call centre operatives to man the thousands of outbound calls generated by automated dialling, it leaves some companies, and debt collectors in particular, in a quandary, as Kurt Obermaier, executive director of the CSA, explains:- "According to the Data Protection Act and the Office of Fair Trading guidelines on Debt Collection, we are not permitted to disclose to people who live with a debtor, via a recorded message, that he or she is being chased for payment. Most often, collection companies already have a relationship with a debtor they are managing and it is therefore ludicrous that they should be treated in the same way as marketing companies, who have an entirely different scattergun approach and sales-focused aim. We are not cold calling."

The CSA issued guidelines to its members in June 2005, which clearly set out the way in which predictive dialling systems should be used in the industry in order to minimise the number of abandoned calls. Mr Obermaier continues:- "We are very happy for Ofcom to give sensible guidance to the debt collection industry, but we cannot support the introduction of laws that get used and abused. The industry can work within a self-regulatory framework, but following the guidance of Ofcom, the regulator."

What do you our readers think?
Merseyside and Lancashire pubs are set to benefit from a £4 million sparkle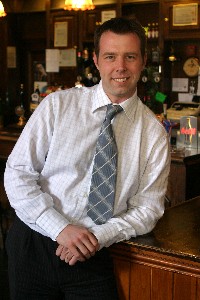 THE UK's largest pub company, Punch Taverns, has committed to invest in up to 40 pubs across the region during its financial year which ends this August.

In the first quarter the company has spent hundreds of thousands of pounds on 31 schemes, which includes £323,000 at the Fox & Goose, Southport.

Not only has the focus been on improving facilities and customer choice but in many cases developing the food offer, as increasing numbers of consumers look to their local not only to enjoy a quality pint but a meal too.

Regional operations director, Mark Chapman, said:- "We are committed to ensuring our estate is second to none when it comes to the quality of amenities for customers and increasingly this includes providing a first class food offer.

"Working closely with our retailers in the area, the North West will continue to be an important focal point for investment in our pubs."

The Fox & Goose now boasts a brighter new look and is Southport's premier venue specialising in live entertainment.
Other completed developments in Southport include the Rabbit Inn on Manchester Road which has had a £107,000 transformation.

According to Mark, there are lots more pubs like these just waiting for the right person to take the helm.

He added:- "In addition to investing in our pubs, we are always on the look out for new talent to run them and would be delighted to hear from local entrepreneurs with lots of enthusiasm and a flair for running their own business."

Punch Taverns operates around 500 pubs in the region, which includes Liverpool, Preston, Blackpool, Wigan, Kendal and the south lakes and has 9,600 nationwide.

Anyone who would like further information about running their own pub business should visit www.punchtaverns.com and click on 'apply for a pub'.