'FAME' Search 4 A Star 2006, Heat 1...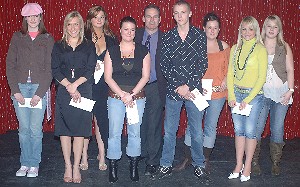 WELL yes the first talent competition of the year has started up. This years @Fame' contest sees 16 to 30 year olds battling it out live on stage to show off their solo vocal talents. At stake is a first prize of £750 plus a recording session at Parr Street Studios in Liverpool and a chance to open a big name act at the Southport Theatre and Floral Hall.
This year the first heat held on the 26 January was very good, despite a few no shows due to illness. The standard just gets better and better. I would not have liked to been a judge. All the acts put on a fantastic show. Only a few marks separated the winners from the rest and they will go through to the Simi Finals in March.
Taking to the stage this time where 12 contestants. Starting the night off was Alex Owen who sang 'A New Life' then Sam Hopper who sang 'Angels' followed by Hayley Richardson who preformed 'Ain't No Mountains High Enough' swiftly followed by Michael Haywood with 'Mack The Knife'. Then came Joanne Demott singing 'I Dreamed A Dream' followed by Louise Adcock with 'Get Here'. Megan Adcock singing 'Get Happy' the followed, after her was Kary Saxon who sang ABBA's 'Chiquititta'. But the night was not over as Jodie Hamblet with 'Underneath your clothes' took to the stage followed by Michael Wright with 'Don't Let The Sun Go Down' and then Laura Cummings and 'Lady is a Tramp'. Finishing the Night was Kate McDonald and 'Run to you'.
Winners of the heat where:- Alex Owen; sisters Louise and Megan Adcock; Katy Saxon; Jodie Hamblet; Laura Cummings; Kate McDonald and Micheal Haywood.
Well don to all of you and even if you don't get through I expect to see you next year or at the British Resorts Search For A Star North West Heats 2006.
This year we are one of the main sponsors together with Clear Channel, Rock FM, Parr Street and The Southport Visiter. Heats to come are on the 92 February, 9 February, 16 February and 23 February with the Semi Finals to be held on Thursday 16 March 23 March and 30 March. The Grand Final will be on the 6 April 2006! Good luck to all who enter! If you want an application form to enter a heat, get them today from our offices in Post Office Ave, or call into Pleasureland. All the heats, semi finals and the final will be held at Southport's Casablanca Bar at Pleasureland.
Page 1 of 2
If the green box above does not show, you must download a new edition of Java. To get it just use this link:- java.com/en/index.jsp