Aspiring to Keep Jobs
LIVERPOOL'S recent jobs boom has seen thousands more people in the city find work. However, many of these people find it difficult to keep their jobs for a variety of reasons - ranging from difficulties with motivation and self-esteem to practical problems over such issues as childcare.

Now a scheme aimed at helping people retain jobs by providing them with the support and advice they need is set to be officially launched.
The ASPIRE programme, funded through the Neighbourhood Renewal Fund, has been set up to deal with the problems of high labour turnover.

Research shows that while 23,000 jobs have been created in the city since 2000 many people who find work leave their jobs within 6 months. An indication of this effect was that in December 2005, 2,455 joined the unemployment register while 2,090 left.

ASPIRE is the brainchild of the Liverpool Strategic Employment Partnership Group and is currently delivered by Retention and Progression Officers in local neighbourhoods. A package of support is available including:-

· On-going advice and support - on issues such as training needs, personal matters, transport of childcare.

· Benefits Advice - to ensure the employee is aware of changes to his or her benefits entitlement and what support is available after entering employment.

· Work mentors and buddies - In partnership with Weston Spirit Training, a mentoring toolkit has been produced for employers.

ASPIRE has operated as a pilot project for the last years and has already assisted over 200 people in employment.

The project will be formally launched on Wednesday 25 January at an event at the Empire Theatre when employers will be given the opportunity to find out more about the service.

Guest speakers are Alan Walker, Chair of the Merseyside Employers Coalition and Sylvia Pearson of Weston Spirit. There will also be people who have benefited from Aspire present.

Mr Walker said:- "The Aspire programme has obvious benefits for employees, enabling more people to enjoy the economic and social benefits of sustainable employment and progression. But equally it helps employers to stabilize their workforces, reduce labour turnover and its associated costs, and enables them to be more confident that investment in workforce development will be worthwhile."
Liverpool's Lasting Attraction For The 'Mersey Beat Generation'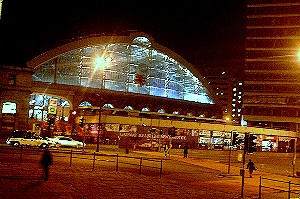 THE 20-somethings of the swinging 60s are now over 60 themselves and Liverpool still holds a special magnetism for the 'Mersey Beat' generation. Liverpool was one of the top 5 destinations of 2005 for Senior Railcard holders, with over 95,000 visits by train to the city..

The top 3 attractions for Senior Railcard holders looking to revisit the Liverpool Sound of the 60s were:-

Cavern Club's Magical Mystery Tour - to follow the lives of The Beatles, seeing where they were born, brought up and went to school as well as famous landmarks immortalised in their hits including Penny Lane and Strawberry Fields. The tour ends at the famous Cavern Club which not only launched the career of the Beatles but also other great bands of the Mersey Beat rock and roll sound, including Gerry and The Pacemakers, The Searchers and Swinging Blue Jeans.

The Casbah Coffee Club - established by Mona Best in 1959, the mother of the original drummer of The Quarrymen, Pete Best, the Casbah should really be recognised as where it all began, even before Hamburg and the Cavern Club days. The Casbah remains in its original form in the cellars underneath the Best family home and is probably the only original Beatle venue in Liverpool to remain unchanged, featuring ceilings painted by John Lennon, George Harrison, Paul McCartney and Pete Best.

The Matthew Street Gallery - Liverpool has produced more chart-topping No 1 artists and bands than any other city in the UK and the successes of each and every one is celebrated in a unique 'Wall of Fame' montage of golden discs recalling more than 50 years' contribution to world music. The gallery also specialises in the art of John Lennon and has more than 50 limited edition prints on display and for sale.

With so many famous attractions so close together, Liverpool makes a great destination for a day trip by train and Senior Railcard is the 'Ticket to Ride' for less.
This offer is available to anyone aged 60 or over, a Senior Railcard costs just £20 per person for a year and saves you 1/3 on most rail fares throughout Britain.
Senior Railcards can be obtained from all staffed station ticket offices or by calling National Rail Enquiries on 08457 484950 for the telesales number of your nearest train company. Further information is also available online at www.senior-railcard.co.uk.