LIVERPOOL 6 - MANCHESTER UTD 1 in the PFA Borneo Cup 2006
ALTHOUGH disappointed by their dismal defeat to Manchester Utd, Liverpool is way ahead of their arch-rivals in The PFA Borneo Cup 2006. It's Liverpool 6 - Manchester Utd 1.

Currently battling it out in the Barclays Premiership league, Liverpool and Manchester Utd are also competing off the pitch as Alan Kennedy (ex Liverpool) and Arthur Albiston (ex Manchester Utd) prepare to captain teams for The PFA Borneo Cup, taking place this May. As it stands now, Alan is way ahead with a complete team of 6 whilst Arthur has only 1 team member, suggesting Liverpudlians are 'mad for it' more than Mancunians.

Commenting on the challenge, Alan Kennedy says:- "I am delighted to have a full squad. Not only have we raised lots of money for Children Today, but we have a great chance of being champions of the jungle too!"

Arthur adds:- "I am confident that my team will be the best in Borneo. Come on MU fans get on board - let's show Liverpool what we're made of!"

The gruelling 9 day challenge will test the stamina, skill and ability of Alan and Arthur and their team members as they tackle a range of activities in the jungles of Borneo - raising money for national charity Children Today along the way.

With mountain biking, raft racing, trekking, climbing, abseiling, river tubing and white water rafting all lined up, and not forgetting those orang-utans, how will Alan and Arthur survive this jungle journey? Which 'red' will finish top of the League?

Supported by the Professional Footballers' Association the aim of this adventure is to raise over £100,000 for Children Today who provide life-changing equipment for children and young people with sickness or disability throughout the
country.

Fully assisted by the charity, interested participants must raise a minimum of £3,500 to compete, with a £500 deposit requested to secure your place. All funds raised by participants will help beneficiaries within their local area. Local businesses also have the chance to get involved with the opportunity to
sponsor an individual participant, a captain or indeed an entire team.

Other team captains, who are also looking for team members, heading to Malaysia in May include Neville Southall (ex Everton), Simon Garner (ex Blackburn Rovers), Peter Nicholson (ex Bolton Wanderers) and Brian Kilcline (ex Newcastle Utd).

If you want to get involved, perhaps joining Arthur's team or any of the other teams, call Gemma Fitzmaurice or Alicia Duffey on 0161 929 8700 for more information. Donations can be made by calling Children Today on 01244 335622 or visit www.children-today.org.uk.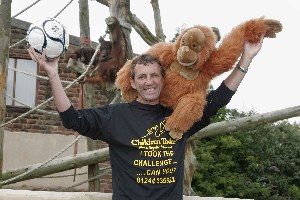 Job Adverts:- "WorkFORCE International"
ALL people must be hard working, willing to learn, enthusiastic, with a positive outlook to new challenges.
Job Vacancy
Job Description

Operative

Previous experience preferred, but not essential. Working as part of a team, involving a wide variety of tasks.

Wage = £5.10 / hr

Team Leader

Leading a team of operatives to complete required orders. Must have leadership ability, and a hands on approach.

Wage = £6.05 / hr

Production Leader

You will be leading a team a team of people and responsible for a production shift. High regard for quality and standards. Must have leadership ability and experience.

Wage = £7.25 / hr
Opportunities are provided to realise and make the most of your potential.
You may be required to work at different sites for our client base..
For more information contact:- Dean Hogarth on 07843 349214 or for an application form call the reception on 01772 812715

Head Office:- Guide Road, Hesketh Bank, Preston, Lancashire, PR4 6XS
INCAPACITY: SUCCESS WILL DEPEND ON ATTITUDE, SAYS FPB
COMMENTING on the Government's attempt to get one million incapacity claimants back to work within 10 years the Forum of Private Business (FPB) said the drive will only work if job seekers are willing, able and enthusiastic.

The FPB, which speaks for small firms who employ more than 12 million people in the UK, a third of the workforce, said businesses are crying out for workers to fill the skills gap.

"Small businesses need willing workers particularly in sectors like tourism, hospitality and manufacturing. But success is down to each individual. If they aren't willing they will be shown the door. Small business owners cannot carry passengers, they will be cautious and suspicious that people who have been on long term sick will have fallen into bad habits. Habits such as poor time keeping will just shift the burden of work onto others. So people coming off incapacity benefit must accept that having the right attitude is everything, from the moment they walk in for the interview." said the FPB's campaign Manager Victoria Carson.

Ms Carson said the world of small business offered real opportunities to people coming off incapacity benefit. "Going back to work can give people a sense of purpose and social interaction which is just not there if you off on the sick,' she said. "In a small firm you can contribute massively to the firm's success because every employee counts. But the reality is that while the rewards are great small firms need their workers to deliver."

At present, some 2.7 million people claim incapacity benefits, some 1.5 million more than in 1991, at a cost of £12.5 billion per year.