CULTURE CITY'S OLYMPIC BOOST
THE city unveiled an action-packed sports programme on Friday, 27 January and it is backed by almost every sporting institution on Merseyside and immediately won government praise as a major boost for the London 2012 Olympic Games.

The Liverpool Culture Company and Liverpool City Council, with partners across Merseyside, have combined forces to launch the UK's biggest multi-sports deal, involving new international events, as well as initiatives to boost community sports participation.

And the strategy will kick into life the following day (Saturday, 28 January) with a new fixture, the Liverpool 08 Challenge, between Rugby League rivals, Widnes Vikings and St Helens, at Halton Stadium.

The three-year sports strategy, revealed at Aintree Racecourse to Merseyside's sporting community, kick-starting the city's fourth European Capital of Culture themed year, Liverpool Performs, which will focus on the city's resurgence in sport, art and business.

Sports Minister Richard Caborn, MP, said:- "I applaud the way in which Liverpool is making sport central to their celebrations as European Capital of Culture. The city has a proud track record of producing champions and is home to some of the nation's greatest sporting heroes.

The new foundations the city is laying down, to work with these clubs, attracting high-profile international events plus supporting community and disabled sports is a great example to the rest of the country.

Turning on a new generation to the benefits of sport and the doors it can open will provide a great boost for the way 2008 is celebrated. It also sets the pace in our bid to nurture and celebrate home-grown success in 2012 and future Olympic Games."

With highlights including the Grand National, the Open Championship and England's last friendly before the new Wembley is due to open, the eyes of the world will be on Merseyside sport in 2006. An estimated global TV audience of more than two billion people will watch tournaments staged in the region is many backed or sponsored by Liverpool 08.

Leader of Liverpool City Council, Councillor Warren Bradley, who also coaches a junior football team, said:- "Passion for sport in Liverpool and Merseyside is legendary and fundamental to our cultural life, be it as performers or spectators.

The city and region is blessed to be home to some of the world's best clubs and athletes and I'm delighted we have their support to strengthen our position as a sporting capital.

The list of events taking place in 2006 is phenomenal, in terms of both quality and diversity and underlines why Liverpool is a premier European city.

I'm delighted that as European Capital of Culture we are tapping into that world famous passion and developing partnerships that will hopefully inspire a new generation of sporting champions."

Highlights of the European Capital of Culture Sports Strategy include marketing deals such as shirt sponsorships, pitch-side advertising, regular updates and adverts in match programmes and websites to publicise 2008 with:-
Tranmere Rovers FC
St Helen's RLFC
Widnes Vikings RLFC
Waterloo RUFC
New Brighton RUFC
This deal will ensure the 08 message will be taken to tens of thousands of people in stadia across Merseyside and almost every major town and city in the UK on a weekly basis. The deal will generate millions of pounds in publicity with St Helen's alone set to appear on TV over 20 times.

Jason Harborow, Chief Operating Officer of Liverpool Culture Company, said:- "To have the support of Merseyside's sporting community is a tremendous boost for our plans to showcase to the nation what is going on in Liverpool between now and 2008. The deals we have secured are priceless in reaching out to fans across so many different sports all over Merseyside, the UK and around the world."

A key element of the strategy involves staging new and improving existing events, such as:-

Liverpool 08 Rugby League Challenge - Widnes v St Helens, Halton Stadium, Jan 28.

European Wheelchair Basketball Cup qualifiers - Greenbank Academy, March 11 to March 12.

Inaugural Liverpool 08 Open Squash Tournament - St George's Hall, May 1-6. Broadcast on Sky Sports. This is a world ranking PSA Super Series Silver event - the biggest in Europe and one of the top six in the world.
Liverpool International Tennis Tournament - Calderstones Park, June 13 to June 18. Due to increased funding, 2006 will see an extra day's action. Final on Sky Sports.

Homecoming of the Clipper 05-06 Race - River Mersey, July 1-2. Broadcast on Transworld Sport. ...continued...
...continued... Start of North West stage Cycle Tour of Great Britain August 30 - Broadcast on BBC Grandstand on September 3. Three-year deal with tour finish in 2008.

Final Grand Prix Honda Formula 4-Stroke race series - River Mersey, Sep 9-10. Scheduled for Sky Sports and Channel 4.

There are also further marketing and sponsorship deals with:-

The Grand National at Aintree Racecourse - April 4 to April 6 - Live BBC 1.

The Open Championship - Royal Liverpool - July 20 to July 23 - Live BBC 1 & 2.

Everton FC and Liverpool FC with future proposals to develop for 2008.

Liverpool Cricket Club - Lancashire v Sussex Frizzell County Championship

Match - June 6-9. Includes sponsoring three-year deal for Lancashire to play at Liverpool from 2006-2008.

The Liverpool Culture Company is also backing grassroots sport through its government endorsed Creative Communities programme. Initiatives include:-

Sporting Chance - £50,000 Creative Communities Sports Fund. Bid applications process to open March.

Liverpool's first Disability Sports Festival - March to June.

Girls with a Goal - 'Bend it Like Beckham' style project involving up to 500 girls. April to July.

Box Clever - £10,000 grant to provide new headgear, gloves, vests and boots for all inner-city clubs.

Liverpool Community Games - Winners go into first-ever Merseyside Community Games in August.

Liverpool City Council has an investment of £3.68m to improve sports facilities in 2006 from boxing clubs to new football pitches.

Andy Worthington, Chair of Sport England's North West Regional Sports board and Capital of Culture board member, said:- "As a sporting capital we want to ensure as many people as possible can watch the best sportsmen and women perform in Liverpool and Merseyside. This strategy ensures this, as well as providing thousands of people of all ages and abilities the chance to participate and enjoy a wide range of sports."
RFL AND NORTHERN LAUNCH 2006 NATIONAL LEAGUE CUP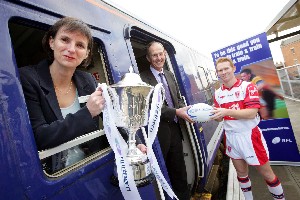 THE RFL and the country's largest regional train operator, Northern, launched the 2006 National League Cup competition on Thursday 26 January 2006.

It will be the second year that Northern has backed the competition after signing a two-year contract with the sport in 2005.

The launch was staged at the Museum for Science and Industry in Manchester and featured both players and coaches from all three National League divisions.

In 2005 the Northern Rail Cup made a significant impact on Rugby League when the final between Hull KR and Castleford Tigers attracted a sell out crowd for the first time in its history. At the same time two other major landmarks were achieved by the final, it was played at Bloomfield Road, Blackpool for the first time and made its debut as a live match before Sky Sports' cameras.

This year there will be seven qualifying divisions with an increased number of entrants. Joining the tournament for this year will be Leigh Centurions and Widnes Vikings, British professional Rugby League's newest club Celtic Crusaders from Wales and a fifth club from National League Three.

Additionally, National League Three clubs Hemel Hempstead Stags and St Albans Centurions will be appearing as the first clubs from the division to be included in the semi-professional qualifying leagues. They line up with Celtic Crusaders and London Skolars in qualifying division one.

Commenting on the sponsorship, the RFL's Executive Chairman, Richard Lewis said:- "We are delighted with Northern's sponsorship of this important Cup competition. They have a great relationship with Rugby League which is built not only on their financial backing but also on their commitment to our community programmes."

Heidi Mottram, Northern's managing director commented:- "This is a great opportunity to give our support to Rugby League once again. We realise how important sports such as Rugby League are to the communities we serve and we are delighted to be able to lend our support."

The RFL is also delighted to confirm that the 2006 Northern Rail Cup Final on Sunday, July 16 will again be staged at Bloomfield Road, Blackpool as well as being televised live by SkySports.

Added Richard Lewis:- "This gives the sport the best of both worlds. The fans that go to Blackpool will be able to combine a great family day out with the big game experience while the Final will also have great exposure on television."