Lifelong seafarer Peter living his dream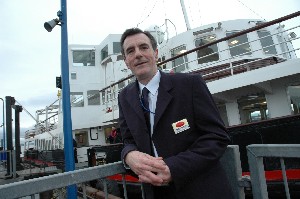 ON 31 January 2006 it was announced that seafarer Peter Hester who has sailed the seven seas has returned to his home port to take up his dream job, as Operations Manager of the Mersey Ferries.

Peter (51), an engineer who joined the Royal Navy as a 17-year-old 33 years ago, said:- "It must be every man's dream, certainly a real seafarers dream, to come back to your home town and be involved in something as unique as the Mersey Ferries. It's the job I always dreamed I would do."

He joins the ferries after spending the last six years as Head of Engineering at Portsmouth Naval Base, a five-mile long, two-mile wide marine base with 6,000 support staff, 50,000 naval staff, more than 70 port-based ships and two to three major warships in repair there at any one time.

On Merseyside, Peter takes on responsibility for overseeing work and repairs on the three ferries.

Peter's wife Val and three children Jamie, Becci and Katherine have lived in Woolton throughout his varied career.

Now the well-travelled mariner is prepared to make it his permanent berth. He said:- "I'm really happy to be back home and living my dream. Although the Mersey Ferries are smaller in scale than Portsmouth, they are huge in prestige.

"They are famous all over the world, a part of Merseyside life with a fantastic history."

Neil Scales, Chief Executive and Director General of Merseytravel, said:- "We are very pleased to have Peter on board. He's an experienced seaman, he comes with a wealth of experience and, along with the ferries management team, has an important role to play in continuing to keep the Mersey Ferries as one of the most popular attractions in the region."

During his busy career in the Navy Peter lived and worked in Plymouth, Rosyth in Scotland and Portsmouth as well as travelling the world.

He has helped repair the Royal Yacht, nuclear submarines, guided missile destroyers and some parts of his unit were sent to the Ascension Islands as part of a fleet maintenance unit on stand by for the Falklands War.

After leaving the navy in 1982, Peter spent three years studying for a degree in Production Engineering at Liverpool John Moores University.

He went on to work for a number of private sector companies and, during that time, built the 'Battle of the Atlantic' memorial in New Brighton (which Wirral Yacht Club now uses as its race centre) and restored the Egerton Dock Bridge for Wirral Museums.

It was in 2000 that Peter was asked to go to Portsmouth Naval Base as its Head of Engineering.

During his work there, Peter and his team prepared and repaired vessels that were used in the Iraq War, the Tsunami disaster effort and he was involved in last year's Trafalgar 200 celebrations, the biggest gathering of the British fleet since 1953.

However, life on the ocean waves hasn't always been plain sailing for Peter.

As a 21 year old learning the ropes, Peter joined the crew of HMS Falmouth as a marine engineer. His first voyage involved protecting trawlers being damaged by Icelandic vessels during the famous Cod War.

The British vessels were not allowed to engage the Icelandic boats. However, during the conflict (1976) HMS Falmouth had its bows taken off by an Icelandic vessel called Tyr.

Peter said:- "The whole front of the boat was taken off by Tyr, which was an Icelandic icebreaker. We lost several crew, we were taking in water badly and it took us 14 days to get back to a safe port. I count myself lucky to have survived."

The loss of his colleagues saw Peter rapidly promoted through the rank, from Marine Engineer, to Petty Officer and, six months later, to Chief Engineer.

It's also a surprise Peter wasn't put off the ferries for life in 1977! During a romantic summer cruise on the ferries, Peter dropped on bended knee and asked his then girlfriend Val to become his wife. Unfortunately, Val turned down his marriage proposal.

Undeterred and an early sign of Peter's commitment to 'living his dream' he eventually married Val at St Mary's Church in Woolton in 1979.

However, ever the seafarer, only three weeks after they were married Peter left to serve on board HMS Fife for nine months.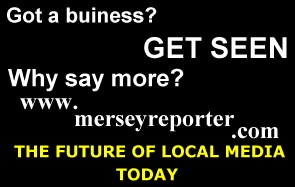 JOINING FORCES TO COMBAT SCAMS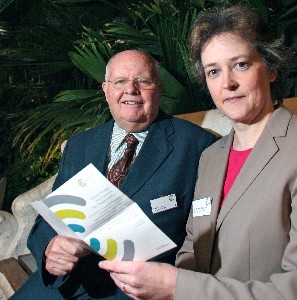 ELLIOT Morley, Minister for Climate Change and Environment, has praised the Northwest as the first English region to take action against the damaging effects of global warming by getting a wide range of organisations to commit to reducing their energy consumption and curbing their reliance on fossil fuels.

The 'Ultimate Challenge Summit' took place in Liverpool against the backdrop of alarming figures from The Greenhouse Gas Regional Inventory Project (GRIP). They reveal that the Northwest's carbon emissions are above the national average with more than 11 tonnes of carbon dioxide emitted for every man, woman and child in the region during 2000.

Future climate change scenarios for the region include average temperatures rising by between 0.8°C and 2°C and winter rainfall increasing by 6 per cent by 2050s. Storm damage payments totalling around £1billion in the region are set to triple in the coming years unless nothing is done.

Speaking ahead of 'The Ultimate Challenge' Climate Change Summit that was held in Liverpool on 30 January, Mr Morley said:- "It is encouraging to see the Northwest taking climate change seriously. This is a top priority for the government, but government cannot act alone. All sectors of the economy must understand the potential impacts of climate change and their responsibilities for mitigating greenhouse gas emissions, and I praise all organisations in this region for taking up the challenge. I look forward to the Summit and to hearing about what Is being done to secure sustainability in the region."

The historic event was hailed as a huge success and was supported by the Environment Agency, Government Office North West, Liverpool City Council, Manchester Airport, Northwest Regional Development Agency, North West Regional Assembly, Pilkingtons, Renewables Northwest and Siemens. It looked at national goal of reducing CO² emission by 60 per cent by the year 2050 as well as working out ways to ensure the Northwest becomes a champion for climate change activity.

Leading banker and pioneer for sustainable development in England's Northwest (SNW award winner for Outstanding Contribution to Sustainable Development), Lord Thomas of Macclesfield CBE, said:- "Climate change is no longer a theoretical threat, the effects of this phenomenon can already be felt, from steep insurance rises for properties at risk to the proposed introduction of aviation taxes.

The pressing issues of reducing our fossil fuel consumption, minimising carbon emissions and preserving and protecting the environment must be taken seriously, yet they can also open-up great opportunities for businesses.

Possible economic benefits from global warming to the Northwest could be expanded and new markets within the renewable energy sector, opportunities for non-fossil fuels energy sources and growth in energy efficiency and conservation."
TURNER CONFIRMED AS NEW MYERSCOUGH PRINCIPAL
MYERSCOUGH, aa leading provider of Higher and Further Education, has appointed Ann Turner FCMA as Chief Executive and Principal. This appointment comes at a time when student numbers for its diverse range of courses continue to rise, with over 10,000 students now studying at the College.

Ann, the first female Principal in the College's 100 year history, has been a long term member of Myerscough's senior management team. Having previously held the position of Director of Finance for seven years, Ann played a key role in ensuring the College achieved significant growth and enhanced its position regionally, nationally and internationally. She places great emphasis on standards and quality of teaching and learning within the College as a whole. Ann's aim is for Myerscough to continue to offer the first class learning and development environment that students at the College have become accustomed to. Ann, who has been Acting Principal for the last two months following the departure of Professor John Moverley OBE, will formally take up post on 1 March 2006.

Ann Stowe, Chair of the Board of Governors at Myerscough commented:- "Following a thorough recruitment and final selection process, it was clear that Ann had the experience and drive to take Myerscough forward. This, coupled with Ann's excellent track record as Director of Finance, made her a unanimous choice for the position. As part of her previous role, Ann managed the College through a period of rapid growth which saw turnover rise from £7 million to over £20 million."

Myerscough is one of the leading providers of landbased and sports courses in the UK, with courses from entry level to degree in areas such as Agriculture, Arboriculture, Horticulture, Sportsturf and Sports including Golf, Rugby, Football and Cricket. The College continues to be a UK innovator in these areas, with the recent addition of Cricket Studies, a UK first. In addition, Myerscough has recently introduced online degree courses in Sportsturf and Arboriculture and students as 'far a field' as America are studying remotely on these courses.

On her appointment, Ann Turner has said:- "I am delighted to take up the position of Chief Executive and Principal. Myerscough takes pride in offering inclusive learning, high quality teaching and providing an excellent learning environment and, on that basis, I am looking forward to working with the Myerscough team to continue to take the College forward."