10 YEARS OF "POSITIVE CHANGE FOR BRITAIN'S RAILWAYS" SAYS ATOC
IN marking the 10th anniversary of the first passenger train services to run in the private sector (See Notes to Editors), the Association of Train Operating Companies (ATOC) says that over the past ten years, Britain's railway has changed for the better in ten key areas, making the period one of "positive change for Britain's railways".

Thousands of new trains, many more passenger journeys, increased numbers of train services and much greater choice are just some of the main improvements which have greatly benefited passengers across the country. With in excess of 40% growth in journeys made on the network since 1996, Britain now has the fastest growing passenger railway in Europe. What's more, freight continues to grow.

The ten key areas of improvement are:-

1. Growth:- Britain now has the fastest growing railway network in Europe, with passenger kilometres rising by 41.3% in 2004/05 compared to ten years earlier (42.4 billion compared to 30.0 billion) and journeys by 42.3% (from 761 million to 1083 million). Freight tonne kilometres have increased by 58.4% over the same period.

2. New trains:- More than 4,800 passenger train vehicles costing £4.7 billion have been delivered since 1996 in one of the world's biggest train fleet replacement and modernisation programmes. Many others have been refurbished. Britain now has one of the youngest passenger rolling stock fleets in Europe (average age 13 years at the end of 2005).

3. More services:- There are a total of 19,636 passenger train services operated every weekday – an increase of around 20% on 1995. They carry 2.93 million passengers per day now compared to 2.08 million then.

4. New stations:- 19 new sections of passenger line (totalling 157 miles) and 51 new stations have been added to the rail network since 1995.

5. Passenger information (NRES):- National Rail Enquiries have presided over a dramatic improvement in the quality of train service information for the customer. It provides a full telephone train enquiries service together with real-time timetable and train running information, handling over 600,000 calls per week. The National Rail website offers journey planning, timetable and fares information and provides links to individual train company web site pages.

6. Passenger satisfaction/complaints:- The latest National Passenger Survey research shows that 80% of passengers are satisfied with their journey overall – the highest ever. This compares with 70% in 2001. In addition, a series of service areas recorded the highest ever levels of satisfaction, including punctuality/reliability (77%), train cleanliness (72%), general repair and upkeep of the trains (71%) and seat comfort (68%).

7. Safety:- The downward trend achieved by British Rail in the number of accidents per train kilometres in all the main classes of accident up to 1993 has been improved upon since then, according to a study undertaken in 2004 by Professor Andrew Evans (Lloyds Register Professor of Transport Risk Management, Imperial College, London). The £500 million Train Protection Warning System has been successfully installed across the network.

8. Station facilities, info systems, CCTV, ticketing/retail systems:- There has been major investment in modernisation and refurbishment at stations and ticketing/retail systems have improved dramatically. Train operators have also improved journey information facilities by providing new Customer Information Systems and Help Points. The number of CCTV cameras has also greatly increased. In 2003/4 alone, more than £675 million was spent on maintaining, cleaning and improving Britain's railway stations.

9. Bus/Rail Links:- Over 250 stations have PLUS BUS schemes enabling a bus add-on fare to be added to a rail ticket for onward travel by bus. Also 43 dedicated Rail/Bus links are now promoted in the National Rail timetable, serving a total of 92 places.

10. Community Rail Partnerships:- In the last ten years the number of Community Rail Partnerships has grown from just one to over sixty. By working closely with community groups and local authorities, train operators have grown passenger numbers on rural and secondary lines significantly. For instance, the Bittern Line partnership between Norwich and Sheringham has seen a 192% increase since 1995/96; the East Sussex Partnership on the Uckfield to Oxted branch line has had a 50% increase in passengers since 2004, while the Chester – Shrewsbury Partnership has seen a 300% increase in passengers since 1999.

George Muir, Director General of ATOC said:- "We have seen positive change for Britain's railways. The initial structural problems have been overcome and we have made many strides towards giving Britain a railway fit for the 21st century. People are voting with their feet as ridership has increased significantly in the last ten years. More and more people are attracted to using rail and this is reflected in the increasing level of passenger satisfaction with rail services.

To ensure this positive momentum is maintained, passengers will demand that investment is maintained in the coming years to relieve overcrowding and to grow capacity on the network."
BOOK REVIEW:- "THE COBLER'S KIDS"
ANOTHER book by Cardiff born Rosie Harris, who lived for some years in Merseyside, the setting for this book.
It concerns Vera Quinn, 14 years of age at the outset for the tale who, with the rest of her family,lives under the iron rule of her domineering and selfish father. Various tragedies and tribulations ensue, with poor Vera assuming even more responsibilities trying to maintain the household and care for her clever younger brother as well as her father's cobbler's shop. Salvation from drudgery seems destined to be snatched away, but eventually some relief is offered, but will it continue?
An interesting yarn, especially to Merseysiders, rather repetative of details in places, but still very readable; a good Easter present.
Publisher:- Arrow Books Ltd. ISBN:- 0099481774
UK Price (rrp):- £5.99 Our Rating = 4 out of 5
Review by:- JB
Merseytram - Judicial Review (UPDATE)
IT was a sad week last week as Judge rules against Merseytravel High Court tram bid. In a statement issued form Merseytravel on the 1 February 2006 Mr Neil Scales, Chief Executive and Director General of Merseytravel, told us that:- "We're very disappointed with the outcome of this case. We will be taking it to the Court of Appeal. It's worth one last throw of the dice for a £311 million transport and regeneration scheme. We don't regret having to take this action although it is more in sorrow than in anger. But there is an important point of law at stake, which affects not just Merseytravel but every PTA in the country. For this reason alone we must appeal. But more importantly the people of Merseyside deserve their tram."
Arson Attack on Refrigeration Truck Park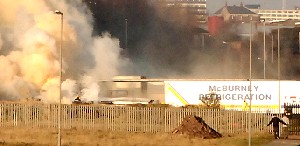 MERSEYSIDE Fire Service and Merseyside Police were called to McBurney Refrigeration Ltd on the Wellington's Employment Park next to Sandhills Station, after a fire was started by suspected arson. Several refrigeration trailer units were set alight. The fire spread quickly after it caught hold, at around 2pm on Sunday, 29 January damaging one unit extensively. Several other trailer units were badly damaged in the blaze. If you have any information, please call Crime Stoppers on 0800 555 111.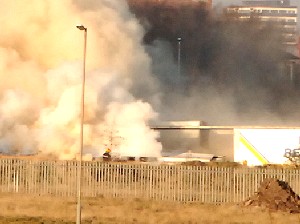 EASY STREET BIG BAND
SATRUDAY 18 FEBRUARY 2006 at Blackbrook Rugby Club, off Boardman's Lane, Blackbrook, St Helens.
The Easy Street Big Band present an evening of Big Band Music from the classic song books of Glenn Miller, Frank Sinatra, Ella Fitzgerald, Bobby Darin and Sarah Vaughan to the new - Michael Buble, Pussycat Dolls.
Doors open at 8.30 pm, tickets £3.00 available at the Club or pay on the door.
For more information telephone 07890 312692.