Call for volunteers to join Europe's biggest farmer-led bird counting scheme
THE GAME Conservancy Trust, a game and wildlife conservation charity is looking for volunteers to carry out bird counts on farmland across the country in spring and autumn in an effort to help restore the wild grey partridge, one of our most threatened birds.

The Game Conservancy Trust manages the National Grey Partridge Count Scheme, which is one of the most successful farmer-led bird monitoring schemes in Europe. But in order to save this rapidly declining gamebird, the Trust is eager to encourage more people to count grey partridges.

The wild grey partridge has suffered a massive population decline of more than 85% over the past three decades. Research by the Trust has revealed that a variety of causes have gradually eroded the partridge population, including lack of food, reduction in habitat, predators and weather.

"Establishing a team of bird-watchers to count partridges will make our existing count scheme even more successful and will add to our effort to save this iconic bird species.
Our National Count Scheme already receives contributions from more than 1,000 farmers, but on busy estates the partridge counts are sometimes missed. This information is vital. It helps us to form a national picture of the partridge population and this enables us to direct advice and support to areas where the population is still continuing to decline or has disappeared completely." explains Dr Nick Sotherton, Director of Research with the Trust.

This new initiative by the Trust forms part of a range of measures aimed at changing the fortunes of the wild grey partridge. People interested in participating in the count scheme should contact the Trust, who will match up volunteers with farmers or landowners who wish to have help counting their partridge populations in spring or autumn.

For further information on The Game Conservancy Trust's National Grey Partridge Count Scheme, or for a grey partridge conservation guide please contact: Neville Kingdon, The Game Conservancy Trust, Fordingbridge, Hampshire. SP6 1EF. Telephone on 01425 651066, or visit this website.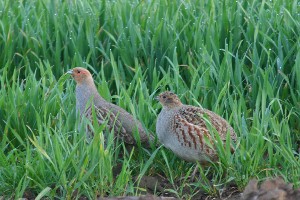 Police warn of bogus phone calls
Report issued by Merseyside Police
THIS week Merseyside Police are warning members of the public to be aware of the fact that a person is making bogus phone calls.

A number of members of the public have received calls from a man claiming to be a police officer. On most occasions he claims that a mobile phone has been found at the scene of a road traffic collision and the last number dialled is the number of the person he is calling. He then goes on to say that they should attend at Belle Vale police station immediately, or else the police will track them down and prosecute them.

Chief Superintendent Andy Cooke, said:- "These calls are very distressing for the people who receive them and already a number of people have been in to see the Enquiry officer at Belle Vale, including a couple in their 80s and a number of young mums.

We will take action against those who makes this type of hoax call and I would always urge members of the public to report any such call to the police.

I would like to take this opportunity to remind people that if they do receive a call like this they should insist on asking the caller for his name, rank and collar number and the police station where he works along with a contact telephone number. If in doubt call the police on 0151 709 6010 and ask for the relevant police station to confirm if the caller is genuine."
AA VOTED THE BEST AT KEEPING BUSINESSES ON THE ROAD
AA BUSINESS Services has clinched two prestigious fleet industry awards for keeping businesses and their drivers on the road, winning both the Service Supplier and Vehicle Recovery Provider of the year in the 2006 Fleet Excellence Awards.

This is the second time that AA Business Services has been recognised as service supplier of the year in the award's 6 year history. David Wallace, director of AA Business Services, comments:- "This award is recognition of our commitment to customer service and dedication to keeping businesses on the road. We are constantly innovating to make life easier for our business customers and from early 2006, for the first time, they will be able to buy breakdown cover from the AA on the internet. We have also developed a new risk management service to help businesses manage vehicle and driver safety, including risk audits, driver assessments, driver training, policy advice, driving licence checking and accident management."

Commenting on the vehicle recovery provider award, Wallace adds:- "We are delighted to have won this award which is further recognition of the AA's position as the largest roadside assistance provider. With 1.3 million fleet customers and more dedicated patrols than any other roadside assistance provider, our aim is to keep business customers moving, with around 8 out of 10 breakdowns being fixed at the roadside."