Local guide dog owner Derek meets David Blunkett MP
BLIND Derek Beauchamp from Birkenhead, a guide dog owner for over 50 years, and his special canine partner Perry met Rt Hon David Blunkett MP and his famous guide dog Sadie, as well as Trude Mostue, when they were special guests at the launch of the 75th anniversary celebrations of the first guide dogs in the UK, suitably held of the Isle of Dogs in London Docklands on Thursday 26 January.

Derek (age 74) and his 5th guide dog Perry joined over 200 other guide dog owners and supporters from across the UK at the launch, where an exciting new interactive exhibition called 'Moving Forward Together', was unveiled bringing to life the past 75 years of guide dogs through a range of three-dimensional, touch sensitive and audio exhibits, was unveiled.

The interactive elements of the fascinating exhibition, which will tour museums and shopping centres around the country, means it is accessible to blind and partially-sighted people, who can appreciate and understand every part of the story.

Celebrity TV vet Trude Mostue was at the event to launch the 2006 Guide Dog of the Year Awards, accompanied by guide dog Vaughn, last year's winner. Joined on stage by Vaughn's owner Susan Jones, Trude made an emotive speech to gathered guests and as a result nominations are already starting to pour in for the special awards, which will be presented at the Kennel Club in London on Thursday 07 September. If you would like to nominate a guide dog for the 2006 Guide Dogs of the Year Awards, please call Chris Dyson on 0118 983 8281 or email chris.dyson@guidedogs.org.uk.

Guide dog training in Britain began with a journey of faith in Wallasey, Cheshire, in 1931 when 4 blind pioneers Allen Caldwell, G W Lamb, Musgrave Frankland and Thomas Ap Rhys took the first tentative steps into a new world of opportunity with four very special German Shepherd dogs; Flash, Meta, Judy and Folly – the first 4 guide dogs.

3 years later in 1934 The Guide Dogs for the Blind Association, was founded. A whole generation of people in Britain have grown up supporting Guide Dogs from collecting milk bottle tops to fund the training of Blue Peter guide dog pup Honey to running the London Marathon.

Over the past 75 years, the lives of many thousands of visually impaired people have been transformed by the life-changing level of independence and freedom of mobility that a guide dog provides.

Today, Guide Dogs is the world-leader in the breeding and training of guide dogs. Plans to develop a new puppy breeding centre and investment in state-of-the-art dog kennels are well underway, which will ensure the best possible guide dogs for the future. These developments will enable the charity to increase its capacity to provide guide dogs as it reaches out to a diverse mix of visually impaired people in every corner of the country.

Bridget Warr, chief executive of Guide Dogs, said:- "The launch of the 75th anniversary celebrations was an extremely successful event, and the 'Moving Forward Together' exhibition was very well received. We were delighted that David Blunkett and Sadie were able to join us, and are looking forward to a very special year commemorating the Wallasey pioneers and celebrating the extraordinary partnerships between guide dogs and their owners. We will continue to concentrate on the future needs of blind and partially-sighted people in order to provide the best possible Guide Dogs' service for many years to come."

The Guide Dogs' website provides a complete list of all 75th anniversary events taking place during 2006, including memorable displays at Crufts in March and Blue Peter Dogathons on Sunday 28 May 2006.

Guide Dogs receives no government funding and relies entirely upon donations. If you would like to become more involved in the 75th anniversary celebrations, please call 0870 600 23 23 or visit the website www.guidedogs.org.uk.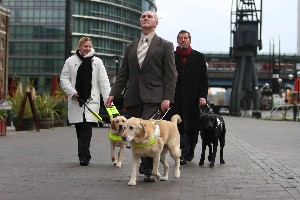 Wavemakers Awards Showcase 2006, Call for Nominations
WAVEMAKERS, a national charity committed to highlighting and celebrating the achievements of children and young people from diverse backgrounds, is delighted to announce the call for nominations for its second year's national award scheme.

Wavemakers is calling to children and young people across the UK, who have changed their worlds in some way. Last year, Liverpool based project, Peer Mentors, celebrated success at Wavemakers' first celebratory awards showcase in London, (in the 13 to 19 years category), after being chosen from nearly one hundred original inspirational entries for its work in successfully organising a peer mentoring scheme to combat bullying in school.

Wavemakers is looking for inspirational initiatives or projects led by children or young people within any aspect of social care, education or health. If this is you, could your idea or project benefit others? Could your idea be developed and rolled out? If so, Wavemakers wants to hear from you!

All of the nominations will be judged by young people in a series of regional judging workshops throughout March and April. All winners will be invited to receive their awards and will celebrate their achievements at the Wavemakers Awards Showcase on July 6th 2006 in London.

The categories for entry are:-
Aged 12 and under (individuals or groups)

Aged 13-19 (individuals or groups)

Organisation or service led initiatives which have been inspired or led by children and young people

The closing date for nominations is end of February.
For more details visit www.wavemakers.org.uk or telephone 01494 687620.

Wavemakers believes in empowering children and young people to change their worlds their way and have their voices heard. Replication and rolling out of inspirational projects and initiatives is at the very heart of Wavemakers in order that young people's achievements go on to make further "waves" in society and provide wider benefit for more children and young people.

James and Oliver Phelps, celebrity Ambassadors of Wavemakers (play Fred and George Weasley in the Harry Potter films), said:- "We want children and young people to send in nominations telling Wavemakers what they have achieved which has helped to change their lives for the better, and we look forward to meeting the winners at the Awards Showcase in London in July."

Deborah Skillicorn, Chief Executive of Wavemakers, commented:- "Following the success of last year's Awards Showcase, we are very excited to be calling for nominations for this year's scheme. The Wavemakers Awards allow young people's inspirational achievements to raise real issues including... bullying, gun crime, smoking, sexual abuse and many more difficult issues that many young people face in their daily lives. Wavemakers is a vehicle to let young people's voices be heard by spotlighting and celebrating some of the marvellous things that children and young people have done to enable positive changes in our society."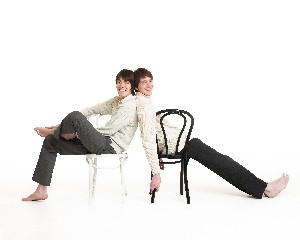 Sankey Street works
RESURFACING works are due to start on Monday 6th February between 7pm and 7am for three nights in Sankey Street, Warrington, as part of the Golden
Square development.

Sankey Street will be closed between its junctions with Winmarleigh Street and Legh Street during the period of works.

Traffic approaching Sankey Street from the west will be diverted along Crosfield Street, Midland Way and Legh Street. Access to Springfield Street and Palmyra Square North will be from Bold Street with the one-way
restrictions on these streets being suspended during the closure.