JOIN THE RACE FOR LIFE
WOMEN from across the North West are once again being called to join the Race For Life and help fund vital research into prevention, treatment and cures for cancer. Last year 2,000 women and girls ran the Race for Life event at Knowsley Hall in aid of Cancer Research UK, raising more than £100,000 and this year organisers are hoping to raise even more.

With the race taking place on July 12, there is plenty of time for people to get training, although the event is suitable for people of all ages, whether they wish to walk, run, or compete in a wheelchair. The entry fee is just £10 which covers the costs of putting on this event, so that every penny raised through sponsorship can go directly into funding Cancer Research UK's vital and pioneering research into the prevention, treatment and cure of all cancers.

The 5km course takes in some of the most scenic parts of the borough within the grounds of Knowsley Hall. Would-be entrants do not need to worry if they have never walked 5km before – it is the taking part and raising money which counts, not how quickly you complete the course.

This year will be the 3rd in a row that the race has taken place in Knowsley, with help from Knowsley Council's Leisure and Community Services Department. Since 2004, Race For Life participants in Knowsley alone have raised more than £150,000 for Cancer Research UK.

So register for your place today and make a real difference to help cure cancer faster by raising money for this vital charity. For more information, visit the website at www.raceforlife.org, or call 08705 134314.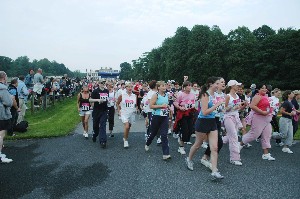 Chris Tarrant is calling on local people to get involved in a Hug Quiz
CELEBRITY Quizmaster, Chris Tarrant, is once again supporting the Help the Aged Helping Unite Generations (Hug) campaign and is calling on everyone to host a Hug Quiz to raise funds to help end loneliness and isolation among older people. Hug, now in its second year, will see thousands of people nationwide hosting and attending a Hug Quiz throughout Hug Month in April 2006.

Over 1 million older people go a whole month without seeing anyone they know. Hug aims to get the nation thinking about those older people who are experiencing loneliness, and the Hug Quiz is one way of raising funds, while uniting us all in recognising and appreciating the value of inter-generational relationships.

The Hug Quiz aims to become the biggest intergenerational quiz in history, and all questions will be designed around a 'generations' theme to bring both young and old family members, friends and colleagues together. All quizzes are very easy to organise with a little help from Help the Aged, and can be held anywhere from people's houses, pubs, community centres or work places.

Chris Tarrant said:- "I am delighted to be supporting the Hug Quiz in 2006, and it would be wonderful if you could take part this year too, and help to make it our best ever. The quiz is easy and fun to do, as Help the Aged provide you with everything you need, right down to handy tips and advice and question and answer sheets. You can host your quiz wherever you like, on any day you like. The Hug Quiz is one way that you can reach out to lonely older people, showing them that there is someone there who really does care".

There are lots of other ways to get involved in the campaign, including purchasing Hug badges and new wristbands from retailers across the UK, and giving generously on Hug Day, to be held on 7 April, which is when collecting teams will hit the streets across the UK.

A perfect time to practice those quizmaster skills, the Hug Quiz provides an opportunity to bring different generations together in a fun and entertaining way, whilst raising essential funds to provide support services which help older people live more valued and fulfilled lives.

For further information and a free Hug Quiz pack, please contact the Hug hotline on 0870 770 3288, or visit the website www.allhug.org.uk.