FROM HEALTH TO WEALTH
WHEN it comes to seeking general advice about the important decisions we make in our lives, it seems that most Northerners shy away from speaking to a professional, choosing instead to go to their partner or friends. According to research from Alliance & Leicester Investments & Protection, over 4.7 million Northerners (41%) turn to their partner in times of need and nearly 2 million (17%) prefer to seek guidance from friends.

Worryingly, when it comes to getting more specific advice on health, career and finances, Northerners still appear to be cautious about approaching professionals. Many choosing, once again, to go to friends, family and work colleagues.

Health
Alarmingly, over 4.5 million (40%) Northerners don't go to the doctor when they need advice on a health issue, with 22% asking partners and parents. Not surprisingly, this is worse among the younger generation; just 34% of 18-29 year olds in Britain choose to go to the doctor as opposed to 77% of over 50s.

Finances
30% of those in the North said that they seek expert advice to discuss their finances - leaving the 70% speaking to their partners, friends or family, or not seeking any advice on their finances whatsoever.

Careers
An even smaller proportion of those in the North seek professional advice about their careers - just 15%. Once again, they turn to their partners to guide and advise them in arguably one of the most important areas of their lives. Even more troubling, 29% of Northerners don't ask anyone for help at all!

When it comes to finances, one option to consider is a financial review. This can help people to be clear about their current financial position and plan to build up a nest egg for the future, or put in place contingencies in case the unexpected occurs. 15% Brits said the reason they don't seek professional advice when it comes to their finances, was the cost - in fact many companies, including Alliance & Leicester offer a free financial health check.

Lindsey Henson, Investment & Protection Product Manager at Alliance & Leicester comments:- "It's natural that people should turn to those closest to them for general advice on life, however it is concerning that they are not turning to the experts for more serious matters such as health and major financial decisions. When it comes to our finances, whilst a chat with our partners can help vent any worries and explore our plans, it cannot compare with a structured discussion with a qualified financial adviser."

The research also found an emerging trend of using the internet to seek advice. Nearly 500,000 (4%) Northerners choose this route for general advice, instead of speaking to their nearest and dearest. This is perhaps due to the sense of anonymity that people feel they have in using the internet, as well as the perceived value of having a wealth of free information available at the click of a button. Indeed, 33% of Brits said they choose to use the internet for advice as it is less embarrassing than going elsewhere.

Henson comments:- "While the internet can be used as a great source of information, it is no substitute for getting advice that is tailored to your individual situation and needs."
HOLLY'S HELPING HAND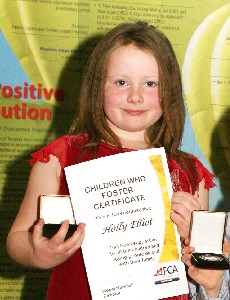 A plucky eight year old from Merseyside has scooped an award recognising her contribution to foster caring.

Holly Elliot was among many children and young people who attended the Foster Care Associates north west regional Achievement Awards 2006, held at the end of January. Holly was presented with a Young Carer Award acknowledging her valuable contribution and outstanding efforts to sharing her life with foster children.

Foster Care Associates (FCA), the UK's leading independent foster care agency, paid tribute to its carers own children who provide a positive role model to their looked after peers.

Holly's family have been fostering for one year during which time they have provided much need care for children placed with them by FCA. Holly says:- "I like having children come to stay in our home, it's lots of fun and I always have someone to play with." Despite big changes to her home life such as sharing her parents and her toys, Holly has been commended for playing an important supportive role within the family unit.

From all of us at Southport & Mersey Reporter... "Well done Holly!"

IT is not just Indian Cuisine, it is the Finest Indian Cuisine in Southport. Open from 5pm to 11pm, 7 nights a week, Relax in our recently opened, sophisticated and yet contemporary eating place.
Enjoy the very best in comfort and style as well as a wonderful contemporary menu.
Every meal is freshly cooked to order as well as our meals to takeaway.

After dinner, why not relax in Southport's Coolest and Sexiest Cocktail Lounge, The Letter Box (on the 1st Floor above Saffron Lounge), with the best of 60's, 70's and Contemporary Soul and Motown.
With Exclusive Cocktails and Champagnes as well as the Finest of Wines and Spirits available in Southport.
Open from 7pm till very late, from Thursday through to Sunday. Restaurant Reservations:- 01704 536 700.
Our website:- www.saffron-lounge.com -ADVERT-