THE SILENT KILLER
ELDERLY and vulnerable people in Liverpool are at real risk from a deadly killer. It stalks them quietly over a period of time, and once it's caught them there's little chance of escape…

We're talking of course about Hypothermia, and with falling temperatures, and warnings that we're in the midst of the coldest winter for a decade, Advantage Healthcare, one of the UK's top healthcare agencies, gives advice and guidance to help us prevent this silent threat. Whether it's for yourself, a neighbour, a relative, or a friend; following the steps outlined below really could help save a life.

Last winter, in England and Wales, 31,000 people over the age of 65 died as a direct result of the cold. This shocking figure is not unique or unexpected, in fact in the last 5 years more than 130,000 people over 65 have died in this way.

What makes the statistics more worrying, is that the UK has a higher number of winter deaths than comparable European countries; and even EU neighbours with colder climates such as Finland, Denmark and Austria have lower numbers of deaths attributable to the cold than us.

Age Concern estimates that for every 1 degree Celsius the temperature drops, an average of 8,000 more elderly people die. Most of these will be from respiratory or cardiovascular ailments such as heart attacks, strokes, bronchial and other conditions.

So what causes this silent killer and what can be done about it? Advantage Healthcare is an agency at the frontline of the fight to cut these unnecessary deaths. They provide highly trained staff to GP's Surgeries, hospitals and health centres; as well as providing domiciliary care for elderly and infirm clients in the comfort of their own homes. They have 28 branches nationwide and the Liverpool team is promoting ways to 'stay safe this winter'.

Jeremy Fry, Chief Executive of Advantage Healthcare, explained:- "Our staff are highly trained and well aware of the ways to spot and treat the various stages of hypothermia, however in many cases avoidable deaths happen because no-one spots the warning signs. Which is why it's so important that there is a shared responsibility amongst all care workers, including district nurses, GPs, and vulnerable people's family and friends. Having seen the devastation that this silent killer causes, we're trying to increase awareness of what to look for and what to do."

What is Hypothermia?
Hypothermia occurs in cold environments when the normal body temperature of 37 degrees Celsius drops below 35 degrees Celsius. When the body energy is exhausted, hypothermia can become life-threatening which is why the elderly are so vulnerable.

There are 3 stages of hypothermia and it is important to familiarise yourself with their symptoms. Mild hypothermia is accompanied by bouts of shivering, grogginess and muddled thinking, whilst Moderate hypothermia is characterised by violent shivering or shivering which suddenly stops, an inability to think and pay attention, slow shallow breathing, and a slow weak pulse. Severe hypothermia sees the shivering stop and the patient lose consciousness, whilst displaying little or no breathing and a weak irregular or non-existent pulse.

What causes Hypothermia and how can you protect against it?
One key factor which can contribute to hypothermia is homes which are inadequately heated. Age Concern is currently lobbying the government to increase the fuel allowances provided, however if fuel bills are a problem, it is important to ensure that at least one room is well heated.

Older people should also ensure that they dress well, ideally with thin layers of clothes made of wool, cotton or fleecy fabrics, and that they do not stay sitting still for long periods of time. Any exercise should however be approached with caution during the wet or icy weather.

It's also important that all vulnerable people get their flu jabs, and it's also advised that they have at least 1 hot meal every day, and sip hot drinks regularly. Friends, family members and neighbours can help by keeping an eye on elderly people, and ensuring that in the particularly cold weather they have sufficient provisions, that gaps in doors and windows are sealed up, and that the heating system is working well.

Electric blankets are often used by the elderly to keep warm at night, however they do pose a certain risk themselves. If using one, it is imperative that it is safety checked every 3 years; Age Concern are currently offering free checks for older people in selected areas of the UK. For more information contact Age Concern on 0800 009966 or visit www.ace.org.uk.

How Do You Treat Hypothermia?
The NHS advise that hypothermia is always treated as a medical emergency, and that the symptoms are judged themselves, regardless of what the person actually says.

The emergency services should be contacted as extreme hypothermia needs expert urgent medical treatment; indeed rapid re-warming with hot water or massage should be avoided as if it is not done properly it could lead to serious tissue damage.

Advantage Healthcare Group Limited brings together a number of nationally recognised brands, including Montpellier Health Care, Professional Healthcare Services (PHS), Strand Nurses Bureau Ltd, Advantage Healthcare Nursing & Care Limited, Advantage Healthcare Overseas Staffing Limited.

To find out more information about Advantage Healthcare, please call 0800 032 3355, email, visit advantagehealthcare.com or speak to the Liverpool branch on 0151 236 8866. Alternatively you could contact the Department of Health Winter Warmth Advice Line 0800 085 7000 (8am to 8pm Monday to Friday), or Age Concern on 0800 009966 or www.ace.org.uk.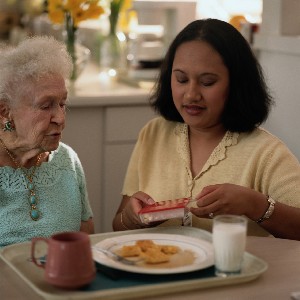 THOUSANDS OF VICTIMS OF BOGUS CALLER CRIME
OFFICIAL crime statistics confirm that the incidence of domestic burglaries increases in the darker, winter months, but worryingly, a significant proportion of these are so called 'distraction burglaries'. These often occur as a result of a bogus caller, and unfortunately older people are more likely to be targets.

According to Help the Aged research, bogus callers gain entry into the homes of around 180,000 older people each year in Britain and potentially approach double this number. In over two-thirds of those cases where entry has been gained they manage to steal something.

However, those that are subject to bogus caller crime are also at risk of losing out once again when it comes to claiming on their home insurance warns Help the Aged Home Insurance, due to a loophole in many polices.

Mark Christopher of Help the Aged Home Insurance comments:- "As well as taking the necessary measures to protect themselves, such as putting the chain on before answering the door, asking for an identification card or for the caller to come back later when there's someone else present, we would also suggest people check the small print in their home insurance policy to make sure that they're covered specifically for money taken through distraction burglary. Research conducted on behalf of Help the Aged Home Insurance has revealed that a third of home insurance policies across the board will not cover for money taken via deception, despite it being much more likely that bogus callers steal cash than anything else."

Help the Aged research has also revealed that even for those whose policy does include such cover, many mistakenly believe that because they effectively let the burglar into their home, the crime was 'self-inflicted'. They therefore do not feel inclined to report it to the police or think they would not be entitled to any payout from their insurer. Indeed, nearly 40% of those approached by bogus callers did not notify the police of the incident with 42% thinking the event was just too trivial to report. But by not notifying the authorities, victims are likely to experience further difficulty in receiving a payout from their home insurance provider.

Mark Christopher, Help the Aged Home Insurance continues:- "It would really add insult to injury if, after having experienced the terrible trauma of a distraction burglary, a person finds they were unable to recoup any material losses through their home insurance policy. It is therefore imperative that any incidents of bogus caller activity are immediately reported to the police, not only so they can strive to catch these callous criminals, but also so that financially victims don't find themselves out of pocket."

Help the Aged offers value-for-money Home Insurance tailored to the needs of the over 50s. Help the Aged Home Insurance therefore covers for money taken via 'deception' ('bogus caller crime' or 'distraction burglary')
FOR FURTHER INFORMATION OR AN INSTANT QUOTATION CALL HELP THE AGED HOME INSURANCE FREE ON 0800 41 31 80
Council addresses residents' requests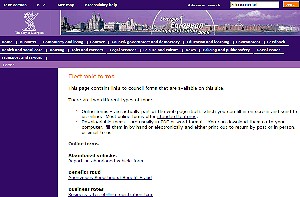 LIVERPOOL City Council is taking the headache out of home moves! The council has launched a new 'change of address' form on its internet site. It means that, for the first time, Liverpool residents can inform ALL council services at once of a change of address, with just the click of a mouse.

Launched at the end of 2005, the new and innovative e-government project is now making it faster, easier and more efficient for home movers to update their records with the council. Already, more than 100 people have logged-on and taken advantage of the new service.

They only have to fill out a simple online form, whizz it over to the council, and staff will do the rest by informing all the relevant services of the move.

Liverpool City Council's executive member for central services, Councillor Richard Marbrow, said:- "This new on-line form is a great idea, and a fantastic addition to the huge number of essential services our customers can now take advantage of on-line. We know that moving home can be one of the most stressful situations in the world, and there are usually a-100-and-1 things to think about - but there's no reason why paperwork and red tape should be one of them. Every day, the city council is working on new ways to make life easier for customers, using technology, and this is what this project is about - doing our bit to take the hassle out of moving house with a quick, easy on-line service."

To access the online 'change of address' service all customers have to do is log on to the council's website at:- www.liverpool.gov.uk, select 'online forms' on the right of the screen, and then select 'Change of address form'.

And from 27 February, customers can also take advantage of just 1 call to Liverpool Direct on 0151 233 3049 or 1 visit to any of city's One Stop Shops to change their address details with ALL council services - instantly.

The on-line 'change of address' service is the latest in a number of new on-line services which customers can access at any time of day or night. The e-government team is working with Neighbourhood Services to develop the 'Neighbourhood Information Service' which allows residents to inform the council of any problems in their area by navigating a comprehensive, on-screen map. If a street lamp outside a resident's house is not working, they can simply click on it on the map and the problem will be dealt with by the relevant service.

The planning and e-government teams are collaborating on a new on-line 'Planning Wizard', informing people if they need planning permission before making alterations to their property.

And social services is taking advantage of the e-government revolution by developing a 'Supporting People Directory', which will tell people who need access to care what support is available in their area.

Customers can already pay their council tax, learn about the Big Dig, apply for a place at a school and perform many other tasks using the site.

People without internet access in the home can log-on for free at any library in the city, or via any one of the city's network of pavement pods.