Awards at St John Ambulance HQ. Southport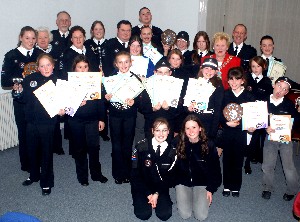 SENIOR Officers from County Headquarters attended along with the Guest of Honour, Mrs Pat Ogden the President of Southport Soroptomists, who has adopted the Southport St John Ambulance Youth for her charity during her year. She also presented the Cadet of the Year award to Leanne Lewis. The awards included trophies, certificates and promotions.

Cadets were awarded duty hour badges for their time spent doing voluntary work and these totalled 4,300 hours given to the community.

Southport Youth includes Badgers, aged 5 to 10 years, and Cadets who are aged 10 to 18 years old, meet on Thursday Nights at the HQ from 6.30 to 8pm.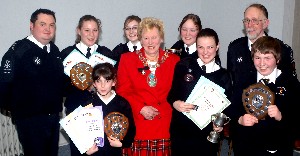 Amongst the Certificates given out were for various subjects from Crime Prevention, Accident Prevention, Crafts, Media Studies and First Aid.

The Badgers also received awards and Certificates including Global awareness, Healthy eating and Communications.

During the evening it was revealed that between them the cadets had accrued over 4,300 hours of voluntary work in the past year. Merseyside's County Cadet, Heather Lowe from Southport presented the award of Most Promising Cadet to Claire Rigby.

Senior Officers attending were:- Assistant Commissioner [ Youth Development] - Martin Sidaway; County Staff Officer [Youth Services] - Ian Chapman; County Staff Officer / Assist County Badger Leader - Ann Lloyd & Asst. Commissioner [Cheshire] - Carol Chapman
Freak Weather Brings Death & Disruption To The Region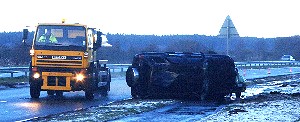 SEVERE, freak weather brought the region to its knees. Temperatures dropped to below -6 and this lead to a massive increase in 999 calls as snowfalls and the low temperatures made road treacherous. Liverpool Council gritters were sent out three times on Wednesday night alone, but lack of gritting in Sefton left its roads like skating rinks. We can say we did spot one gritter gritting in Sefton after a 4x4 vehicle rolled over in a collision with a car on Formby Bypass between the Formby BP Petrol Station and the RAF Woodvale air base, on Thursday 2 March 2006 in the mid afternoon.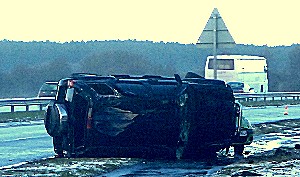 The incident photographed above miraculously had no serious injuries. Sadly, in Maghull, a man died on Thursday when seven cars collided on the Switch Island side of the M57 in the early morning. Mersey Regional Ambulance Service, who on a routine day, handle around two to three RTC's (Road Traffic Collisions) found themselves dealing with eleven emergencies due to the conditions. Merseyrail commuters, all week, faced disruption as snowfall, freezing points and other weather related problems struck one after another. Birkenhead was affected heavily by the conditions as over 15cm of snow fell over two days, leaving commuters in chaos.