Safe Maintenance Tips for Homeowners from NHBC
NOW that Spring is in the air thoughts often turn to bringing out the tools and dusters and sprucing up homes in time for the good weather. If you're looking to get an early start by installing some new lights in the kitchen, a new water feature in the garden, or just carrying out some general DIY this weekend, NHBC, the leading warranty provider for new homes, is offering the following tips for safety.

Making Connections - Dripping connections can cause serious damage so it's important to connect appliances properly. If you are connecting kitchen appliances to the water supply and drainage, for example hoses, always check they are properly connected and tightened before turning the water on. It's a good idea to re-check the connections for any drips once the appliances have been in use for a day or 2. Also locate the main stopvalve for the water supply as soon as possible in case the water needs to be shut down in an emergency.

Bleeding radiators - if you notice that a radiator is cool at the top this may indicate there is air in the system. To release the air, first turn off the heating and allow the system to cool. Attach the radiator key - if you have not been given a radiator key by your builder they are available from DIY stores - to the bleed valve and turn anti- clockwise. Open the valve with care - it can come out completely, so open just enough to hear the hiss of the air escaping. Hold a cloth underneath to catch the water once the air is released.

Overflows and warning pipes - if you notice water dripping or flowing from an overflow or warning pipe, it's important to find the cause as soon as
possible as it can indicate that a float operated valve on a storage cistern, toilet cistern or unvented hot water storage system needs
attention.

Electricity - under current legislation all major wiring, re-wiring and electrical alterations must be carried out by a competent electrician. The National Inspection Council for Electrical Installation Contracting (NICIEC) keeps a register of approved firms. If you are changing or installing new lighting make sure the power supply to the relevant area is shut off at the fuse box. When using power tools always remember to use an electrical safety plug which cuts out if the cable is cut or there is a power surge.

DIY - If you are thinking of putting up shelves, or just hanging a new picture it is important to make sure the wall as capable of supporting the load. Heavy loads are best carried on brick walls. Remember to use a combined wire, pipe and stud detector, available from most DIY stores, to ensure you are not drilling into services or elements supporting the home.

Alterations and extensions to your home - If you are planning to alter the structure of your home it's important to seek advice from a professional structural engineer, building surveyor or architect.

Gas - work on the gas installation in your home should only be undertaken by a CORGI (Council of Registered Gas Installers) registered technician.

Heating Systems - Central heating boilers should be checked and serviced at least once a year by a competent maintenance engineer to check they remain safe - Engineers should be registered with CORGI for gas appliances or OFTEC, for oil fired appliances.

Lofts - The loft space is one of the most popular places to be considered for conversion into living space, but it's important to remember the
following:-

· Structure - All roof timbers are necessary for the support of the roof and should not be cut or removed.
· Ventilation - Ventilation in the loft area is provided to control condensation. If vents have been provided in the eaves they should not be blocked or covered over.

Following these tips will help to avoid some common problems in the home. If your home is covered by NHBC's 10 year Buildmark warranty and you spot any problems within the first 2 years after the home is finished, put your complaint in writing to the builder and be sure to keep a copy. If for any reason you find yourself in dispute with your builder, contact the number on
your NHBC Buildmark documents for help and advice.
WORK STARTS ON EVERTON ECO HOMES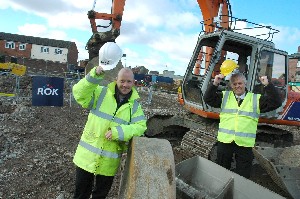 MANCHESTER builder Rok has started work on an eco-friendly residential development in Liverpool. The £5.7million Green Brow development consists of 54 homes being built in five blocks on the site of the former John F Kennedy Heights tower block, at Everton Brow, Everton.

The scheme, which is being built for Aldbury Homes, is expected to be completed in March 2007. The developers hope this will be the first of 3 phases that will eventually provide more than 150 new homes. The scheme will feature 1, 2 and 3-bedroom terraced homes and apartment blocks, ranging in height from 2 to 5 storeys.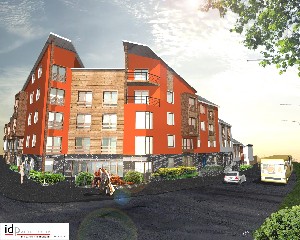 The Midlands office of architects ID Partnership designed the homes, making use of a range of eco-friendly features, including:- use of (sustainable?) timber as the major construction material, high levels of insulation within the roofs, walls and floors, triple glazing and low energy lighting for energy efficiency, a rainwater storage system and kitchen appliances which use smaller amounts of water than normal

A courtyard will provide a private amenity space for residents, while encouraging a more communal atmosphere, and there will be pedestrian routes through the development to encourage journeys on foot, with covered parking space for cycles.

Rob Bath, area director for Rok in the North West, said:- "This development will be eco-friendly as well as encouraging a community feel to the area and promoting healthy lifestyles. Many of the features will help residents to save money on their bills. Green Brow is an exciting development and we are very pleased to be working alongside Aldbury Housing and ID Partnership to bring it to fruition."

Mike Turton, managing director of Aldbury Housing, the developers of the project, said:- "We are delighted with the innovative design and partnership working for this development. It will be a magnificent place in which to live with full utilisation of natural resources and low cost living. We are pleased to bring our expertise to work in partnership with a wide range of housing providers."

Other agencies involved in the Green Brow development include quantity surveyors Tweeds, of Liverpool, structural engineer BWB Consulting Ltd, of Birmingham, and planning supervisor Tweeds Project Services, of Flintshire.