Liverpool Historic

Pier-iod Piece Sinks!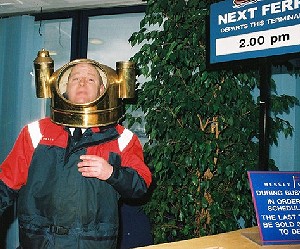 LIVERPOOL'S historic seafront changed in hours as the world famous Mersey Ferries landing stage on the Liverpool Pier Head sank into the river on Thursday 2 March 2006. No one was injured in the loss of the Landing Stage. The loss was put down to the freak weather and a freak low tide which put strain on the 34 year old structure. The structure was built in 1972 to replace the century old Princes Landing Stage. As the structure sank it also lost the home of Mersey Inshore Rescue, who were based on the Landing Stage. The staff and lifeboats were evacuated as the stage became unsafe and a collapse seemed imminent. The MIR was introduced in 1984 and became the first full time river *rescue service working in the UK. The service has now been moved to the Seacombe Ferry Terminal for the foreseeable future. It had been hoped that the ferry service would be back up and running the following day. Unfortunately services to the Liverpool side remain suspended. It is hoped that accommodation at the adjacent landing stage, used by operators of the Isle Man Steam Packet Company, might allow services to resume soon from Liverpool.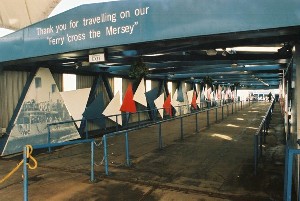 Councillor Mark Dowd, Chair of Merseytravel said:- "The safety of passengers must come first, so we have had to suspend Mersey Ferries Cross River Service to Liverpool again this weekend. The normal cruise service will be running on the river from Seacombe and Woodside, but will not call at the Pier Head.

We remain in close discussion with Mersey Docks and Harbour Company and the Isle of Man Steam Packing Company about shared use of the Isle of Man terminal. We're aiming to have all services back up and running by the early part of next week.

We're sorry for any inconvenience this may have caused."
For the latest information about the service please log onto:- www.merseyferries.co.uk/ or call Mersey Ferries on 0151 330 1444.

* More about MIR = got to our fact file page... FACTS
V Festival 2006 is a Sell out Already!
OK Tickets went on sale at 9am On Friday 3 March 2006 in the morning, but by 1:30pm the same day, organisers put out a statment saying that "We can now confirm that V Festival 2006 is a sell out across both sites!" Tickets for the festival, sponsored by Virgin Mobile flew out in just 3 hours, smashing all past records!

The impressive line up announced this week, including mainstage headliners Radiohead, co-headliners Morrissey and Faithless – plus Paul Weller, Razorlight, Kasabian, Hard-Fi, Keane, Groove Armada and The Magic Numbers will appear at Hylands Park, Chelmsford and Weston Park, Staffordshire over the weekend of 19 August to 20 August 2006.

Festival Director, Bob Angus commented:- "As delighted as we are that the festival has sold out, we are not shocked that it has happened so quickly, it really is testament to the line up we've managed to secure this year. V has grown massively in the last few year's and we're very very proud of it."
BUS COMPANY CALLS FOR TOP TALES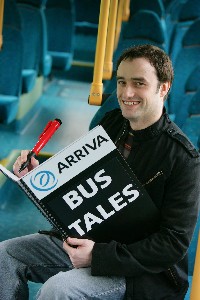 ARRIVA North West and Wales is appealing for customers to share funny anecdotes and extraordinary real-life stories about travel on its buses to be published in a national book of short tales.

Bus Tales will be published in September to celebrate Local Community And History Month. Arriva hopes that the best anecdotes from the North West and Wales will be recorded for posterity so that bus passengers from across the UK will be able to enjoy them on their travels. MF Nick Gordon, marketing manager for Arriva North West and Wales said:- "Thousands of people in the community use Arriva buses and we're sure that they have some interesting tales to share.

We're looking for any anecdotes that are bus related, so the scope is really wide. It might be that a couple found love on the bus, discovered a long lost friend or simply witnessed something amusing or remarkable that they would like to tell us about."

Anyone with a tale to tell can submit their anecdote before the closing date of the 31 March 06, via email at bustales@arriva.co.uk or call the Bus Tales hotline on 0845 270 1660 for more information and should include their name and contact details.

The story should be no more than 150 words and any supporting material that contributors would like to share with the Bus Tales editorial team will be gratefully received. The limited edition Bus Tales book will be available free, and is expected to be the perfect traveller's companion. Those interested in receiving a copy can phone the Arriva hotline and register their interest later this year.
Liverpool Reporter CD Reviews…

Jill Fielding Band & Shmoo
Review by Patrick Trollope BA(Hons) LBPPA !
FIRST off all this is the first of we hope many CD reviews we will be doing. The first two bands we are looking at are due to be added to our live playing online radio and TV station Liverpool Reporter very, very soon. If you have a band and want us to review and add your CD to our play lists please feel free to contact us.
The Jill Fielding Band


THE first band to get the Southport Reporter and Liverpool Reporter review is the "The Jill Fielding Band" who are from Aughton, in Ormskirk. This band is a very suppressing one for us to pick, as one of the first to review. The reason for me picking it is that I am so taken back by the crisp quality and the soothing feel of the music. It is refreshing to sit back and listen in a quiet office late at night or in a bathroom, in a warm bath with the lights out… after a hard day at work. I thought we should give them a push also as the art of traditional music landscape is being pushed out more and more by the modern pop and rock world. Culturally we do not want to loose this art form for ever to the mass of cheap throwaway music of today and we need artists like these to keep it alive. The band has played live on the BBC many times and on stages across the UK and US. They are also no stranger to the internet, as they have no less than four stunning CD's on sale on their website! The group has used a very traditional approach to folk music on the suffice, but they have blend seamlessly instruments that are less untraditional into their instrumentals. Yes, they are sinners and not traditionalists when it comes to instruments as they have used electronic instruments with traditional instruments, to produce a very relaxing and well polished, contemporary set of songs and tunes. The approach they have taken to what is a dying art, has been pulled off extremely well. I can't stand lots of country music for very long, unless it has sweet young Irish lass, dancing in short dresses, but this has something that just captures your attention very quickly with out the lass. This is not; I will point out, Irish music, but traditional English country and English seafarer folk. Some of the words and tunes are very haunting and even when you do not know the words; you find your self humming to the tunes. The band is extremely tight, with good rhythm and well thought out words, often lacking in most main stream pop music. They are what I would class as a very refreshing addition to our play lists. Thanks for sending your CD's in to us. We are adding them, with out any doubt! But if you readers can not wait for our site overall on Liverpool Reporter and the addition of the CD's then please log onto their web site at www.jillfieldingband.co.uk Also please go and see them live at Chapel Court in Ormskirk on Friday 17 March 2006.
Click here to here a sample...
CD's to be added onto our play lists are 'Triplicity' £11.00 + £1.00 p&p from their website and 'Once upon a Dream' is priced again at £11.00 + £1.00 p&p from their website.

OK, this band is not from Merseyside, so why are we adding it to them play list. The band is circulating around Manchester, so it is not to far away, unlike some we have got on our lists already. Well when I got the CD, it just was like all the others we get, week in, week out, no cover, just a CD with a logo on it. Nothing to grab the eye and a letter attached with the normal bad reprinted photocopied photo of the band on it. I took a quick look and spotted the band was not from Merseyside, so it got stuck in the to do list and well sat the file for a few days until I got board one night. Yes, sorry lads and lass, you nearly did not get me playing you… That would have been a shame as well. I was in the office waiting for an interview on the phone from the good old USA. Funny thing was it was a model I was going to interview. I was not in the mood for the interview and wanted to get something to cheer me up before the call came in. Well I put my hand in file and pulled it out. The CD that is! Sorry, just checking…! Not thinking about it I pushed the CD into the player and as soon as it went on, I thought, "Dance music… brill… Ah'well…" After the first shock of the opening 80's revival dance floor beat, it soon got me impressed. The CD is the band's debut single from called 'Plaything'. The single is out 27 March 2006, in record shops, like Virgin Megastores, on the Fat Northerner Records label and well worth getting. Well in my view it is.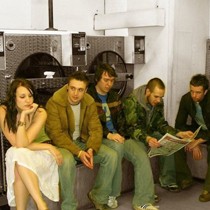 The band members have really done something fun with a unique sound that echoes back from the 1970's and early 1980's music seen. The style and sounds reminds me of the great 'Kraftwerk' album, 'Computer World' released back in 1981. Sadly the frustrating aspects of 'Kraftwerk' is their distinctive their lack of musical creativity. I do hope this band does not do the same… To be more precise have long gaps in releases. The CD we got sent has two sounds to it, the modern feel of a dance CD that you expect in most dance clubs, with powerful female vocals from the good looking Rowena who also fronts the band. The blend of classic dance sounds from traditional, that is if you can call them traditional synthesizers and electronic keyboards and the modern approach using the modern computer synth/jazz base lines, artificial drums etc. A truly stunning sound and I can not wait to see them live. I am adding them also onto our play lists!
One down side, please 'Shmoo', get a more interesting photo!
Good luck and you have now got most of our office as fans, and that is not normal as most are hardcore rockers! We look forward to our audio interview with you very soon on Liverpool Reporter!
Click here for a sample of the tracks 'A Plaything' and 'AA She Machine'.
Fat Northerner Label's web page:- www.fatnortherner.com