World class support for smokers on No Smoking Day
A RECORD 2 million smokers are getting ready to make this year's No Smoking Day on Wednesday 8 March the UK's biggest ever day for smokers who are serious about stopping.

Ben Youdan, Chief Executive of the charity No Smoking Day, says:- "MPs have just voted to support smokers in the best way possible; by introducing smoke-free legislation from 2007. Smokers in the North West already have access to some of the world's best stop smoking services and smokefree workplaces will help support them even further. No Smoking Day is a great opportunity for smokers who want to beat the ban and join the record number of smokers quitting on the Day this year."

Across the North West smoking cessation services, pharmacists, doctors, dentists, fire and ambulance services and many more are getting ready to support smokers who want to stub out their final cigarette for No Smoking Day. Events taking place across the North West include men's health evenings, partnerships with football clubs, pubs going smoke-free for the Day, cessation advisors in town centres and supermarkets and competitions and activities in schools across the region.

Smokers who are ready to conquer their addictions should follow this last minute advice from No Smoking Day:-
· Get some support. Find out about free local stop smoking services that run across the North West by calling 0800 169 0 169. Using your local service can improve your chance of stopping smoking by up to 4 times!

· Ease withdrawal symptoms. Using Nicotine Replacement Therapies like patches or gum can double your chances of stopping, ask your pharmacist for advice.

· Spring clean. Get rid of your lighters and cigarettes. Clean your house and clothes to get rid of stale smoke smells.

· Get 24 hour help. Visit the No Smoking Day website for practical advice about stopping smoking and a free online forum where you can chat to other smokers who are going through the same experience

· Treat yourself. A 20-a-day smoker will save over £30 a week when they stop smoking, think how you can reward yourself when you stop smoking.
FIRST-TIME LOSERS AS HOME DEALS FALL THROUGH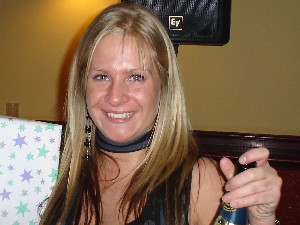 22 year old Claire Lomax from Crosby, Liverpool won the North final of the Greene King national Karaoke King talent competition at the Sherwood Pub in Sheffield on Sunday 26 February 2006.

Claire's rendition of 'The Power of Love' and 'The Reason' by Celine Dion won her a place in the grand final of the competition on 19 March 2006 at Maggie's pub in Birmingham.

Claire is delighted to have won the North final saying:– "I am really excited about going on to the grand final. If I win the £2K I would invest it in my music career by getting some demos done."

Since December, talented singers from all over the country have serenaded pub-goers with their karaoke favourites in a series of local and regional heats. Charlotte Whalley, the Brand Manager for Real Pubs, the organiser behind the event, said:- "Claire was outstanding. She has heaps of talent. It was great to see her and all the other contestants having so much fun at the North final. We're all very excited about the grand final."