Astronomy Day at Spaceport in Seacombe
Photographs and Report by L Trollope.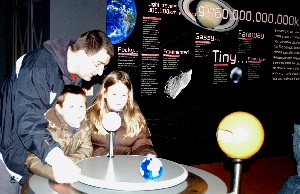 AS part of National Science Week, Saturday 11 March 06 was designated Astronomy Day at Spaceport. This exciting educational venue offers adults and children a stimulating experience throughout the year covering many aspects of astronomy and space travel. It presents many interactive displays and experiments and thoughtfully presented information. There is also a Space Dome, which uses the latest digital technology to run interesting programmes. Space Port also runs the National Schools Observatory website, in conjunction with John Moores University (JMU) Liverpool. This web site supports schools science curriculum.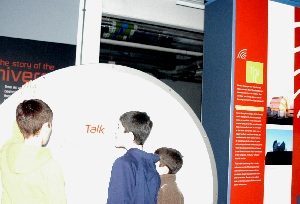 -Children look at a board about the European Space Agency's Rosetta spacecraft, that has a local connection to the Southport/Formby area. See our archived report.
Astronomy Day saw a galaxy of stars from JMU's Astrophysics Research Unit, who were on hand to shed light for anyone who wished to discuss their scientific interests with them. Also, four excellent lectures were given in the Space Dome/Lecture Theatre, by prestigious speakers from around the UK:- 'Things That Go Bang In The Night' was presented by Dr Andy Newsham from JMU, 'Exploring The Planets', by Professor Fred Taylor from Oxford University, 'When Galaxies Collide' was given by Dr Phil James (JMU) and last but not least 'Imaging The Universe', by Dr Robert Massey of the Royal Observatory Greenwich. These lectures were given to full capacity audiences, many participants had travelled from afar to hear them and pronounced them well worth the effort. Meanwhile, trade was brisk within the centre with adults and many young families exploring the exhibits. One mum did express the wish that there had been "more rockets and things to climb in and out of" but there a few games and novelties to be found further along the route. Most children appeared well absorbed, however and there seemed to be quite a few would be scientists of the future being inspired by the offerings.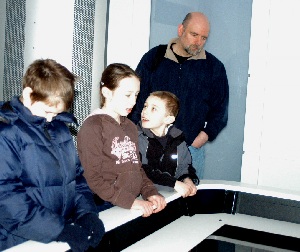 Spaceport is part of the Mersey Ferries Group and a trip from Liverpool and back by ferry makes a very pleasant way of reaching the centre, which adjoins the Seacombe Ferry Terminal.
For more information see:- www.spaceport.org.uk
SCIENCE WEEK FOR FAMILIES
THE event run by National Museums Liverpool started on 10 March 06 and continues until 19 March 06.It has a whole host of free activities to do, to celebrates National Science Week 06. This year promises to be the biggest yet with events such as Dominant Dinosaurs at World Museum Liverpool, Light and Colour at the Treasure House Theatre and The Fun with Felt workshop at the Customs and Excise Museum.

National Science Week began in 1994 with the aim of bringing science to everyone. Since then an increasing number of organisations across Britain have become involved in events to mark Science Week.

All activities, experiments and events are free. A leaflet is available from our venues detailing other National Museums Liverpool events during Science Week. All event details can also be found on our website:- www.liverpoolmuseums.org.uk/scienceweek

The World Museum, Liverpool, ran "Dance of the Night Sky " in the Planetarium on Saturday 11th March. This innovative free event told the tale, in Hindu mythology, behind the star cluster, the Seven Sisters. It was designed to give people an alternative, non-European perspective of a popular Greek Myth. This very unusual presentation involved contemporary Indian dance and music, which is both dazzling and colourful.
Legal action taken against trouble tenants
GOLDEN Gates Housing (GGH) has taken legal action against anti social tenants following a string of incidents in the Burtonwood and Longford areas of Warrington.

GGH was awarded an injunction, with a power of arrest, against an 18 year old man from Knight Road in Burtonwood, who had threatened his neighbours and caused damage to property.

GGH was also awarded an undertaking against his mother, who agreed not to engage in anti-social behaviour during the next 12 months.

In a separate case, GGH were awarded an injunction against a 38 year old woman from Densham Avenue in Longford, who physically assaulted one of her neighbours. The injunction means that if the perpetrator harasses or threatens her neighbours again she will be liable for arrest and may be sent to prison.

Peter Mercer, Chief Executive of GGH, said:- "We will not tolerate anti social behaviour and we will take action against those who make the lives of their neighbours a misery."

GGH's tenancy agreement contains an obligation on tenants or anyone living in or visiting the property not to commit any acts of physical, verbal or written abuse towards individuals or groups. It also contains an obligation not to do anything that causes or is likely to cause a nuisance or annoyance to people in the local area.

[Golden Gates Housing Ltd manages 9,300 homes on behalf of Warrington Borough Council. GGH was formed in Febuary 2004 as a separate, registered company. GGH has its own board made up of tenants, councillors and independent members of the public.]