CORRIE STAR HELPS CUT CAR CRIME IN LIVERPOOL
MANCHESTER'S, yes Manchester's, Coronation Street hairdresser, Maria Sutherland, put down her scissors on 7 March 06, to help make cuts of a different kind. She was in Liverpool to car crime!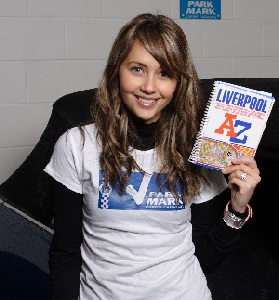 Actress Samia Smith launched 'Park Mark® Safer Parking', a new campaign to highlight a distinctive safety scheme which is hoped will put the brakes on crime and the fear of crime in Liverpool's car parks.

Although only 20% of car crime occur in car parks, the 'Park Mark® Award' aims to help motorists find safer places to park. The scheme, which has been developed by the Association of Chief Police Officers is managed by the British Parking Association and supported by Merseyside Police and the Home Office.

The new campaign has been launched as the true extent of car crime in Liverpool is revealed. Latest Government figures show that there were 18,323 incidents of car related crime in Liverpool in 2004 to 2005, which equates to one car being stolen or vandalized, or items being stolen from the car 50 times a day or twice an hour. Ok. not as high as lots of other cities, but any car crime is one too many.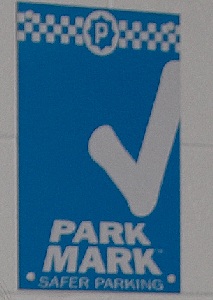 The 'Park Mark® Award' will tackle vehicle related crime in Liverpool by awarding the quality mark to car parks that pass a Police assessment on a number of safety criteria. These criteria include utilising lighting, CCTV, staff patrols and other safety measures to create a safer parking environment.

Samia Smith comments:- "Park Mark is a great idea. If you're loading the car with shopping, you can't see what's going on around you, so you can feel vulnerable. It's also really daunting returning to your car alone when it's dark. Car parks with the Park Mark logo give you peace of mind that everything has been done to make the area as safe as possible. I'd encourage everyone to park only where they see the logo."

Chief Superintendent Paul Forrester of Merseyside Police said:- "The Park Mark Scheme will make a real difference to the levels of car crime by encouraging car park operators to address the factors leading to crime, such as poor lighting, and create safer parking areas for everyone. Car crime on Merseyside is now at its lowest for 20 years and in the last year there has been a 25 per reduction in car theft. Merseyside Police has invested more than £2m in technology over the last year to reduce car crime and there are more than 600 CCTV cameras on the streets of Merseyside helping to keep cars safe."

Kelvin Reynolds, Head of Safer Parking for the British Parking Association, comments:- "Fear of crime or anti-social behaviour is a key factor for motorists when deciding where to park. Park Mark is designed to create a benchmark standard for all parking areas across the UK, with regards to security both for the public and their vehicles. When using a Park Mark car park, people can be safe in the knowledge that the area has been vetted by the Police and they are parking in a safe, secure and pleasant environment."

The Home Office Regional Director for the North West, David Smith, said:- "Car crime has far reaching consequences and there is far too much of it. There is the immediate impact on the victims, the anger, the annoyance, the frustration and the inconvenience, and there are the longer term effects, including the cost of increased insurance premiums. Car crime casts a shadow over all our communities and leads to a disproportionate fear of crime. That's why the Park Mark scheme is important; it allows people to choose a car park where they know action has been taken to keep them and their vehicle safe."

Our free voice message line is open this week to record your views on the above issue to be played next week on the "Your Views Show." It is free to phone via Skype, so drop us a call... If you do not feel comfortable sending us a voice message then send us an email to yourviews@liverpoolreporter.com or Phone and leave a message again for broadcast on 020 7871 25 13.
MPs HEAR HOW UK ENTREPRENEURS SUCCEED
THE National Business Awards 06, sponsored by Orange, launched a review of the performances of its 2005 finalists at a reception for Parliamentarians and business leaders held yesterday at the House of Commons. 'Observed Characteristics of Entrepreneurs and How They Succeed' was written by Philip Forrest, chairman of judges, and Dr David Rae of the University of Derby.

The review uses a 'Ten I's Model' to demonstrate the characteristics they found to be common to the finalists. The 'Ten I's' are:-

* Independence
* Interest
* Insight
* Ideas
* Invention
* Inspiration
* Involvement
* Instigation
* Insistence
* I-will

"The characteristics organise themselves into a process where the recognition of the opportunity starts a process of solution, formulation, initiation and development. The overall average attributes map indicates that three attributes that are marginally higher than the others are I-will; Involvement and Insight. The entrepreneur is the creative life-blood of the economy. Research and development may be ere new products are created but entrepreneurs are the masters of the forges where new business models are made and leaders in the skills of bringing innovation to markets."

The review features numerous case studies, each with its own attributes map showing the particular strengths of the individual entrepreneurs. They include Mustafa Kiamil (founder of JJ Foodservice), Julia Hands (founder of Hand Picked Hotels Ltd), James Murray Wells (founder of glassesdirect.com) and Karan Bilimoria (founder of Cobra Beer Ltd).

The launch at Parliament was hosted by Stephen Hammond MP and the All-Party Parliamentary Group on Entrepreneurship.

Uniquely, the categories in The National Business Awards are open to businesses of any size and from all sectors. The rigorous and robust judging process, (which in 2005 took five weeks and involved more than 175 judges), allows businesses the opportunity to benchmark their own success companies and individuals can download a registration form at www.nationalbusinessawards.com or call the entries team on 020 7378 1188.

The National Business Awards 06 will culminate on 7 November 06 at the Grosvenor House Hotel, Park Lane, London.

Shaun Orpen marketing director Business Solutions, Orange UK, a speaker at the event, said:- "The National Business Awards is unique in its ability to draw together such a diverse mix of companies who are all beating the odds to become successful. Each individual and company brings something new and different to the market but there are characteristics that they all share – most of which can be characterised as 'being entrepreneurial.

I am sure that the 06 programmes of The National Business Awards will unearth more exciting businesses who are innovating, pushing the boundaries that will inspire the next generation of business leaders."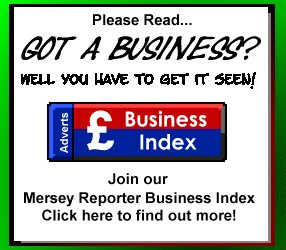 CARTOON SHORTS ARE COMING BACK TO THE CINEMA!
YES, the good old days are back again! Remember when you were a kid how there was always a Tom and Jerry cartoon on when you went to the cinema?

The cartoon short before the main feature used to be an integral part of the cinema going experience. Generations of adults remember them fondly and now, top TV kids channel Cartoon Network is bringing them back!

From April, major kids' films at Odeon and Vue cinemas around the country, will be preceded by six-minute shorts. Cartoon Network is the company behind Tom and Jerry, Looney Tunes and some of the greatest cartoons of all time and will be using the cartoons to give cinema goers a taste of its TV channel.

Three individual Cartoon Network reels have been created to be released throughout the year, each starting and ending with Cartoon Network's well known characters fast-talking their way into a cinema. When they sit down to enjoy the film, it will then launch into the cartoon short for characters and the real audience alike.

"We're bringing back a children's favourite from the past which we hope will inspire a new generation of cartoon lovers." said Nibs Dearsley from Cartoon Network.

Cartoon Network and its sister channels, Boomerang and Toonami,have the world's largest cartoon library as their foundation with shows including Tom and Jerry, Looney Tunes, Scooby-Doo and The Flintstones. The company has created some of the greatest hit shows of recent years including The Powerpuff Girls, Dexter's Laboratory and now Foster's Home for Imaginary Friends. Channels are operated by Turner Broadcasting System Europe Limited, a Time Warner Company.