Pier Head landing stage, a week on
Photos in this column taken on Sunday 11 March 2006 by L Trollope.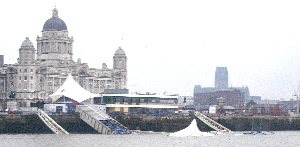 A WEEK on the from the sinking of the Pier Head landing stage the cross river ferry services resumed 9 March 06 with its normal cross-river sailings that started up again at 7:35am.

Mersey Ferries' re-opened the service from the Isle of Man Steam Packet Company pontoon, adjacent to Pier Head. One of the regular passengers commented "It is a vital service for commuting in Liverpool and the loss of it has made a huge impact. It might have just been a few working days of disruption, but it has brought it home just how important a service it is."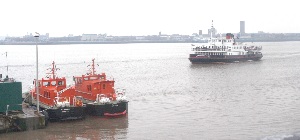 Tickets will be issued from Mersey Ferries booking office at Pier Head, but arrangements are being made to relocate the booking office to the Steam Packet pontoon.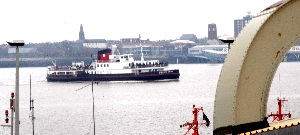 Neil Scales, Chief Executive and Director General of Merseytravel, which owns and operates the Mersey Ferries, said:- "We are extremely grateful to the Isle of Man Steam Packet Company for their assistance. Obviously this is a temporary measure until the Mersey Docks and Harbour Company has replaced our pontoon but it was imperative that we resume services as quickly as possible for commuters and for what is going to be an extremely busy weekend at Spaceport. We have a team of internationally renowned experts on space and astronomy who will be giving public talks at Spaceport's first ever 'Astronomy Day' on Saturday. The Steam Packet Company have pulled out all the stops to ensure visitors will be able to get to Seacombe by ferry for this event".
Photos in this column taken on the day, with thanks to G Jenkins of Mersey Travel.